I love books that explore science and history from different perspectives. For example, I love the notion of learning about animals not by the groups they belong to (say a book on birds or reptiles), but by some common feature that links them together, as in Venom by Marilyn Singer, or Living Color by Steve Jenkins.
One of my favorite history books looks at how salt has shaped our world. No, this isn't a straight chronology, but rather a book that examines historical events through the lens of a very important substance. One could easily imagine a book written about tea, or silk or gold in this same fashion, but being the science lover that I am, I loved learning about salt.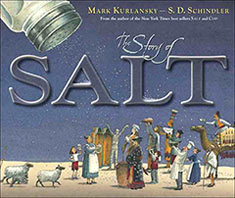 I learned of this book only after reading Salt: A World History by Mark Kurlansky. The Story of Salt is a kid-friendly version of this work. In it, Kurlansky shares the history and science of salt. Here are some interesting things kids will learn while reading this book.
Salt is the only rock consumed by humans.
Salt paid for the Great Wall of China.
Without salt there would be no mummies. (If you haven't ever mummified a chicken while studying Ancient Egypt, you should!)
Roman soldiers were often paid in salt.
When the Jamestown colony was started, a saltwork was established.
When America declared independence from England, the salt supply was cut off. (Did you know you need salt to make gunpowder? Losing their supply of salt prior to war was a big problem.)
Ghandi walked 240 miles to the sea to defy British law and make salt.
Today, the US is the world's largest supplier of salt.
This well-written and fascinating text is accompanied by color-washed pen-and-ink drawings that add humor and interest. The book ends with a timeline of salt through the centuries. Overall, this is a well-researched piece that deserves a place on your bookshelf.
Book: The Story of Salt
Author: Mark Kurlansky
Illustrator: S. D. Schindler
Publisher: G. P. Putnam's Sons
Publication Date: 2006
Pages: 48
Grades: 3-8
ISBN-10: 0399239987
ISBN-13: 978-0399239984
Source of Book: Personal copy purchased at a local independent bookstore
This review was written for Nonfiction Monday. Head on over to Anastasia Suen's blog and check out all the great posts highlighting nonfiction this week.