Still from Prince's "Kiss" Music Video, Xahmusic.org
Prince
Influenced by artists such as Little Richard, Prince loved to toy with the concept of androgyny and sexual fluidity in music as well as in music videos, especially through his appearance. Topped with slicked back hair, makeup, and heels, Prince shatters stereotypes and norms of gender and sexuality in "Kiss." During this time in the 1980s, there were not Black men in the mainstream American music scene who were as blatantly androgynous as Prince. While many critics and fans adored him, he often times received many critiques from Black men. Author and music critic Nelson George, and other critics like him, interrogated the political value of Prince's overt androgyny, viewing it as "a betrayal of the struggles that artists like [Miles] Davis and [James] Brown had gone through to claim traditional masculinity, a role that had for too long been denied black men in America" (Woodworth 2013, 127). During the era of the Civil Rights movement, Black men struggled to maintain their worth and manhood in the face of issues such as encounters of police brutality. Black men felt as if they constantly had to fight for their manhood. Because of this, those who witnessed that era were not always eager to be accepting of artists, and men, like Prince. Specifically, with his appearance in videos such as "Kiss," he challenged the very values and norms that many Black men, and Black people overall, had fought for for so long.
Prince's "Kiss" Music Video, YouTube.com
In the video for his hit single, "Kiss," Prince is wearing heavy eyeliner and foundation. He is also wearing a crop top, rip-off pants, and heels, all clothing that is commonly associated with women and femininity. While much of Prince's body is exposed in this video, his female companion is covered in a sheer, see-through veil. Though she has on panties and heels, clothing typically associated with women, Prince is still more exposed than her, as you can mostly see only her legs throughout the video. Both Prince and his female companion in the video have on clothing that exposes specific body parts. These clothing choices represent the sensuality and notions of sexuality Prince is toying with in this video, especially as they are presented in front of certain colors in the video. In the video, three of the most prominent colors are red, orange, and blue. We tend to trope certain colors, such as these, as masculine. However, Prince challenges these tropes and norms with his very feminine appearance in front of these colors. Throughout the video, there are also shots and scenes with pink and purple backgrounds, which are usually associated more with women. Here, Prince, is seen in more of an assertive, masculine role in comparison to his leading woman, suggesting his continued obscuring of gender and sexuality norms.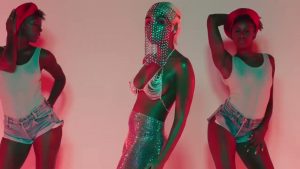 Still from Janelle Monáe's "Make Me Feel" Music Video, Bestmostlyrics.com
Janelle Monáe
In the video for "Make Me Feel," Janelle Monáe claims her femininity, through her appearance, as she presents herself in the light of a stereotypical woman. Pairing bold, sparkly lipsticks, glossy foundation, and bright eyeshadow with eccentric jewelry and wild-patterned, form-fitting clothing, Monáe shows off her unique style. Though she seems very put together in the video, Monáe has not always had this much confidence about her looks and her identity. In an interview with Rolling Stone, Janelle Monáe says that growing up, "All [she] saw was that [she] was supposed to look a certain way coming into this industry, and [she] felt like [she didn't] look like a stereotypical Black female artist" (Spanos 2018). Because of this, in the early stages of her career, she tended to overcompensateby "leaving fans to puzzle over the sight and sound of a dark-skinned, androgynously dressed black woman creating Afro-futuristic fantasias" (Spanos 2018).
Janelle Monáe's "Make Me Feel" Music Video, YouTube.com
In many ways, Monáe's self-discovery and self-identity were inspired by artists such as Prince, whom she pays clear homage to in her video for "Make Me Feel." While Monáe used to be known for wearing plain black and white suits, in an attempt to stray away from the hyper feminine "stereotypical" look of Black female artists, it is clear that she has become much more comfortable with her femininity, specifically as a Black woman in music. Much like Prince in his "Kiss" video, Monáe presents herself in crop tops, makeup, and heels. However, to take it a step further in a 21st century music industry and American culture, she wears large pieces of jewelry and sparkly clothing, such as a mask made of jewels and large, eye-catching rings and earrings. While she is wearing stereotypically female clothing, makeup, and accessories throughout the video, there are many moments where she is donned in a vintage, multi-colored suit. Taking more inspiration from her mentor Prince, she uses almost the exact same color scheme that was used in his "Kiss" video, with the addition of green and yellow. In front of these colors, she uses her appearance choices to discuss the concepts of gender and sexuality. Much like in "Kiss", Monáe and her dancers are dressed in see-through clothing, representing a proclaimed sense of sensuality.In a way, it appears that Monáe is including all of the colors of the rainbow, which is a well-known symbol of the LGBTQIA community. As Monáe has recently come out as Pansexual, this makes her challenging of gender and sexuality norms more clear.