Warehouses in the E-Commerce Age
In the past decade, 1 billion square feet of warehouse space has been built. While this seems like a shocking amount of space, in reality it only makes up 11% of total warehouse space available. That means that the other 89% of warehouse space was built in a time that pre-dates e-commerce—in fact, the average age of a warehouse is 34 years old. This results in spaces that are lacking in height, dock doors, amenities for employees, and even parking; however, have is the right centralized location.
As popularity of e-commerce continues to rise, companies need to make decisions between location and up-to-date warehouses. If they choose location, they are likely to be closer to customers and give employees a quicker commute. These locations are also much easier to come by. However, if they are able to occupy a new space they will often end up with more advanced technology that accelerates operations and allows for quicker delivery. At the cost of a desirable location. Adam Mullen, Senior Managing Director for CBRE, a global commercial real estate and investment firm, told Supply Chain Drive, "I would say every major e-commerce user out there is dealing with some kind of compromise. We see it more as an opportunity than a challenge. With that we're seeing really strong demand in the warehouse space, because e-commerce users need more space to serve consumers. So it's actually been a really ripe opportunity for our marketplace."
One warehouse that aims to be a solution for e-commerce is Quiet Logistics whose clients include Zara, Bonobos, Glossier, and M.Gemi. Located in Devens, MA, which is more than hour outside of Boston, they decided to forgo the location and capitalize on new advancements. Built following the e-commerce boom, the warehouse meets the architectural specifications like high ceilings and large dock doors that favorable e-commerce warehouses have and has cutting edge technology. With Locus Robotics, Quiet Logistics has developed robots that make the order fulfillment process as efficient as possible. Equipped with sensors, cameras, and light detection and ranging, the robots know their way around the warehouse is the most efficient way. This means they are tasked with going from zone to zone and quickly locating and delivering items to the human pikers complete and package orders. Together, the robots and workers each play to their strength and make a perfect team.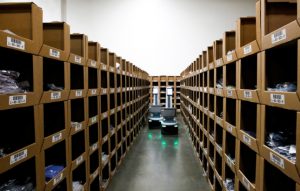 Last summer, I interned at M.Gemi, a client of Quiet, and to got visit the warehouse to see it all in action. It was amazing to see how efficiently everything was run. I watched robots would zoom down the aisles and bring items to small areas where a group of 10-15 workers would package it. On the other side, I have also received items from clients of Quiet and always amazed by how fast my order comes. I'm sure everyone has ordered something online, only to wait more than a week for it to arrive. This is not the case with orders coming from Quiet. Packages usually arrive in two days, which is a direct result of the up-to-date warehouse and efficient technology.
Sources:
https://www.supplychaindive.com/news/warehouse-future-CBRE-ecommerce-2000-modernization/520706/
https://archpaper.com/2017/08/architecture-fulfillment-centers/