Resource Planning in the Textile Industry
The structure of the supply chain in the textile industry a few decades ago was drastically different than what we know it to be today. Following World War II, the components of US supply chains were domestic and a large portion of the technology related to the management of these supply chains supported government policy.
What did this mean for the textile industry?
The US textile and apparel industry was made up of thousands of small, undercapitalized firms that used labor intensive practices. Independent mills produced yarn as an input for other independent mills that produced fabrics that would then be processed by another mill and would eventually end up at the factory where the final product was produced. While there was some vertical integration that occured within the industry, the industry is still largely made up of small independent companies.
The textile industry has intricacies that make scheduling and planning a complicated issue. A textile product unit is created through a multi-phase manufacturing process that often require different units and planning horizons per phase.
A Master Production Schedule (MPS) is often used  by managers in this industry to help them determine specific quantities to be produced as well as managing the unique forms of orders in relationship to the unique phases of a final product. In most Master Production Schedule systems related to the textile, they try to schedule jobs that are related in order to minimize the time between different phases/categories.
Below are examples of how the Supply Chain looks for the textile and clothing industry.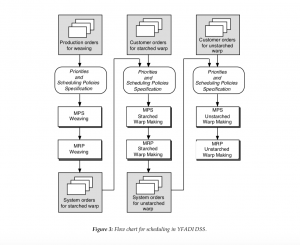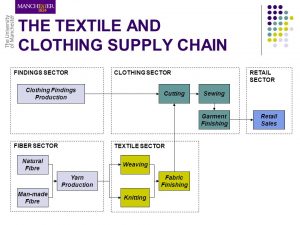 The Textile Industry makes use of an ERP model, or Enterprise Resource Planning model, that provides capabilities for planning, execution, and quality and factory maintenance. This system manages internal and external resources of an organization which include physical assets, financial resources, and material/human resources. An ERP provides several benefits to a company in the textile industry.
Streamlined Manufacturing – The textile industry faces a continuous challenge  of managing raw materials efficiently. ERP helps with calculating accurate estimates of raw materials, related costs, and providing information about the various stages of the manufacturing process.
Merchandise Inventory Management – ERP provides companies with the benefit of managing inventory by updating its system based on market demand , fulfillment dates, and when sales were processed.
Improved Collaboration and Networking – An ERP software bring the multiple aspects of a process together. One main advantage is the centralization of data. This type of system eliminates distance between employees and creates a better communication platform.
Improved Quality & Cost Reduction – An ERP system in the textile industry provides better quality control by monitoring product defect. Customer expectations, as well as organizational sales will have the opportunity to improve. Additionally, a textile company can easily manage supply chain process and their administrative process while reducing costs. Management will be able to avoid over or under estimating sales forecasts.
At what stage, between raw materials to final products, do you think resource planning is most necessary? If textile manufacturers had not become more vertically integrated in the past few years, how do you think some of these methods could still be applied to the 'old systems' of the textile industry? Can you think of other industries that require a strict planning of resources, similar to the textile industry.
https://www.sagesoftware.co.in/blogs/erp-for-textile-industry/
http://www.quintiq.com/industries/textile-manufacturing.html
https://www.workwisellc.com/erp-software/15-benefits-implementing-erp-software/