How Warby Parker Disrupted the Eyewear Industry
Warby Parker was founded in 2010 after it sought to solve the problem of glasses being too expensive. The four founders were inspired by a time when one of them lost his glasses on a backpacking trip and was not able to afford a replacement pair until his next semester. They all realized that they and many others had similar experiences. Together, they started Warby Parker on the principle of 'offering designer eyewear at a revolutionary price, while leading the way for socially conscious businesses."
The issue that they found was that there was one company who was monopolizing the eyewear industry. This gave consumers no other options and forced them into paying the artificially high prices. Warby Parker sought to find an alternative to working with this company through disintermediation—or cutting out the middle men. They have a vertical supply chain where they do all their design in house, directly work with suppliers, and source all their own materials. By doing this they were able to sell glasses that would otherwise cost $300-$500 for $95. As soon as Warby Parker launched they were deemed the "Netflix of eyewear" by GQ and had a waitlist of 20,000 orders. Having a strong inventory management system was crucial to their success.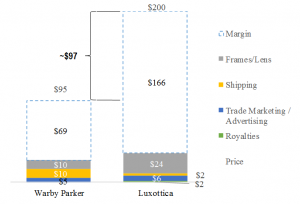 They started as an online store and housed all of their inventory in a warehouse in New York. Here they were able to implement a form of pooled inventory—consolidated inventory from different locations into one place. In Warby Parker's case they keep edged frames and insert them to customers' specification. They also keep and ship out base models used in their "Five for Free" option that allows customers to select 5 pairs of glasses to try on for free and then select the one that they wanted to purchase. By doing this, they were taking away the need to customers to even leave the house to purchase the perfect pair of glasses. By pooling the inventory they are able to cut down on costs as well as have high service levels for their SKUs.
Another way they have been able to pool demand is to have a large overlap between their gendered frame options. At one particular time, there were 203 men's eyeglass SKUs (which represent a combination between frame and color combinations). These overlapped with 199 SKU options for women. There are also only 61 unique eyeglass SKUs for women. This cuts back on having to have a large inventory because a large portion of their inventory is not meant for particular segments. This is particularly obvious in their brick and mortar stores, which do not specify for what gender a style is meant for. For example, the store by my house has two walls of displays—one eyeglass and one sunglass. The only way that each wall is broken up is by style.
In 2013 after many pop-ups and partnerships, Warby Parker made the leap from being a purely digital store to opening it's first brick and mortar store in New York. It was an extremely successful launch and has pushed them to open 64 other stores with hopes to grow this number to 100 by the end of 2018. The stores operate on a "limited inventory, high-experience" model. This means that a customer is able to try any style that they wish, but will often be sent their purchase if the inventory is not available. This model has been so successful that it was projected in 2017 that there would be a 50/50 split between online and brick and mortar sales.
In the eight years that Warby Parker has been operating have grown to be valued at around $1.2 billion. They have most definitely disrupted the eyewear industry and I look forward to seeing what they do next.
Sources:
https://www.inc.com/magazine/201505/graham-winfrey/neil-blumenthal-icons-of-entrepreneurship.html
http://blogs.anderson.ucla.edu/global-supply-chain/2017/08/warby-parker-vs-luxottica-supply-chain-disintermediation-in-the-eyewear-industry.html
https://www.warbyparker.com/history
https://www.cnbc.com/2018/02/15/as-warby-parker-approaches-100-stores-other-internet-brands-follow.html