Chinese Smartphone Vendor to Enter the US Market
For years the American smartphone industry has been dominated by the giants in Apple and Samsung. Now popular Chinese vendor, Xiaomi Corporation, is set to begin selling their smartphones in American stores. Xiaomi is currently the fourth largest vendor of smartphones in China and they have market share in India and certain areas of Europe. The process of expanding into new markets, especiallya market dominated by powerhouse companies like Apple and Samsung creates a huge issue in terms of process decisions and supply chain management. Especially for a company based in China, ensuring that your supply chain is able to handle a new locus of demand overseas is hugely important before considering the expansion.
Xiaomi Corporation will have to use the capacity planning tools that we learned in class to ensure that their processes are able to handle expanded demand. They will have to grapple with how they want to implement different expansion timing strategies. We learned about four timing strategies for expansion. First there is leading demand with incremental expansion which involves small expansions that stay out ahead of demand to ensure sufficient supply at all times. Secondly, you can lead demand with one large expansion and attempt to meet forecasted long term demand. The risk with this second one is that the demand forecasts are off and you over estimated demand. Thirdly, you can react to demand by increasing capacity in small increments as demand outpaces your capacity model. This one has risk involved with not being able to maintain sufficient supply and losing out on sales as your capacity catches up to demand. Lastly, you can attempt to have an average capacity by using incremental expansions that will try to maintain capacity as close to the demand curve as possible (Below are attached graphs from the slides to illustrate the timing strategies that I mentioned above).
Additional issues that Xiaomi Corporation faces includes finding partnerships with telecom carriers, learning about how American markets differ from Chinese markets, and adhering to local regulations to avoid legal actions. One Chinese company has already successfully established itself in the United States. ZTE Corporation claimed 11% of the American smartphone market share last year making it the fourth largest cell phone provider in the United States. Xiaomi can use ZTE Corp as a guide to see how to successfully launch new products in the United States. Partnerships with telecom carriers is the largest barrier to entry in the United States as roughly 75% of cell phones are sold through carriers.
What other supply chain factors do you think that Xiaomi Corporation will face in it's effort to expand into the United States?
What expansion timing strategy do you think Xiaomi should implement to keep up with it's growing demand?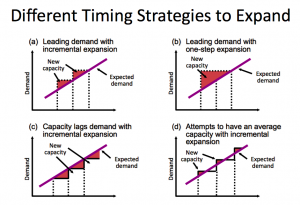 https://www.wsj.com/articles/xiaomi-set-to-enter-u-s-smartphone-market-as-early-as-this-year-1520235047
https://www.wsj.com/articles/zte-chips-away-at-u-s-smartphone-market-1502967603
http://www.scmp.com/tech/china-tech/article/2108200/chinas-zte-step-global-expansion-after-posting-solid-first-half