Turning to Computers for Project Management?
Recently, companies such as General Electric and Shell have started to use algorithms for many managerial tasks. Uber has been one of the main pioneers of using algorithms for handing out tasks to their self-employed workforce. Now, this trend is continuing to spread to other companies, such as GE and Shell. In the following graph, it shows there has been a constant increase in the growth of software sales specializing in helping to manage people.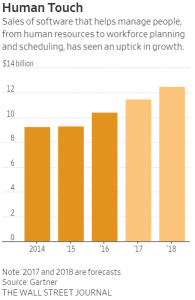 As of right now, these software programs are handling simpler managerial tasks, such as scheduling and overseeing strategic projects. However, there is plenty of room for this technology to grow and replace some of the jobs typically done by humans in relation to project management. Consider the various steps of project management and how it could relate to a computer algorithm.
First, defining a problem will largely be a human task, unless it is a problem present in raw data alone that a computer program would be able to identify. From there, it will normally take a human touch to accurately determine the scope and time frame of the project. However, Shell and GE are already using programs that are able to identify employees that would work well in a certain role, which is a job typically left to project managers.
Not only could this approach save time and money, but computers may be better suited for these jobs. In the Wall Street Journal article Meet Your New Boss: An Algorithm, Tomas Chamorro-Premuzic, a professor of business psychology at University College London, has criticisms of managers in certain roles. He says, "What managers do mostly is identify potential, build teams, assign tasks, measure performance and provide feedback. Generally speaking, humans aren't very good at these tasks." Of course, there are flaws with AI technology, especially as it relates to assigning employees to tasks they have never faced before, but AI could do a manager's job better in certain cases. To read more, the following is a link to the previously mentioned article.
There are still aspects of project management that need a human, but there is always the opportunity for new technology to assist project management better than ever before. In my opinion, project management can benefit massively from increased technological improvement in "megaprojects", or projects with budgets over $1 billion. An article from MIT Sloan, titled Five Rules for Managing Large, Complex Projects, explains that some estimates suggest 90% of megaprojects end up over budget. Unfortunately, this article is only available through a subscription, but it does explain the complexity of megaprojects before a subscription is needed to read further. Normally, increases in the use of technology can reduce overall costs, which means megaprojects could save substantial amounts of money through small changes.
In the end, technology will play an increasing role in the professional world and it could lead to decreased human interaction as it relates to managing projects. As a final thought, Sue Siegel, GE's chief innovation officer, had some interesting thoughts on the increasing presence of technology in management. Same Schechner writes in Meet Your New Boss: An Algorithm, "Sue Siegel said she wouldn't rule out one day working for a machine. 'If the robot has personality and a sense of humor and can understand the human condition," she said, "hey, who knows?'"
For additional reading, I consulted the following three articles (two of which were already referenced directly in the post):
https://www.wsj.com/articles/meet-your-new-boss-an-algorithm-1512910800
https://sloanreview.mit.edu/article/five-rules-for-managing-large-complex-projects/
https://blogs.wsj.com/cio/2017/12/11/the-morning-download-big-companies-give-algorithms-chance-to-manage-people/