From Goldman Sachs to Blockchain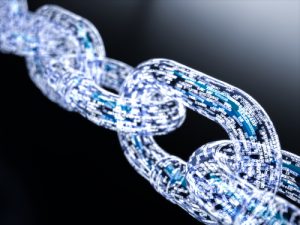 Introduced to us in class today, I thought it incredibly relevant that Blockchain hired former Goldman Sachs executive as head of institutional sales and strategy. Blockchain technology is an innovative technology developed as part of Bitcoin, the digital currency. Most people know or have heard of Bitcoin and its infamously fickle trend and the hype, but I personally did not know about Blockchain. As presented in the class video, it is a technology that can be used for a wide variety of applications to ensure consensus in process, supply chain visibility, and consistent information among peer-to-peer networks.
With Madigan joining the crypto currency world, it is strongly indicative of the direction and innovation that the business world and supply chains will progress. Interestingly, Goldman Sachs had already been delving and exploring blockchain in its transactions and business model. This could be the background that Madigan has which qualified her for her present role at Blockchain. Goldman Sachs states that "the technology is still new, but its potential is enormous," and that "blockchains establish trust, they provide a simple, paperless way to establish ownership of money, information and objects." As head of institutional sales and strategy, Madigan is planning to go full force with the company to integrate into business transactions in a multitude of industries. This service is revolutionary in the respect that it establishes a trust and secures transactions. However, it does have its cons in which that it could be costly to train, attain, and integrate the technology in many industries or businesses. Although technology has always progressed and developed at a rapid pace, the adaptation to use it and develop trust has always lagged behind. Hopefully, Madigan's presence can help Blockchain solidify its image and reputation as a trustworthy service and integrate into business cores. In fact, it's been claimed that in addition to her expertise, her role at Blockchain depends on her reputation and attracting big-name institutional clients.
It certainly is interesting to see how this service could be manifested in the future. Potentially, all supply chains could utilize this technology from moving money to making sure products and information is transported globally. Are there any examples that you can think of that involve or could involve Blockchain? Do you foresee yourself using Blockchain?
http://www.businessinsider.com/goldman-sacs-executive-joins-blockchain-startup-crypto-bitcoin-2018-4
https://www.cnbc.com/2018/04/17/blockchain-cryptocurrency-wallet-hires-top-goldman-sachs-exec.html