Remember Toys "R" Us? Our Favorite Toy Store is Going Out of Business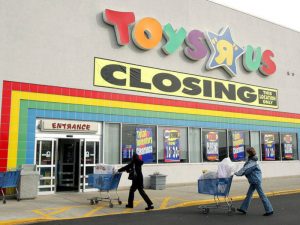 Managing inventory is no easy feat, especially when your task is to carry hundreds of different toy brands and gaming devices. As you have all probably seen in the news, Toys "R" Us has filed for bankruptcy and plans on closing its 735 U.S stores and liquidating its assets. There are a variety of causes that may have added to the company's demise, but its mismanagement of inventory may be one of the biggest causes. Because Toys "R" Us is known for its large variety of specific toys, it is hard for Toys "R" Us to make the popular switch of " Just-in-Time" to save on inventory costs. That being said, their holding costs were very high. Additionally, Toys "R" Us was late to the game. The market was changing, with customers requiring instant gratification when shopping and expecting an experience when they enter a brick and mortar store. Toys "R" Us was not able to deliver this.
Forecasting, for both sales and inventory, is an area that the company could have easily modified. The article mentions, "with accurate inventory forecasting, stock levels can be determined by educated estimations rather than a one-size-fits-all approach (such as keeping three of every item on shelves, in Toys 'R' Us' case). By utilizing sales data to predict required inventory ahead of time, individual product levels are based on projected demand, meaning customers are more likely to be able to purchase the products they want when they want them." This would have lead to less unwanted stock stored in warehouses, which would have reduced holding costs and allowed for more effective cash flow management.
The bad management of the inventory supply has also caused Toys "R" Us to fall into massive debt. This is what triggered their file for bankruptcy. The company owes over 200 million dollars to its suppliers, and as total debt of 400 million. "According to Bloomberg, Toys "R" Us has missed payments to some suppliers without explanation and has quit negotiating on money owed before its initial." Also, we talked in class about how prices are not always everything. A major issue with the company was the lack of experience they were giving their customers.  It was stated," The retailer's sprawling warehouse-like stores also were a turn-off to consumers who are looking for "experiences" while they shop." So on top of not having the sought out inventory and seeming cluttered when it did, Toys "R" Us was not giving their customers the experience other retailers had. Managing your inventory is a very important decision that managers need to oversee. Since demand fluctuates a lot in the toy industry, Toys "R", should have better accounted for the needed safety stock and reorder dates. A company going under affects more than just the stockholders, because if this decision over 33,00 people are now out of jobs.
Articles-
https://www.supplychaindive.com/news/suppliers-Toys-R-Us-bankruptcy-debt-risk/505343/
https://www.cbsnews.com/news/toys-r-us-shutting-u-s-stores-liquidating-inventory/
https://www.tradegecko.com/blog/toys-r-us-how-out-of-stock-situations-are-killing-the-toy-giant