Defining Amazon's ability to overcome bottlenecks and stay ahead of the game
Over the past few weeks of blog posts Amazon has been a common topic of discussion. Their unparalleled control of operations and widening footprint across supply chains has allowed them to become the exemplar for developing companies. But what part of their business process is it that truly makes them stand out amongst competitors? Some attribute it to Bezos and his ability to identify and eliminate bottlenecks in every part of his multi-layered business model, while others point to Amazon's inventory management and lightning fast distribution systems. Both strategies have been instrumental in attributing to Amazon's success, but I think the core determinant is the company's ability to analyze processes, find their constraints, and  fix/ improve them at a speed others aren't capable of matching. Exposing and repairing bottlenecks is a key process that determines whether or not companies are able to unlock sustainable growth and Amazon has come close to perfecting this.
The very first bottleneck Amazon faced was earning the trust of consumers to buy online. They made the process of uploading credit card info easy to do and easy to understand. They were even able to support it with flawless customer service if and when something went wrong. By solving this initial bottleneck of building trust, they became the gold standard of reliability for online buyers. In my experience, people will usually pay more for products from Amazon than direct from the manufacturer because they genuinely trust the company's dependability and have faith in their system.
In terms of the most recent acquisition of Whole Foods, their biggest bottleneck was making the experience for shoppers as smooth and consistent as possible. The execution of this idea so far has included implementing Home Delivery, incremental price cuts, pop up stands displaying amazon gadgets, and order pick up lockers. Although it may seem like Amazon hasn't fulfilled all of the objectives they promised at the beginning of the procurement, they are relying on a strategy of slow, cumulative installments to avoid constraints and manage capacity at a sustainable rate. Bezos and the rest of management has done an incredible job evaluating their operations and adhering to the six sigma methodology to keep their business processes consistent and progressive.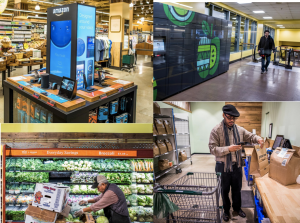 My questions for you guys are these:
What do you think are the next bottlenecks for Amazon to overcome as an online company or as a proprietor of Whole Foods?
What course topics have we covered so far that you believe can be referenced towards Amazon's progressive operations?
Lastly, what do you believe are Amazon's greatest strengths? What part of their business strategy do you believe separates them from the field.
https://www.nytimes.com/2018/03/01/technology/bit-by-bit-whole-foods-gets-an-amazon-touch.html?rref=collection%2Fsectioncollection%2Ftechnology&action=click&contentCollection=technology&region=rank&module=package&version=highlights&contentPlacement=1&pgtype=sectionfront
https://www.fronetics.com/supply-chain-impacts-amazons-whole-foods-acquisition/
https://medium.com/@joshualong/jeff-bezos-the-ultimate-bottleneck-breaker-176b75337ff8