Big Rig orders reach 12 Year High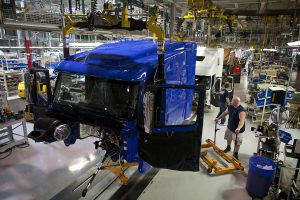 A Wall Street Journal article published shortly after the holiday season highlighted the severe, ongoing shortage of 18-wheeler trucks. This led to logistical nightmares during the holiday season, sending shipping costs soaring in addition to forcing shippers to either postpone orders or pay astronomical prices to have their orders fulfilled on time. The article used Michelin, a tire manufacturer as an example; "Michelin North America Inc. cut its daily shipments of synthetic rubber from one plant by a fifth earlier this month and is at times paying double its usual price for temperature-controlled trucks, said Eric Stuch, a logistics manager at the tire manufacturer." Despite some manufacturers cutting their shipments, the overall number of shipments in the market is steadily rising. For the week ending January 20th, there were about 10 truck loads waiting to be moved for every truck that was on the road, up from 3 the same week a year earlier. Many companies have cited the cost of freight in recent lower than expected earnings reports.
According to a more recent article, the markets seem to be adjusting. Orders for big rigs hit a 12 year high in the first month of 2018, fueled by a booming demand for freight and a recent tax overhaul. Unfortunately, the distribution bottleneck is not solved by simply placing an order for a truck. The truck manufacturing industry as a whole currently has a backlog of nearly 160,000 trucks. The good news is that production is expected to increase 25% this year, representing a daily production increase to 1,300 trucks from 1,100 trucks this past December. The increase in production is attributable to moves such as the ones Diamler Trucks North America is making. The company is relying on a flexible manufacturing system, where orders are distributed to various plants dependent on the available capacity, with the goal of alleviating bottlenecks.
Another issue contributing to the reduction in freight capacity is the lack of drivers and trouble recruiting drivers. A low current unemployment rate further inhibits the ability to recruit drivers. This has led to many companies having their orders shipped by rail, which almost always much slower than by truck.
So what does this all mean? In a globalized world, supply chains stretch far and long. The supply chain for the iPhone spans across 30 different countries. When raw materials or finished products reach the American coast, they rely on these freight companies to move their goods to their next destination. Logistically, a shortage of freight can lead to waiting lines or bottlenecks in processes where outside sourced parts are added, if the parts have not arrived on time. On the other end of production, a shortage of freight can lead to a bottleneck at the distribution stage, if there is no truck available to move the goods out of the warehouse or factory.
https://www.wsj.com/articles/trucking-companies-ordered-most-big-rigs-in-over-12-years-1517913000?mod=searchresults&page=1&pos=10
https://www.wsj.com/articles/a-shortage-of-trucks-is-forcing-companies-to-cut-shipments-or-pay-up-1516789800?mod=searchresults&page=1&pos=5
https://www.wsj.com/articles/trucking-companies-race-to-add-capacity-drivers-as-market-heats-up-1516453200?mod=searchresults&page=1&pos=20