Did Mobile Ordering Fix the Waiting Line Problem for Starbucks?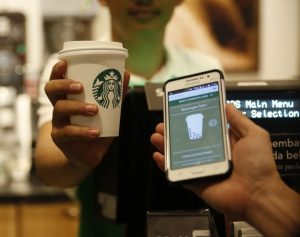 As college students, we are keenly aware of the congestions that happen at Starbucks. Starbucks is known for giving their customers an "experience" with their coffee. The dark lights, the mellow music, and the general artsy vibe they express through their interior decor and setup are why they are sought after. Starbucks is still expanding, so stores are continually showing up on every corner. Yet, the increased popularity comes with business stresses that could not have been expected. Starbucks is known for their infamous long waiting lines. They have incorporated drive-thrus and online ordering to decrease the wait time, but these solutions are not making the changes that management has expected.
The new mobile ordering app has shifted the problem from the cashier lines to the coffee pick up area. More and more people are using the ordering app to avoid waiting in line, only to be put in another congested area. The current stores cannot keep up with the increased volume demands. This makes sense to me, as Starbucks did nothing to actually improve their production efficiency, they simply gave people another avenue for placing their already complex and numerous orders. This congestion has negatively impacted the company shares, and last year their shares actually fell four percent. Overall, having too much demand is good for business, but Starbucks is taking too long to adjust to the changes that need to be made. You may love Starbucks, and genuinely prefer their coffee to other places, but if you know that the whole transaction, from start to finish will take over fifteen minutes, you may be forced to take your business to one of their competitors like Dunkin Donuts. Former CEO Howard Schultz stated, "We are now laser-focused on fixing this problem, but the nature of it, too much demand, is an operational challenge we have solved before, and I can assure you we will solve again." Some changes Starbucks are planning to make are having baristas specifically for online orders and using text message notifications to let consumers know exactly when a mobile order is ready to be picked up.
Starbucks stores are not particularly spacey. They mostly have only two cash registers and one line.Once you pay for your order you wait at the pickup area for your coffee. This is not a line, per se, but more of another phase in their model. Starbucks operates on a single channel, multiple phases system. The priority rule for the cashier line is first come first serve, and I believe the pickup line is a combination of first come first serve and customer with the shortest expected processing time. For example, once you place your order your drink is next in like to be made, but drinks such as plain coffees and teas generally get their order filled first because simple drinks require a one-step process. It is ultimately up to the managers to make these type of risk decisions, but a few things they need to take into consideration when dealing with waiting lines are line arrangement, service time, and the number of channels. Personally, I think Starbucks should look into building larger locations so that more workers can be making drinks and more registers can be simultaneously operated.