---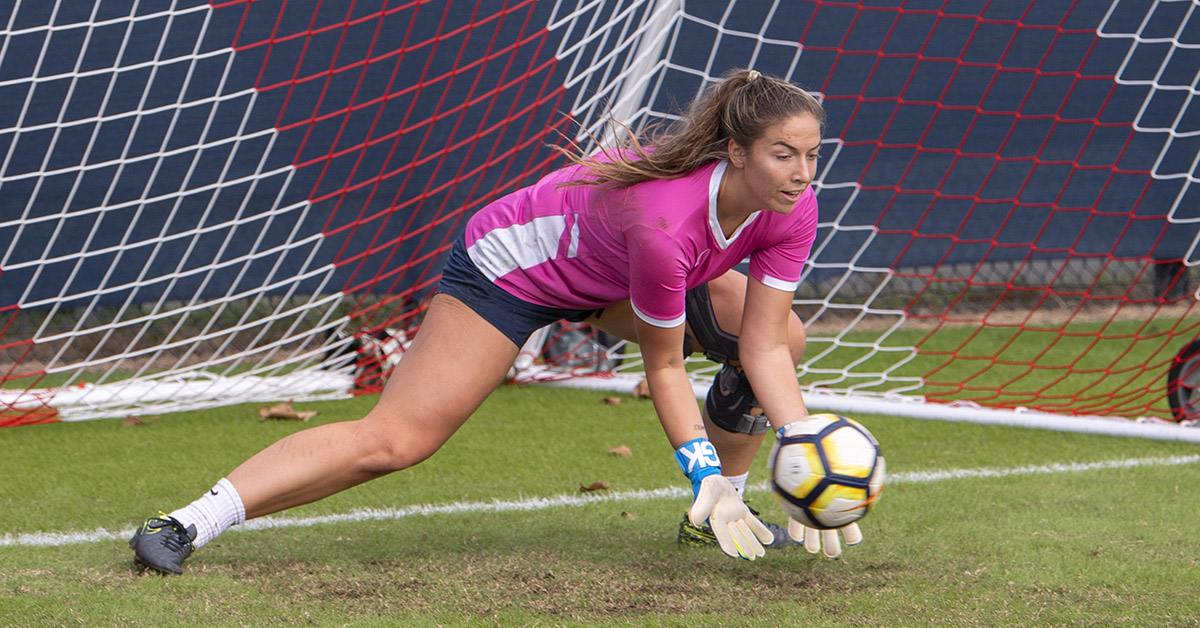 Each year the University hosts a breakfast at which we honor the academic achievements of our athletes. As a student, I barely managed to run occasionally or play softball at a recreational level, so I am always impressed by our scholar-athletes who undertake so many additional commitments and yet manage to learn deeply and broadly.
This year's breakfast, held in February prior to spring break and COVID-19 social distancing, provided an opportunity to reflect on why such athletic achievement may complement the academic experience. Dr. Julian Hayter, associate professor of leadership studies, spoke briefly to the athletes, drawing on three overarching themes: mastery over controlled crisis, play and competition, and training for life.
Beginning with the first, Hayter argued that team sports are an ongoing series of crises, which competitors must constantly navigate. Repeated exposure to chaos over which they have only partial control helps student-athletes become excellent decision makers and develop resiliency in the face of disappointments. They master the art of living through planned and unplanned events—an invaluable skill in our present times, where we are adapting daily to the evolving coronavirus pandemic.
What is the relationship between competition and play? While they are not the same, they complement each other. With few exceptions, one is a better competitor if one enjoys the sport; and one enjoys the sport if one is able to succeed at it, put it to the test of competition. Even those who run for the pure joy of passing by an isolated portion of the James River often use a timing device or post the run online to a group of colleagues, thereby comparing the run to their own former endeavors or to those of others who have taken the same route.
Our students are learning how to navigate life and, to be sure, courses in biology, history, and leadership studies give them many skills for that navigation. Again, there is complementarity: the athlete who perfects a play or works as a part of team must train rigorously and with determination. That training, Hayter argued, will pay off over a lifetime.
Indeed that complementary athletic and academic training is paying off right now. This Monday, the University of Richmond Athletics Department recognized many scholar-athletes, including five leadership studies students, at its annual—and this year, virtual—SPIDYs Award Show: Abby Lyons, '20, Student-Athlete Advisory Committee president and Women's Field Hockey Team captain, the Female Leadership Award; Jaide Hinds-Clarke, '20, Women's Basketball forward, the Civic Engagement Award; Emma Nash, '20, Field Hockey Team defender and midfielder, the Iron SPIDY Award; Erika Echternach, '20, Cross Country Team runner, Presidential Award for senior with the highest academic achievements; and Keegan Heher, '22, Women's Lacrosse Team defender, Second Year Academic Award. I couldn't be prouder of these student-athletes.
At heart, I am an academic, as is Dr. Hayter. Notwithstanding, I greatly appreciate the benefits associated with athletic mastery and admire the determination of our students who compete at the Division I level, while also achieving in the classroom. To Dr. Hayter's remarks I would add one additional reflection: Athletic training and achievement are deeply related to leadership. Those who learn to coordinate on the playing field are also learning the important life lesson of how to lead and when and how to follow.
Photo: Women's Soccer goalie Carlie Blessing, '20, was one of several leadership studies students recognized at the University's annual Scholar-Athlete Breakfast in February.
Watch the SPIDYs Award Show video.
Recognizing athletic and academic achievement