---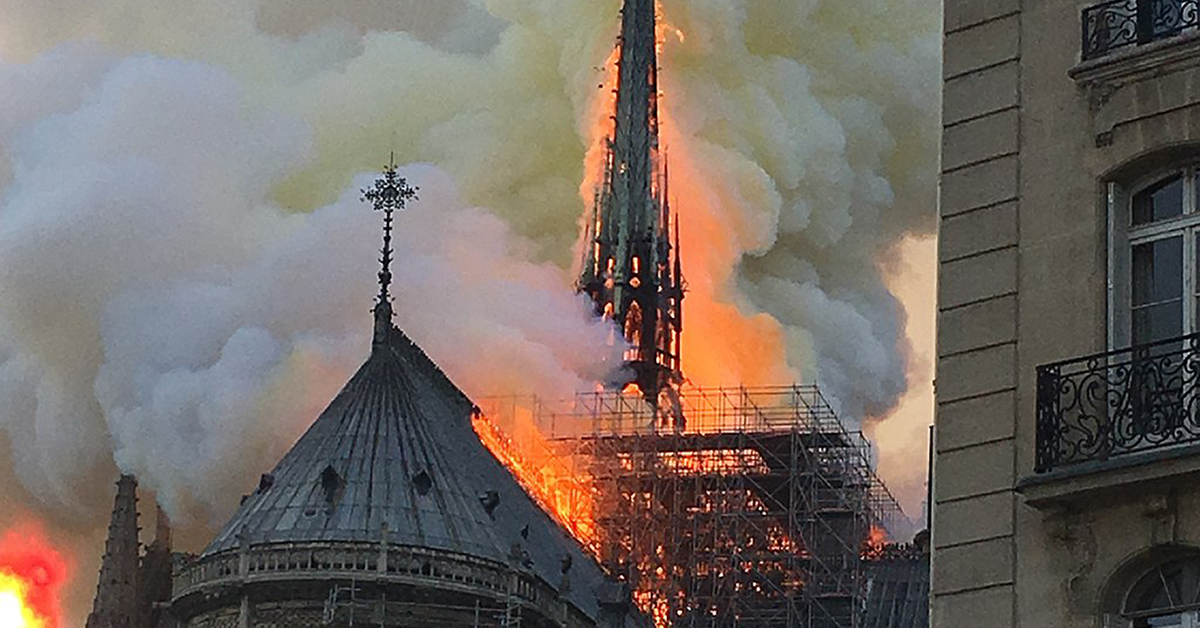 Nous sommes avec vous.
Such was our predominant sentiment as we watched the horrific fire at Notre Dame Cathedral Monday. People the world over were deeply moved by the images of the burning cathedral. We experienced a deep sense of sympathy with those whose cathedral it was, who felt the horror more immediately.
Political leaders and celebrities shared their condolences: President and First Lady Trump, Canadian Prime Minister Justin Trudeau, actress Reese Witherspoon, composer and playwright Lin-Manuel Miranda, and many more. All apparently compelled and, in the Twitter age, able to weigh in with comments that become part of the public record. A selection is below.
"So horrible to watch the massive fire at Notre Dame Cathedral in Paris. Perhaps flying water tankers could be used to put it out. Must act quickly!"
"My heart breaks for the people of Paris after seeing the fire at Notre Dame Cathedral. Praying for everyone's safety."
"Absolutely heartbreaking to see the Notre Dame Cathedral in flames. Canadians are thinking of our friends in France as you fight this devastating fire."
"Am praying for Notre Dame."
"Interrupting my birthday to express how much pain I'm in watching the Notre Dame fire unfold. Such an incredible building. I'm so sad."
"Standing here next to you, heartsick for Notre Dame…"
"Watching the Notre Dame fire with such sadness. Sending love to the people of France and hoping they get a handle on it soon. It has survived, and will survive."
Recognizing that these are short and informal messages, what do they express in common? Horror, concern for safety, sympathy, and solidarity.
In times like these, leaders confront the terrible reality and help us move beyond it. In France, in particular, there is now a moment when the people can, at least for a time, unite around a common cause of moving ahead.
Following the tragedy, French President Emmanuel Macron recognized the historical significance of the landmark when he said, "Notre-Dame is our history, our literature, part of our psyche, the place of all our great events, our epidemics, our wars, our liberations, the epicenter of our lives."
He insisted on finding a moment of pride amidst the devastation: "Let's be proud, because we built this cathedral more than 800 years ago, we've built it and, throughout the centuries, let it grow and improved it." He "solemnly" vowed that "we will rebuild it together."
Leadership in such moments frequently brings people together. In fact, a tragedy of this magnitude can itself serve to unite. Those most affected form bonds of deep sympathy, while those less affected join the group. The challenge for leaders is to put such unity to good purpose, not only to unite, but to move forward with, as Macron suggests, resolve.
Leadership in times of tragedy