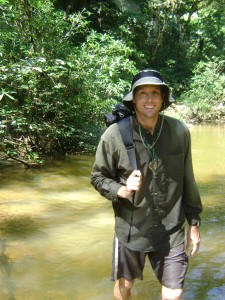 Dr. Salisbury's primary interest is conservation, development, and social justice in the Amazon borderlands.  To date his research has concentrated on the border shared by Brazil and Peru, the two countries with the largest portions of the Amazon rainforest.  Dr. Salisbury's methods include participatory methods, remote sensing, ethnography, archival research, and GIS, among others.  Above all, he believes in working in close collaboration with local people and regional organizations to better understand human-environment dynamics on the ground in an effort to reconcile conservation, development, and social justice in Amazonia.  Dr. Salisbury's applied research seeks to help local people grapple with the larger political and economic forces around them.  Two examples of this work are described in this 2012 University of Richmond's The Alumni Magazine article, Road to Ruin, and an April 2013 National Geographic Magazine article, Mahogany's Last Stand.
Research projects are described below with publications, maps, posters, and other outputs on the Maps and Articles or Student Research tabs.  Here is Dr. Salisbury's CV.
Dr. Salisbury's current research projects are as follows:
1) Dr. Salisbury is currently writing a book on the Amazon borderlands.
2) Climate Change Atlas of the Americas project in collaboration with the  Pan-American Institute of Geography and History (PAIGH) and Dr. Nancy Aguirre of UPTC, Dr. Fabiola Barrenechea of UBO, Dr. Fernando López Martín of IGEAR and Universidad de Zaragoza among others.  The atlas project involves a dynamic web-based Atlas with continental scale displays and case study data with an associated shared curriculum.  The students of the 2019 Global Sustainability class participated in our October 2019 workshop in Chile.  See tab for more details.
3) Dr. Salisbury facilitated three transboundary mapping workshops (2019, 2014, 2013) with the University of Richmond, Brazil's Comissao Pro-Indio do Acre and Universidade Federal do Acre, and Peru's Universidad Nacional de Ucayali, , and Instituto del Bien Común among others. The workshops, funded by the Pan-American Institute of Geography and History (PAIGH) and the Blue Moon Fund among others, produced numerous maps and are described in two articles (see Maps & Articles page).  UR students Claire Powell, Diego Leal and Cloe Franko helped facilitate the workshops, while UR students Griffin Walsh, Nia Cambridge, Peter Braun, Gabi Williams, and George Appling participated.
Recent Research
a) A Puerto Esperanza-Inapari road continues to be proposed between the headwaters of the Purús River and the Transoceanic Highway in the Peruvian Amazon. Dr. Salisbury is currently collaborating with UR exchange student Melissa Velasco to build on analysis conducted with UR students George Appling and Caroline Dougherty.
b) Pucallpa, Peru-Cruzeiro do Sul, Brazil road.  Together with the Grupo de Monitoreo de Megaproyectos Ucayali and UR student George Appling, Dr. Salisbury analyzed the potential impacts of an 160 km paved road proposed to link Cruzeiro do Sul, Brazil and Pucallpa, Peru.  More can be learned from a book chapter in Land Change Science, Political Ecology, and Sustainability , the posters on the Articles & Maps tab above, and these 2010 television interviews in Spanish (part 2 here).  Some students in the Spring 2012 Environmental Studies Senior  Seminar, Socio-Environmental Impacts of Road and Rail, conducted research related to this project (see student research page).  Jay Jump and Dr. Jackie Vadjunec of Oklahoma State University contributed on preliminary analyses of this road.
c) Collaborating with Indigenous Amazonians on climate change.  Dr. Salisbury received a grant from the John D. and Catherine T. MacArthur Foundation to facilitate the First Binational Congress of the Ashaninka/Asheninka people and bring their voice to discussions surrounding the United Nations Conference of the Parties Meetings in Paris, France.  Dr. Salisbury also collaborated with Dr. Foster Brown conduct Climate Change Workshops in the remote borderland communities in the Purus and Jurua Headwaters as part of the project below.
d)  From 2012-2015 Dr. Salisbury was Project Director on a University of Richmond-Universidad Nacional de Ucayali (UNU) project called Building Conservation Capacity in a Changing Amazonia funded by Higher Education for Development with funds from the Initiative for Conservation in the Andean Amazon of the United States Agency of International Development.  More information can be found here.
e) Dr. Salisbury, and UR student Diego Leal advised the Peruvian borderland community of Saweto in their quest to title their homelands.  Saweto also collaborates with Margoth Quispe, Mario Osorio, the Rainforest Foundation, and their neighboring community of Apiwtxa.  Diego Leal´s interviews of indigenous communities close to the regional capital of Pucallpa found the communities to continue to struggle for complete control of their resources even after being titled.  More details in the JLAG article below:
Leal, Diego B., Salisbury, David S., Faquín Fernández, Josué, Cauper Pezo, Lizardo, Silva, Julio. 2015. Ideas Cambiantes sobre Territorio, Recursos, y Redes Políticas en la Amazonía Indígena: Un Estudio de Caso sobre Perú. Journal of Latin American Geography 14, no 2: 181-204.
Finally, Dr. Salisbury maintains strong interests in factors influencing the cultural and biological diversity of the Amazon: indigenous rights, climate change, natural resource management, land use, development, transboundary integration, mapping, and migration to name a few.