How Queen's "We Will Rock You" Builds Community
Here, in 1985 at Rock in Rio, Queen stood in front of a crowd of 250,000 individuals who were jumping, singing, and rocking and united them like they were one (Queen Official, 0:00 – 2:30). This was not the first time this anthem did this, and certainly would not be the last. Over the course of 40 years, "We Will Rock You" went platinum four times in the United States, once in Great Britain, twice in Italy and gold once in Germany (RIAA), (BPI), (FIMI), (BVMI). This prodigious level of success is shown in the chart below (Figure 1).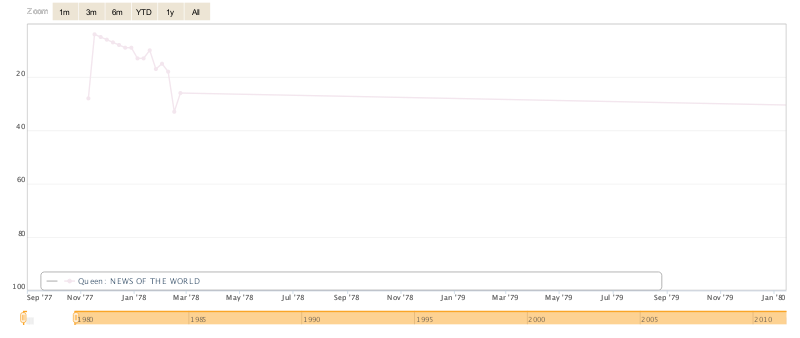 Figure 1: This figure shows the chart position of Queen's album News of The World from its release date on November 10th, 1977 to January, 1980 in Great Britain (Music ID).
Rolling Stone ranking "We Will Rock You" at 330/500 on their list of best songs of all time is another testament to the hits extreme amount of popularity (Rolling Stone). One may ask though, how is it possible for a mere two minute song to contain all of this massive success and have the ability to build such a connected community? Released in 1977, Queen's "We Will Rock You" helped to generate this community in three ways. First, the band used lyrics about being resilient towards the challenges that people of every stage of life experience. Second, the song contains a narrow melodic range and an intentional lack of virtuosity that can appeal to people with even little to no musical experience. Third, the thin texture and rhythm of the song serve to incorporate the audience into the performance with the band and transform them into a unified instrument.