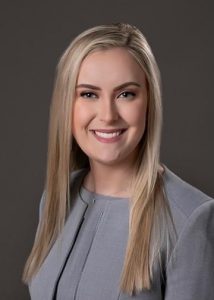 by Logan Childress Brunette (L'22)
Logan interviewed with 7 employers during the 2020 Government & Public Interest Interview Program (GPIIP) and accepted an internship with the Fredericksburg City Attorney's Office. She split her summer between that office and Perkins Law, PLLC.
As a 1L, interviewing can be stressful. Speed interviewing in a booth (or, rather, online this year) adds a lot more pressure. While I am positive that this spring's GPIIP experience won't look exactly the same as last year, here are a few foundational tips that I found useful for both in-person and online interviews:
Do your research. Make sure you apply to places you would want to work. Always learn something about your interviewers or the organization itself that makes you excited to intern there (and incorporate that information into your cover letter when you apply, as well).
Go to the space before the interview. If you are in person, run by the room or booth. I find this helps me become more comfortable, and you don't have to worry the day of about running late because you are lost. If you are online, test out the platform and learn how to use it at least a day in advance. Make sure to test your lighting and check your background or use a professional virtual background if the platform allows.
Do not be afraid to get "off-topic." Be yourself. From my personal experience, interviews that are organic and more personal tend to lead to more success. Last year, I interviewed with a few different organizations through GPIIP. One of the most memorable interviews from that day was with the Fredericksburg City Attorney's Office. I remember sitting down, talking about my writing sample, summarizing my experience, and talking about our mutual love for dogs! Yes, about a quarter of our time was spent talking about rescue dogs, showing pictures of our "fur babies," and bonding over this mutual interest. Soon after my interview, I received a call from their office and ended up accepting a position with their office, and it was an amazing summer.
Print out all documents. Do not assume that your interviewer(s) will bring all of your submitted materials. For in-person interviews, print out enough copies for each person, or at least three copies of each document if the number of interviewers is not known. For online interviews, be prepared to email each interviewer the documents with a nice message at the start of your meeting if they don't have your resume on hand. Having a printed copy in front of you during a virtual interview will also help job your mind when discussing your resume or writing sample!
And, in general, prepare, prepare, prepare!
GPIIP can be a scary monster of a day. But it does not have to be. If you read these foundational tips and make them your own, you are already a few steps closer to having a successful GPIIP experience. Remember to relax, enjoy yourself, and, ultimately, you will end up where you are supposed to be. I know I did! And, if you are as lucky as I was, your summer colleague may be furry and four legged!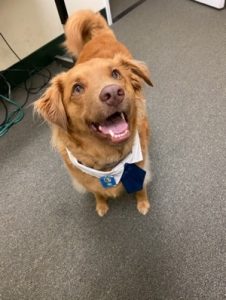 Dori Martin, the Assistant City Attorney, lived close to the office and brought her dog with her to work on "slower" days.
Happy GPIIP-ing!