The Bachelor's Commodification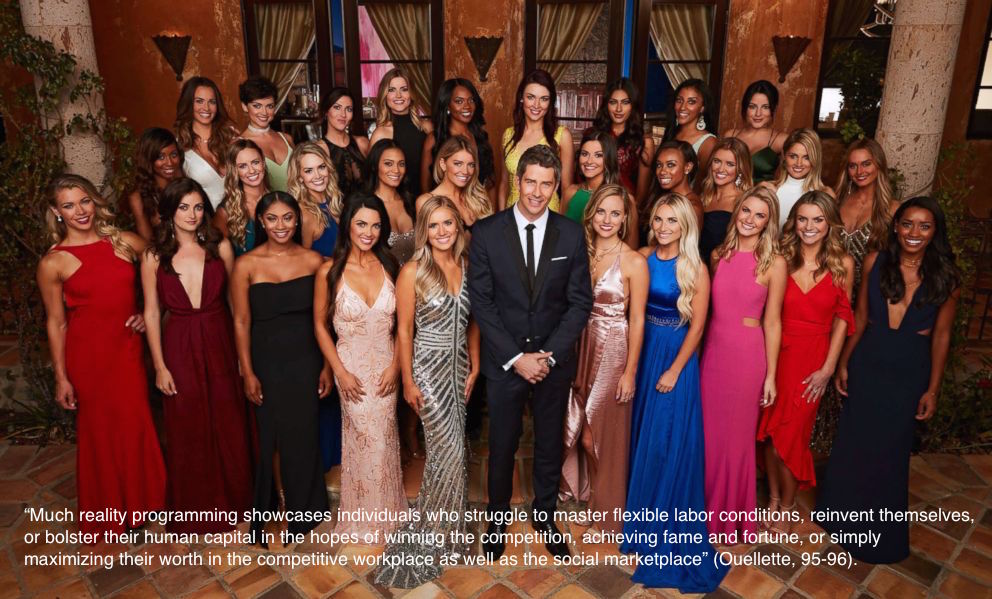 The above photo is from the most recent season of ABC's hit show "The Bachelor" which is currently airing. The audio clip is from an interview with one of the former stars "The Bachelorette," Andi Dorfman. Both shows are known to have contestants that come on and list their occupation as something that ins't actually a real career. Andi is guessing whether the careers across the screen are actually ones that contestants listed as their occupation. Some of the careers that people listed were hipster, grain merchant, aspiring drummer, and tickle monster. This game relates directly to the the Ouellette reading and the quote I pulled.
Many reality TV shows are centered around a competition, including "The Bachelor" franchise. Whether it be the chance to win money, win a significant other, or win your dream job, tons of people sign up to go on reality TV competition shows. In reality, they are actually competing for something bigger: fame. From going on these shows, people gain thousands of social media followers and the opportunity to reinvent themselves and their career, or get free publicity for themselves. Andi Dorfman, the former Bachelorette featured in the clip, is a perfect example. Before going on the show she was an attorney based in Atlanta. Now she lives in New York City and makes a living from doing Instagram sponsorships and writing tell-all books about dating and her time on the show. She has completely reinvented herself and what her day to day life looks like. She didn't win the competition and isn't with the man anymore from the show, yet she is still somehow winning; she is making a profit off of her life experiences and only has the platform to do so because she went on TV.