By: Caleb Thompson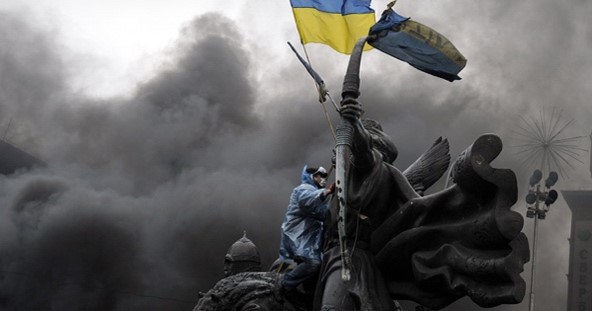 In times of political turmoil, be it domestically or abroad, lawyers can always be of immense use. Lawyers have the tools to help with refugee resettlement, citizenship logistics, and managing the political aspects of the crisis. The current crisis in Ukraine is no exception. Vladimir Putin's invasion of Ukraine in February 2022 has shocked the world. As of March 7, 2022, UN Human Rights officials have reported over 1,200 civilian casualties resulting from this crisis.[1] The number of refugees who have fled the country since February 24 2022 is already in the millions as of March 8, 2022.[2] With this crisis, as any other, lawyers are uniquely situated to assist those who need help the most, and there are several resources that lawyers can do to fulfil this need.
Among these resources is the Ukrainian Legal Aid Database. This database was created by a Hungarian law firm that has partnered with an L.A.-based legal tech company, as well as an anonymous legal industry influencer to "create an international database of pro bono attorneys willing to represent Ukrainian refugees in need of immigration or asylum aid".[3] As of February 28, 2022 the organization already had 500 attorneys registered for the service, but demand for more help is still high.[4]
This database connects international law firms, attorneys, and legal tech providers with displaced Ukrainian refugees who need legal aid assistance.[5] This resource is free to use to both Ukrainian refugees and lawyers who wish to help them.[6] Any attorney who wishes to sign up to participate must visit the organization's website at ukranianlegalaid.org and select their language.[7] The attorney must then enter some of their personal information, including their name, contact information, jurisdiction, practice area(s), and languages they can speak and/or read.[8] The attorney then may be contacted by the organization, connected with a client/clients, and be asked to provide guidance and expertise that may cover any number of legal questions and tasks that relate to legal aid and international law.[9]
These organizers are especially interested in finding attorneys who can speak Russian, Ukrainian, Polish, or Hungarian.[10] Ukrainian Legal Aid is also seeking law firms, corporations, and other organizations that may have resources to share.[11] These resources include help with preparing immigration forms and asylum claims.[12] Firms may also offer the help of paralegals, legal secretaries, and law students they may have employed or are in contact with.[13] Many cases have already been processed and AI systems employed by the organization are automating as much of the documentation as is possible.[14] Still, much human assistance is still required to help with client intake and case processing.[15]
I strongly encourage and plead to my law student peers, as well as any lawyers who may become aware of this project to sign up to help with this crisis, through the Ukrainian Legal Aid Database or through any other legitimate means available. Many of the Ukrainians who have evacuated their home country may not have the same home to return to once this crisis passes. As lawyers and law students we have a responsibility not only to the public of the United States as it stands, but also to those outside of our borders who require the assistance that only we can give. I personally look forward to helping those affected by this crisis to find a new home, temporarily or permanently, and I hope that others will feel moved to do the same
[1] CNN Staff, Here are the latest civilian casualty figures in Ukraine, according to a UN spokesperson, CNN (Mar. 7, 2022) https://www.cnn.com/europe/live-news/ukraine-russia-putin-news-03-07-22/h_2bb19f268071aaf1c7fa2035163f1e33.
[2] United Nations High Commissioner for Refugees, Ukraine Refugee Situation (2022) https://data2.unhcr.org/en/situations/ukraine/location?secret=unhcrrestricted.
[3] Bob Ambrogi, Groups Seek Pro Bono Lawyers for Ukrainian Immigration/Asylum Assistance, LawNext (Feb. 28, 2022) https://www.lawnext.com/2022/02/groups-seek-pro-bono-lawyers-for-ukrainian-immigration-asylum-assistance.html.
[4] Id.
[5] Ukrainian Legal Aid, https://ukrainelegalaid.org/#/ (last visited Mar. 9, 2022).
[6] Id.
[7] Id.
[8] Id.
[9] Id.
[10] Supra note 3.
[11] Id.
[12] Id.
[13] Id.
[14] Id.
[15] Id.