In 1981, the new wave band Talking Heads released their single "Once in a Lifetime," to mediocre chart performance. Later that year, MTV made its debut, and its 24/7 broadcast schedule meant that music videos, including the video for "Once in a Lifetime" received numerous airings for a nationwide cable audience. Capitalizing on their resulting name recognition, in 1984 Talking Heads released a concert film Stop Making Sense, which featured a new live arrangement for the song, keeping the same relatable lyrics but with a more danceable tempo and harmonic groove (Huey). Numerous re-releases of "Once in a Lifetime" during the 1980s made the single a cult classic and a staple of the Talking Heads' discography. In 1986, the single was featured in the film Down and Out in Beverly Hills, cementing the song's place in the mainstream and bringing its avant-garde musical characteristics to a wider audience (Karr).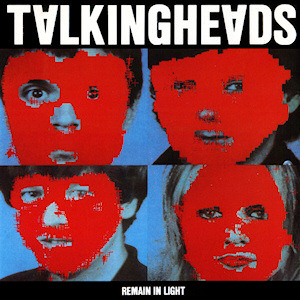 Album cover for
Remain in Light
, 1980, featuring CGI and the first release of "Once in a Lifetime".
NPR's Rick Karr claims that "'Once in a Lifetime' has actually had three lifetimes: "its initial release, its live version used in the Talking Heads' concert film Stop Making Sense, and its use in the soundtrack for the feature film Down and Out in Beverly Hills." The song's relative successes in these different media, respectively, highlight different aspects of the work (Karr). Though not on the art for the single's release, the album cover features the Talking Heads band members with deliberately pixelated CGI obscuring their faces. This artistic use of technology to comment on modernity is also visible in the music video for "Once in a Lifetime": footage of singer-songwriter David Byrne dancing erratically is green-screened over CGI water, footage of religious rituals, and duplicates of David Byrne's dancing. Byrne's singing mimics TV evangelists, and the green-screen suggests a disconnect by unnaturally juxtaposing this with footage of religious practices from Africa and India. Byrne fades into computer-generated water, suggesting artifice in the baptisms and rituals of megachurches and their associated evangelists.
In Stop Making Sense, the instrumentation is significantly different: the percussion is accentuated and the burbling synthesizer riff is absent. By using more lively vocals and harmonies, Talking Heads adapted their song for a dancing audience and played up the optimism that the group felt characterized their departure from the "urban pessimism" of pop rock in the 1970s. Karr also identifies "Once in a Lifetime" as a fitting selection for Down and Out in Beverly Hills due to the relatability of the mundane narrative in its lyrics: being half-awake in a suburban routine.