Every individual and society have their unique sense of identity that outstand them from others in many aspects such as beliefs, food, languages, and celebrations. It is important to learn from one another and celebrate our differences, but first, we must have a level of understanding about each other in order to facilitate collaboration and cooperation. Below are examples of elements that have shaped my identity as an Egyptian followed by elements from a different culture, the US-American culture.
The Egyptian revolution of 2011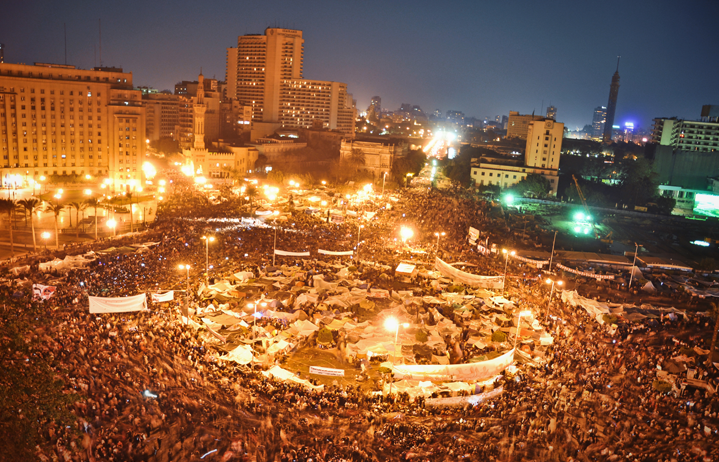 January 25th, 2011 was one of the most important days in modern Egyptian history, millions of protesters from a wide range of socio-economic and religious backgrounds demanded the overthrow of Egyptian President Hosni Mubarak. The Egyptian protesters' grievances focused on legal and political issues, including police brutality, state-of-emergency laws, lack of political freedom, civil liberty, freedom of speech, corruption, high unemployment, food-price inflation, and low wages. Violent clashes between security forces and protesters resulted in at least 846 people killed and over 6,000 injured. Protesters retaliated by burning over 90 police stations across the country. I was so proud and will always be seeing and remembering this day. It showed the Egyptian people pride, strength, and unity.
The Egyptian Media Production City (EMPC)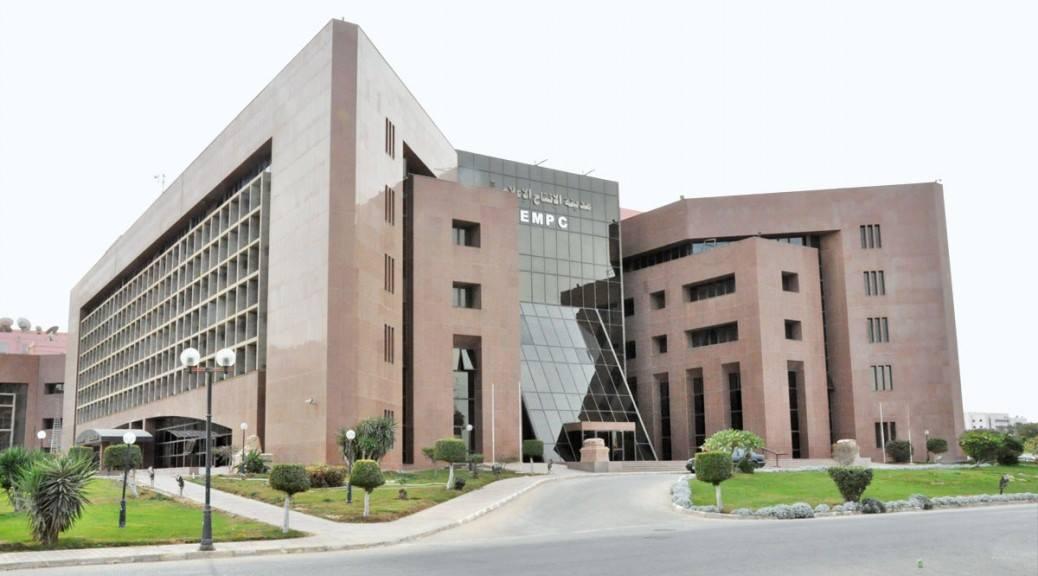 EMPC is an information and media complex located near Cairo in Egypt. it covers an area of about 35 million square meters. The Company provides and leases television, cinema, and media production tools, and complementary services to others, as well as produces cultural, drama and kids shows., It also offers other activities including media products marketing and distribution, post-production, and pre-production services. The Company operates the International Academy for Engineering & Media Science, which offers specialized technical diplomas and advanced training courses in a range of media fields. As a child, I grew up watching their shows which have shaped my mind significantly. They play an important role in the media development of the country and they have been very influential and successful on both national and regional levels, it is like an Arab Hollywood.
Mashrou' Leila concert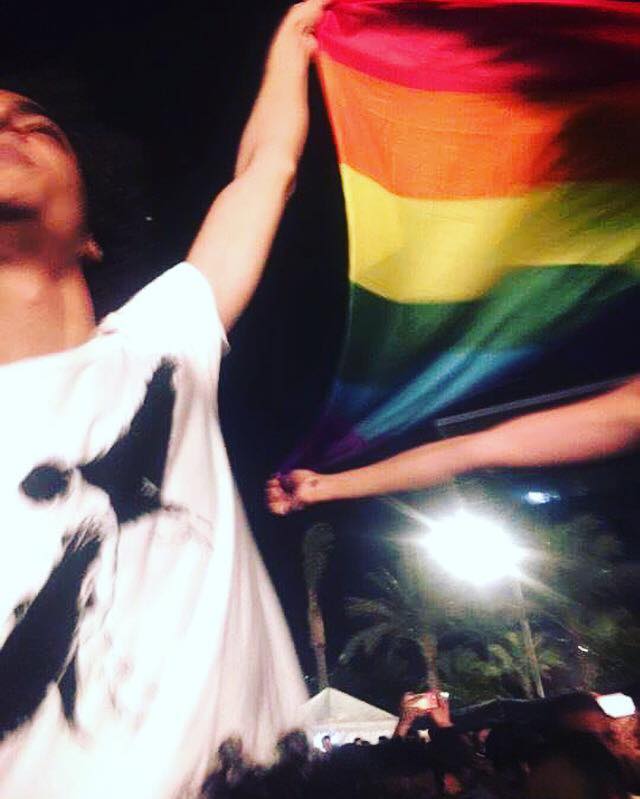 On September 22nd, 2017, Photos and video clips of young Egyptian waving rainbow flags during a performance by Mashrou' Leila, a popular Lebanese band whose lead singer is openly gay, were shared widely on social media. The images provoked a backlash from conservative Egyptian politicians and television hosts, as well as a heated debate on social media that featured virulently homophobic comments. Although homosexuality is not illegal in Egypt, the authorities frequently prosecute gay men for homosexuality and women for prostitution under loosely-worded laws that prohibit immorality and "habitual debauchery." The raising of the rainbow flag was a rare public show of support for the LGBT community in the conservative Muslim country. It was a reminder for the people that queer Egyptians are strong and visible.  Since then discourse around the LGBTQ+ community started to become more common in media forcing itself on society and empowering queer Egyptians.
Ramadan and Eid Season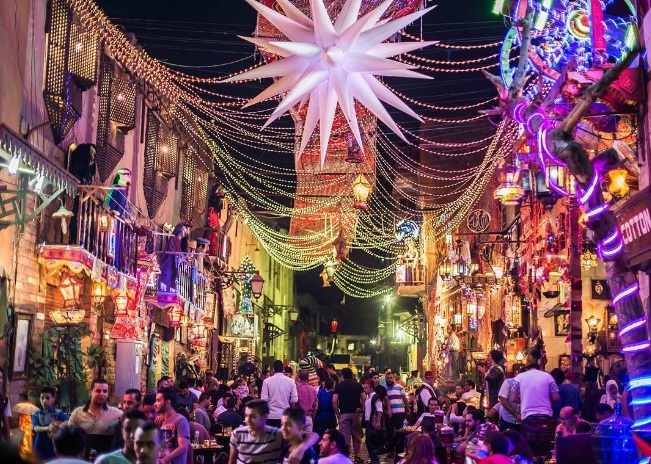 Ramadan is the ninth month of the Islamic calendar, observed by Muslims worldwide as a month of fasting, prayer, reflection, and community. The spiritual rewards of fasting are believed to be multiplied during Ramadan Accordingly, Muslims refrain not only from food and drink, but also tobacco products, sexual relations, and sinful behavior, devoting themselves instead to prayers and recitation of the Quran. Muslims devote more time to prayer and acts of charity, striving to improve their self-discipline. In Egypt, lights are strung up in public squares and across city streets, a tradition believed to have originated during the Fatimid Caliphate, where the rule of Caliph al-Mu'izz li-Din Allah was acclaimed by people holding lanterns. Food changes a lot during this time as many dishes are usually just prepared during Ramadan. People visit each other more often and you could always hear people laughing and talking all day and night like if no one sleeps. After Ramadan comes Eid al-Fitr also called the "Festival of Breaking the Fast", which marks the end of the month of Ramadan. Egyptians spend the first day of Eid al-Fitr to gather all family members and celebrate Eid at public gardens. It is customary for children to also receive an Eidi, a small sum of money to be spent on activities throughout the Eid. Egyptians like to celebrate with others, so the streets are always crowded during the days and nights of Eid.
Friday Prayers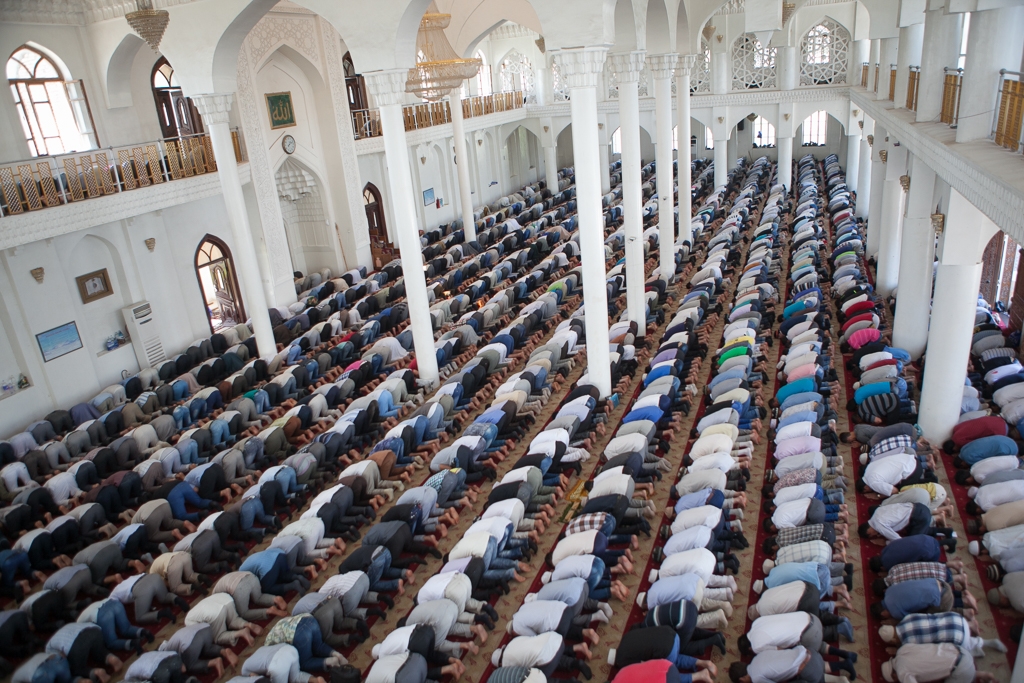 In Islam, Friday prayer or Congregational prayer is a prayer that Muslims hold every Friday, afternoon instead of the Zuhr prayer. It is one of the most exalted Islamic rituals and one of its confirmed obligatory acts. As a child this was one of the main religious practices in my life, it was different from the rest of the prayers as the number of attendees is extremely higher than normal prayers and you probably get to see everyone who lives in the neighborhood. Besides being a religious ritual it is also a good bonding time with extended relatives and friends especially during the weekend (Yes Friday is a weekend in Egypt).
Street Food in Egypt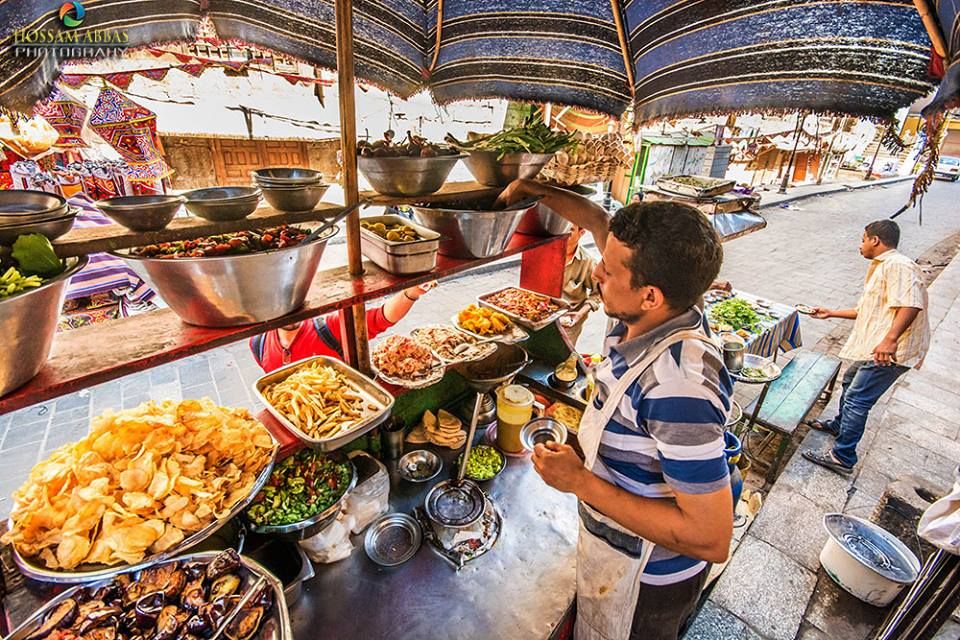 Egyptian streets are full of places where can you get different types of food at a convenient cost. Most commonly is the famous street food trucks that sell Ful medames (refried beans), Ta'ameya (falafel), Arab salad, Fries, etc. They exist in every corner of every street in Egypt and their food is extremely delicious. They play a big role in the Egyptian Economy as they provide an income for many people and breakfast for those heading to school or work every morning. I can confidently say that everyone who lived or visited Egypt has probably eaten there. It is culturally important to me because when I think of a street in Egypt, this the first thing it comes to my mind because it was part of my childhood and how I grew up.
Juice shops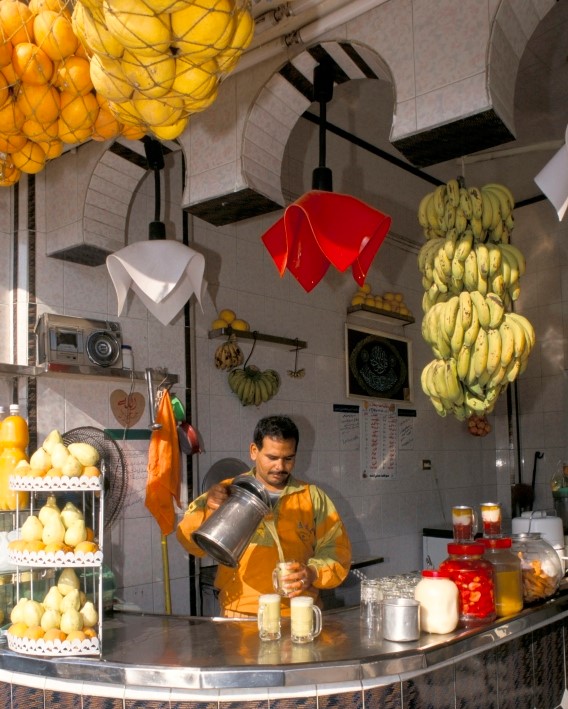 Juice shops are more famous than pyramids in Egypt. Egyptians know at least 3 places where they could buy fresh juices in their city but never have been to the pyramids like me. Egyptian juice shops are especially in the sense that it is fresh, the fruits are juiced right on the spot upon order. Sugar cane juice is probably the most famous and it has a strong historical background. Egypt is blessed with the water of the Nile and the fertile soil which makes it suitable for the agriculture of many corps. Sugar cane is very common in Upper Egypt and can be consumed by chewing the fibers for the juice or juicing it with a machine. It is the main drink and works for all occasions, when you are happy, sad, going out with friends or even on a date because it is sweet and refreshing.
Kids shows in Egypt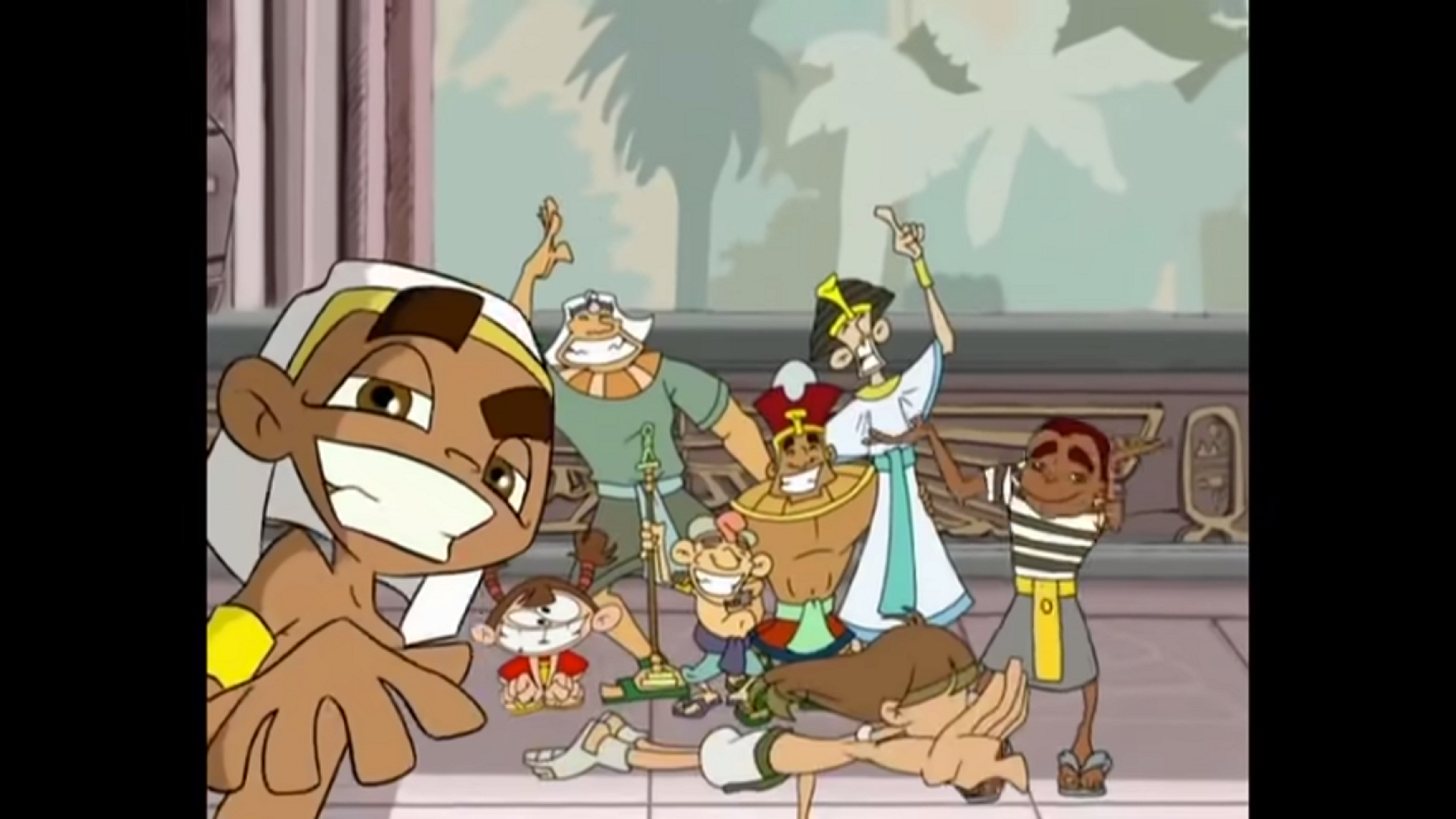 Egyptian culture and history are highly represented in its media productions. Many children's TV shows represent this heritage such as Bakar, A story about the life of a southern Egypt from Nubia, and his pet, Rashida. And the Story of Sinuhe which showcases the life of an ancient Egyptian called Sinuhe and his two best friends Hapy and Teti-Sherry. All these shows were a big part of my childhood growing up and I absolutely loved them. They present more than just entertainment, they include moral lessons that urge kids to do good, help others and never be dishonest with family and friends. As most of the Egyptian productions, they have the comedy component which made them delightful and loved by both kids and elders.
Sports in Egypt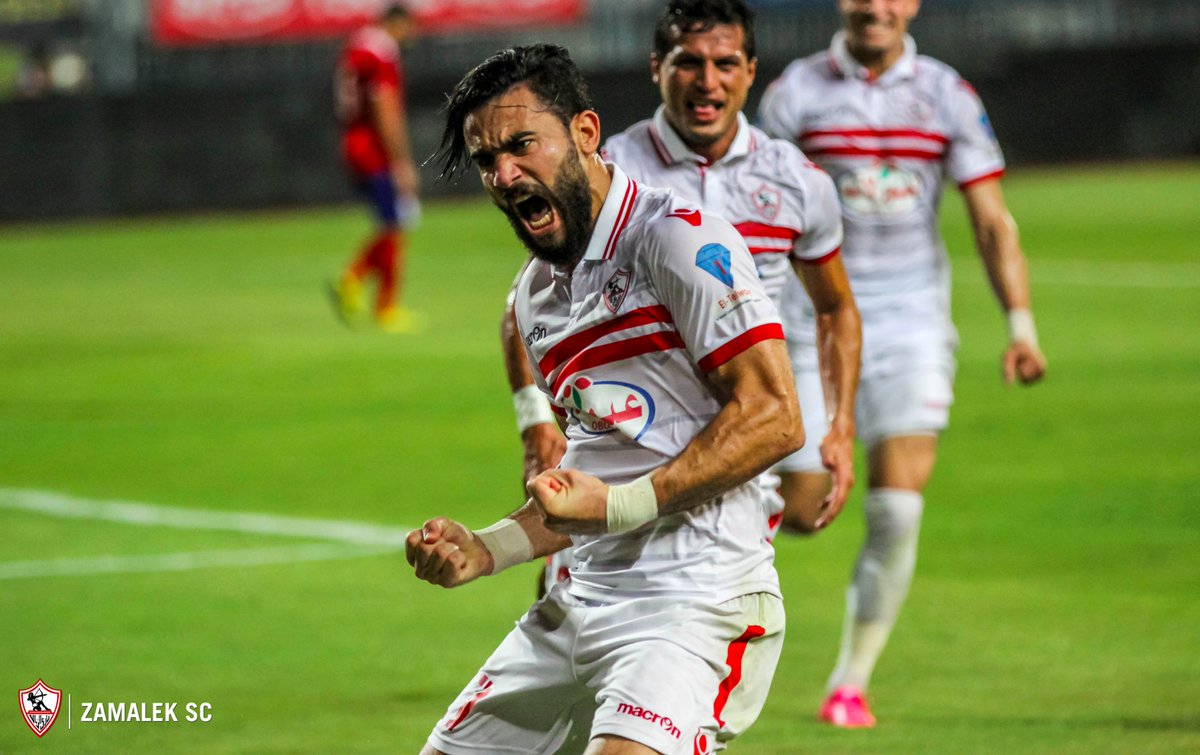 Football is the main sport in Egypt; Egyptians gather around to watch various Egyptian clubs and the Egyptian national football team plays on an almost daily basis. The Egyptian national football team is also known under the nickname of the Pharaohs. The team has won multiple cups over the years. They won the African Cup of Nations 7 times making them record holders of most African cup wins and most wins in a row (for winning 3 times in a row). Their highest FIFA ranking was in July 2010 where they were ranked 9th in the world, making it their greatest achievement. They were the first from an African country and also, from an Arab country to participate in the World Cup when they played in 1934. El Ahly and El Zamalek are amongst the most popular in the country, both of which are based in Cairo. Both teams compete in the Egyptian Premier League, the highest tier of Egyptian football. Growing up in Egypt you always get asked the question of which team do you belong to, surprisingly your options are only El Ahly or El Zamalek. Around 85% of the people on El Ahly side and 10% support El Zamalek, I am one of the 10%. I had the honor to watch these football games which absolutely entertaining yet can bring you a heart attack in the last couple of minutes of the match.
Night Clubs in Egypt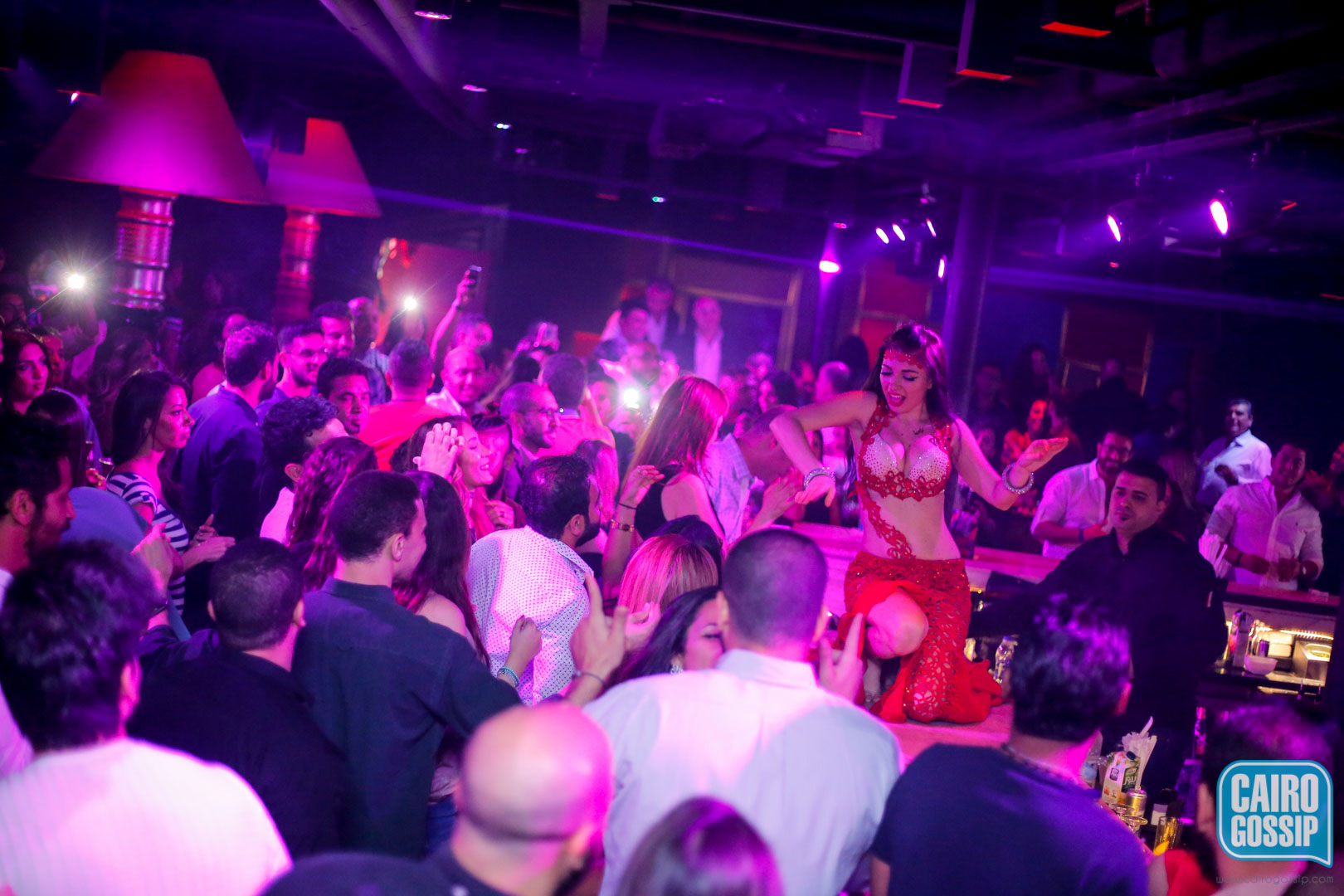 As a Middle Eastern, predominately Muslim nation, Egypt is not the biggest partying and drinking destination in the world.  However, there are a variety of clubs, discos, casinos, and bars, located within major hotels and in Cairo around Al Zamalek district, the main nightclub area, and many tourist resorts along with the coast of the Red Sea. Alcohol is not illegal and Egypt and people can purchase and drink alcohol at the age of 18. However, any establishment that serves alcohol is required to be indoors, and the windows blocked from the outside. Stella is the most popular local beer in Egypt, and it goes for about 15 – 30 LE ($2.51 – $5.02) per large bottle. Clubs play a variety of music, including Western hip-hop and trance, as well as local Arabic tunes. Belly dancing is very popular in authentic nightclubs that consist of tables for the audience and a big stage where belly dancers and singers perform to entertain the audience.
Egyptian Weddings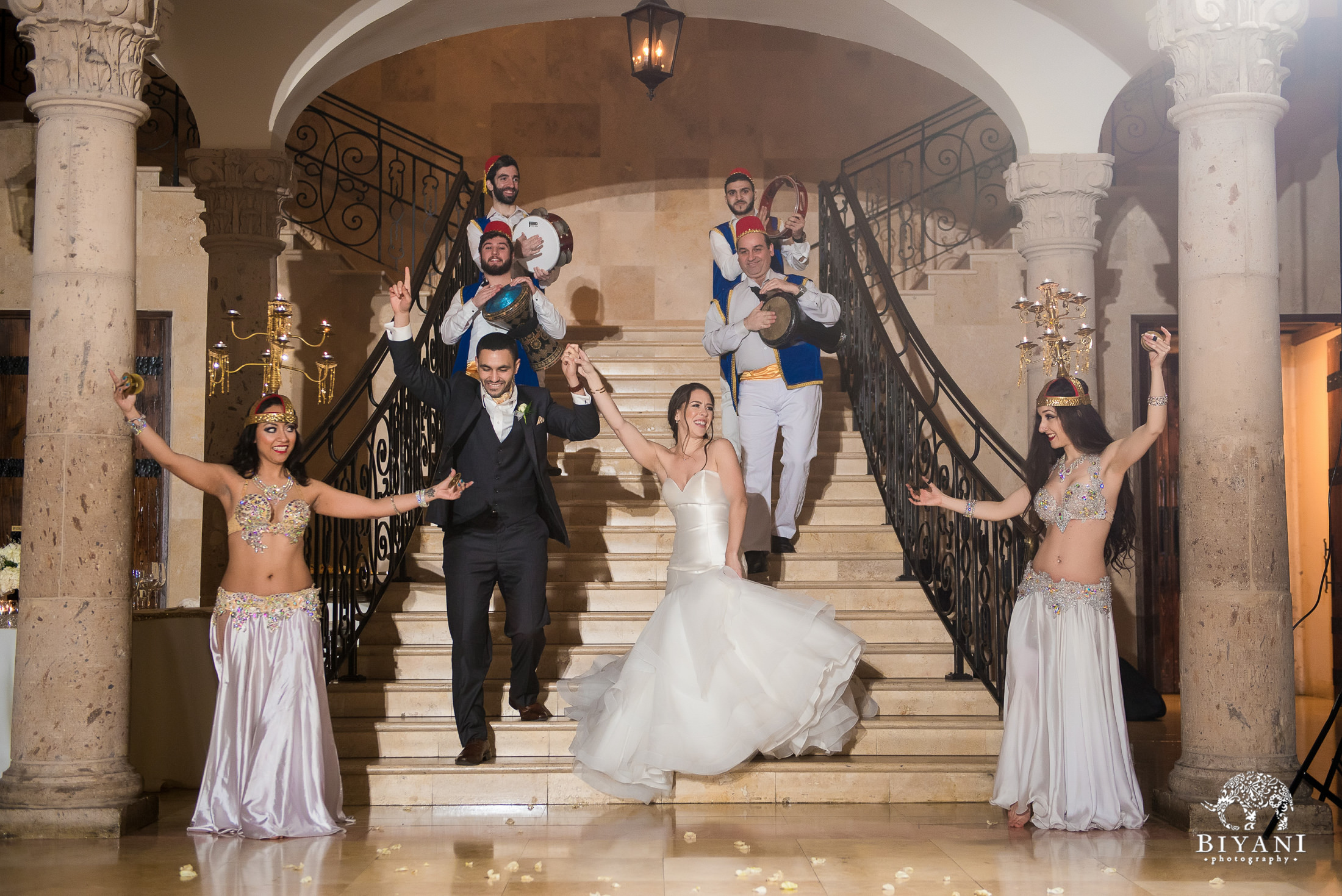 Egyptian weddings are very special ceremonies that have been carried on from generation to generation since the times of the Pharaohs. Weddings usually take place from Wednesday night to Friday noon. The Egyptian wedding main ceremony takes place on Thursday night. It starts with a car parade with wedding decorations of flowers and ribbons. When the bride and groom reach the hotel they are received by a "Zaffa" (procession), another human parade of belly dancers and drummers. As elsewhere in the world couples cut the wedding cake and feed each other. The bride then tosses her flower bouquet behind her back to other hopeful females. The wedding celebration is marked by plenty of food and drinking of a traditional sweet drink called "sharbat" which is prepared from various fruits and herbs. Egyptian weddings are always busy because it is considered rude to decline a wedding invitation and the families compete to invite more guests so during my childhood I went to many weddings.
Abdel-Halim Hafez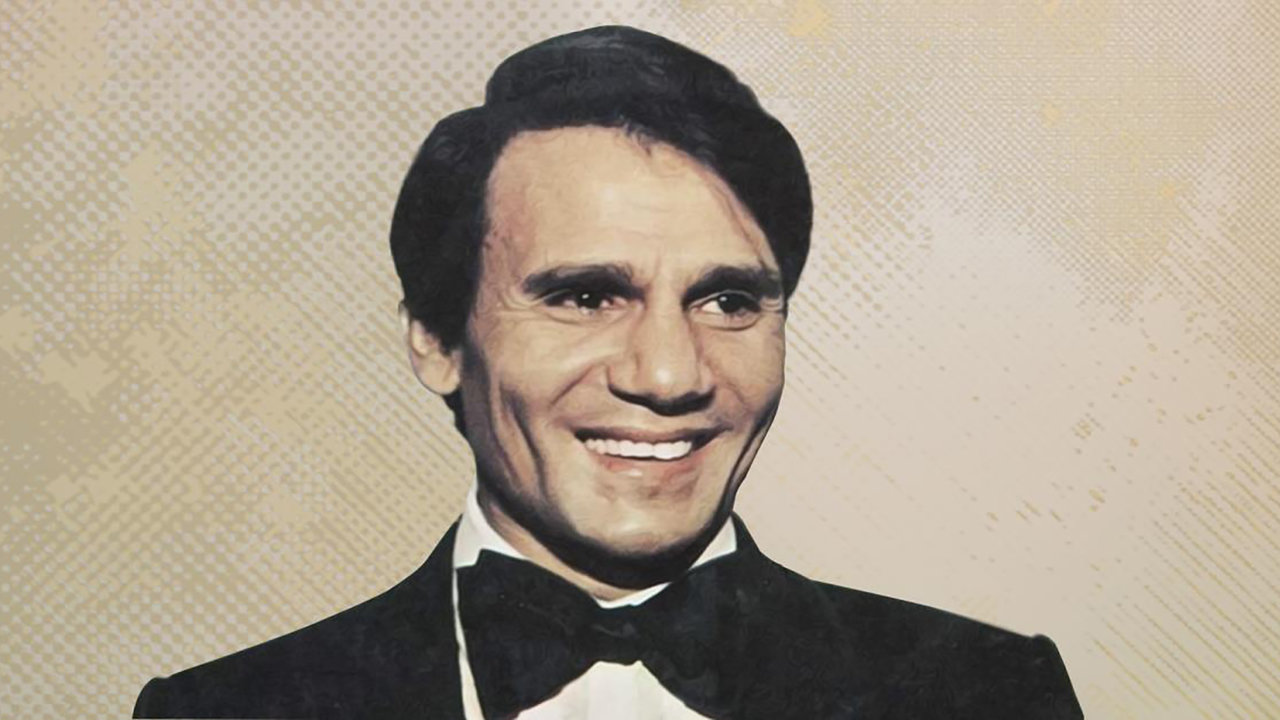 Abdel Halim Hafez was an Egyptian singer, actor, and film producer. He is considered to be one of the greatest Egyptian musicians of the 20th centuries along with Umm Kulthum and Mohamed Abdel Wahab. As became more popular, he was given the nickname 'el-Andaleeb el-Asmar, meaning The Dark-Skinned Nightingale for his sweet voice. During his career, He has sold over 80 million records. He was a live singer performing only on stage in sold-out arenas and stadiums and never had released a studio album. He also played many instruments such as the oboe, drums, piano, oud, clarinet, and guitar. He has performed in almost every country in the Arab World as well as outside the Arab World in Europe. He has many uplifting patriotic songs, not only for Egypt but other Arab countries such as Algeria, Syria, and Lebanon. He was also a mentor who helped many young artists and actors to pursue successful careers.I grew up listening to his music blasting from the radio that my grandfather turns on every night. He became one of my favorite singers when I was around 15 and could understand how magnificent his music is.
---
George Floyd protests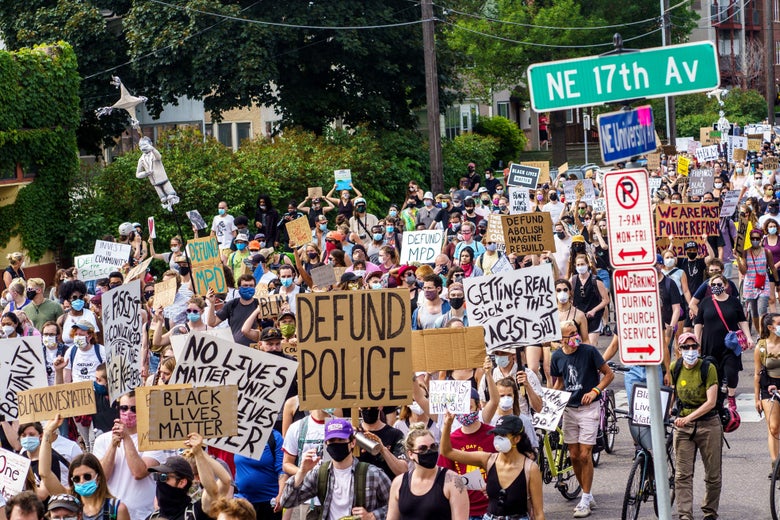 On May 26th, 2020, Civil unrest and protests began as part of the response to the tragic death of George Floyd, a 46-year-old African-American man who was killed during an arrest. Local protests began in the Minneapolis–Saint Paul of Minnesota before quickly spreading nationwide and to over 2,000 cities and towns in over 60 countries in support of the Black Lives Matter (BLM) movement. Polls estimated that between 15 million and 26 million people had participated at some point in the demonstrations in the United States, making the protests the largest in U.S. history. While the majority of protests have been peaceful, demonstrations in some cities escalated into riots, looting, and street skirmishes with police and counter-protesters. Some police responded to protests with instances of police violence, including against reporters. The protests precipitated a cultural reckoning on racial injustice in the United States and have led to numerous legislative proposals on federal, state, and municipal levels intended to combat police misconduct, systemic racism, qualified immunity, and police brutality in the United States. It definitely has changed more inside the people themselves.
Hollywood
It is well known that the dominant style of American cinema is the classical Hollywood cinema, which developed from 1913 to 1969 and characterizes most films made there to this day. Hollywood is considered the oldest film industry where the earliest film studios and production companies emerged and is also the birthplace of various genres of cinema such as musical, horror, science fiction, and the war epic. The major film studios of Hollywood are the primary source of the most commercially successful and most ticket selling movies in the world. Moreover, many of Hollywood's highest-grossing movies have generated more box-office revenue and ticket sales outside the United States than films made elsewhere. Hollywood is considered to be one of the most influential institutions in the world nowadays giving it the power in shaping the culture and identity of individuals around the world.
1969 Stonewall Riots 
The Stonewall Riots also called the Stonewall Uprising, began in the early hours of June 28, 1969, when New York City police raided the Stonewall Inn, a gay club located in New York City. The raid sparked a riot among bar patrons and neighborhood residents as police roughly hauled employees and patrons out of the bar, leading to six days of protests and violent clashes with law enforcement outside the bar on the streets. The Stonewall Riots served as a catalyst for the gay rights movement in the United States and around the world. Though the Stonewall uprising didn't start the gay rights movement, it was a galvanizing force for LGBT political activism, leading to numerous gay rights organizations nationwide.
The Christmas Season

The Christmas season also called the holiday season is an annually recurring period recognized in many Western and other countries. It is defined as incorporating at least Christmas, New Year, and sometimes various other holidays and festivals. It also is associated with a period of shopping which comprises a peak season for the retail sector (the "Christmas (or holiday) shopping season") and a period of sales at the end of the season (the "January sales"). Christmas window displays and Christmas tree lighting ceremonies when trees decorated with ornaments and light bulbs are illuminated are traditions in many areas. Popular modern customs of the holiday include gift-giving; completing an Advent calendar or Advent wreath; Christmas music and caroling; viewing a Nativity play; an exchange of Christmas cards; church services; a special meal; and the display of various Christmas decorations, including Christmas trees, Christmas lights, and nativity scenes.
Sunday church service
It is a formalized period of Christian communal worship, often held in a church building. It often but not exclusively occurs on Sunday. The church service is the gathering together of Christians to be taught the "Word of God" (the Christian Bible) and encouraged in their faith. Some churches offer Sunday school classes These will often be for younger children, and may take place during the whole of the service (while the adults are in church). Following the service, there will often be an opportunity for fellowship in the church hall or other convenient place. This provides the members of the congregation a chance to socialize with each other and to greet visitors or new members.
Street food in the USA
For someone who grew up in the united states, street food trucks can be very limited or don't exist in small cities but in big cities such as New York City and Los Angeles, it is very common. The food served can be very different from that of Egypt. In the United States, they serve mostly junk food such as hotdogs, burgers, fries, etc. However, the food served can differ from a region to another based on the demographics of the population. It represents the rich heritage of the rich as such most food trucks in New Mexico specialize in Hispanic food such as tacos and arepas.
Starbucks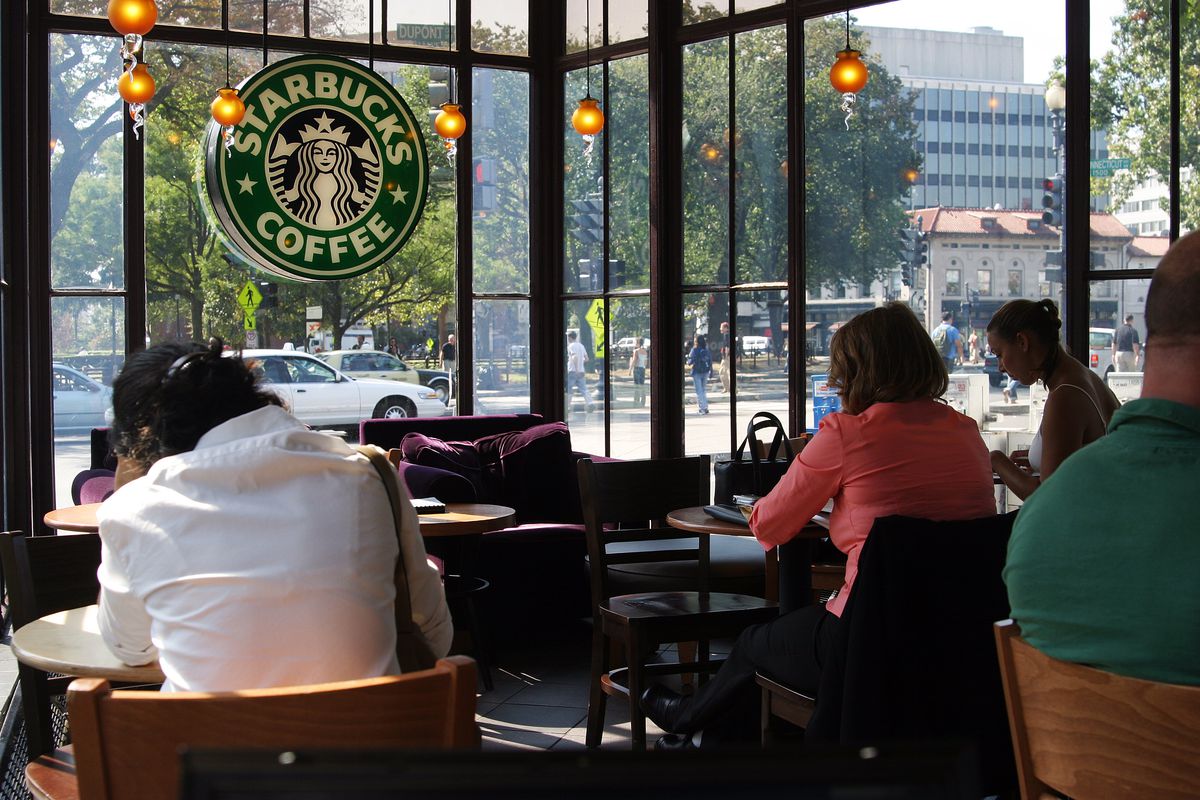 Starbucks Corporation is an American multinational chain of coffeehouses. It is the world's largest coffeehouse chain, Starbucks is seen to be the main representation of the United States' second wave of coffee culture. Starbucks locations serve hot and cold drinks, various coffee and tea products, fresh juices, pastries, and snacks. Starbucks stores became the nation's second living room, meeting place, and study hall. It's not a stretch to say that Starbucks has altered American culture.
Kids shows in the USA
US-American animations are very popular and widespread around the world. It is a huge part of the media culture and gives the world hundreds of shows every year. Many cartoon shows that are supposed to be for kids are more like fantasy, they represent animals talking, superheroes, and aliens which is different from the reality given by the Egyptian kids' shows. However, it still gives its part of conveying moral lessons and entertainment for kids. Most famously Tom & Jerry and Looney Tunes, which aren't only what American kids grew up watching but also many Egyptians. 
Sports in the USA

American football is commonly played in the United States and Canada. It has evolved in the United States, emerging from the sports of soccer and rugby. It has many forms and levels, professional and college football are the most popular forms of the game, with other major levels such as high school and youth football. As of 2012, nearly 1.1 million high school athletes and 70,000 college athletes play the sport in the United States annually. The National Football League, the most popular American football league, has the highest average attendance of any professional sports league in the world. Its championship game, the Super Bowl, ranks among the most-watched club sporting events in the world. American football also plays a significant role in American culture. The day on which the Super Bowl is held is considered a de facto national holiday, and in parts of the country like Texas, the sport has been compared to a religion.
Night clubs in the USA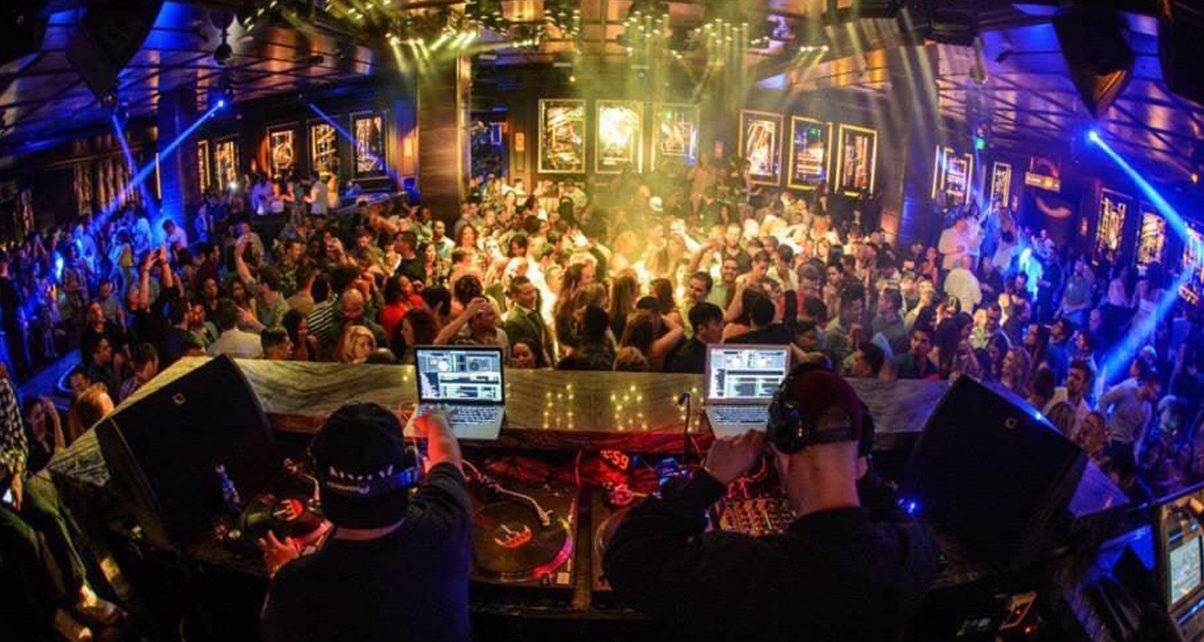 Nightclubs are very common in western countries and function as an entertainment venue and bar that usually operates late into the night. A nightclub is generally distinguished by the inclusion of a stage for live music, one or more dance floor areas, and a DJ booth, where a DJ plays recorded music. Some nightclubs include VIP areas for celebrities and important guests. The busiest nights for a nightclub are Friday and Saturday night. Most clubs cater to certain music genres, such as house music or hip hop.
US American weddings
US- American wedding traditions have been around for many years. They are usually seen as the norms of contemporary weddings inside and outside the states. They include many fun traditions that have been passed down through generations. Generally, the traditions of American weddings symbolize the promises of dreams coming true for the couple. Wedding traditions include tossing the flower bouquet and the bride's garter for singles to catch them and be the next lucky to marry. Many traditions include cutting the cake and dancing the first dance on the floor.
Frank Sinatra 
Francis Sinatra was an American singer, actor, and producer. He was one of the most popular and influential musical artists of the 20th century as well as one of the best-selling music artists of all time. He had sold more than 150 million records worldwide. Frank Sinatra had refined singing as a means of personal expression single-handedly. He was an instinctive musical genius and a consummate entertainer. Through his life and his art, he transcended the status of a mere icon to become one of the most recognizable symbols of American culture.