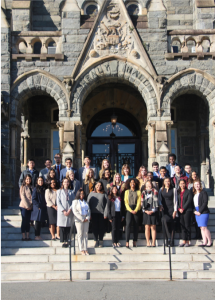 It was impossible not to leave the three-day Public Policy and International Affairs Conference inspired. The program brought together thirty young leaders from all over the U.S. to discuss a case study about the Syrian Civil War, learn about graduate school, and connect with one another. I met someone (name removed) from Arkansas, who was passionate about agriculture policy, a topic that I have rarely considered as a suburbanite who forgets food does not grow on supermarket shelves. "Even as technology develops, we will always need food," she reminded me. "How can we go without it?"
Later, I met someone (name removed) from California, who owned 37 plants and loved each of them in his small city apartment, as he fought for environmental protection working at a conservation nonprofit. He taught me about environmental racism and environmental classism, words that I had never put together before. Low-income and minority communities have less access to green spaces, suffer from pollution, and often are the dumping ground for the negative environmental burdens higher-income communities aren't willing to bear. "There's a reason that pipelines are rerouted around wealthy communities and right into Indian land, or through communities that don't have as much political voice." I thought about how the Flint water crisis was both shocking and not surprising, about the injustice of access to crucial resources. Water is life.
The conference also confirmed my passion for international relations. It made me remember how much I love discussing international issues and learning about cultural complexity through people. Returning to campus, I remember my fundamental motivation to learn and contribute to my campus community. I am here for a greater purpose, and I hope to serve as a peace-maker for the rest of my life.