Independent and collaborative student research is one of the cornerstones of the Spatial Analysis Lab's approach to teaching GIS and spatial analysis. Our students and alumni have had great success presenting their research at conferences all over the US and even internationally. Below are some of our recent research projects:
American Association of Geographers Meeting, April 2019

Rong Bao ('21) — Mapping Green Philanthropy and Sustainable Development: A Case Study of the Ford Foundation, 1960 – 2004 (AAG 2019).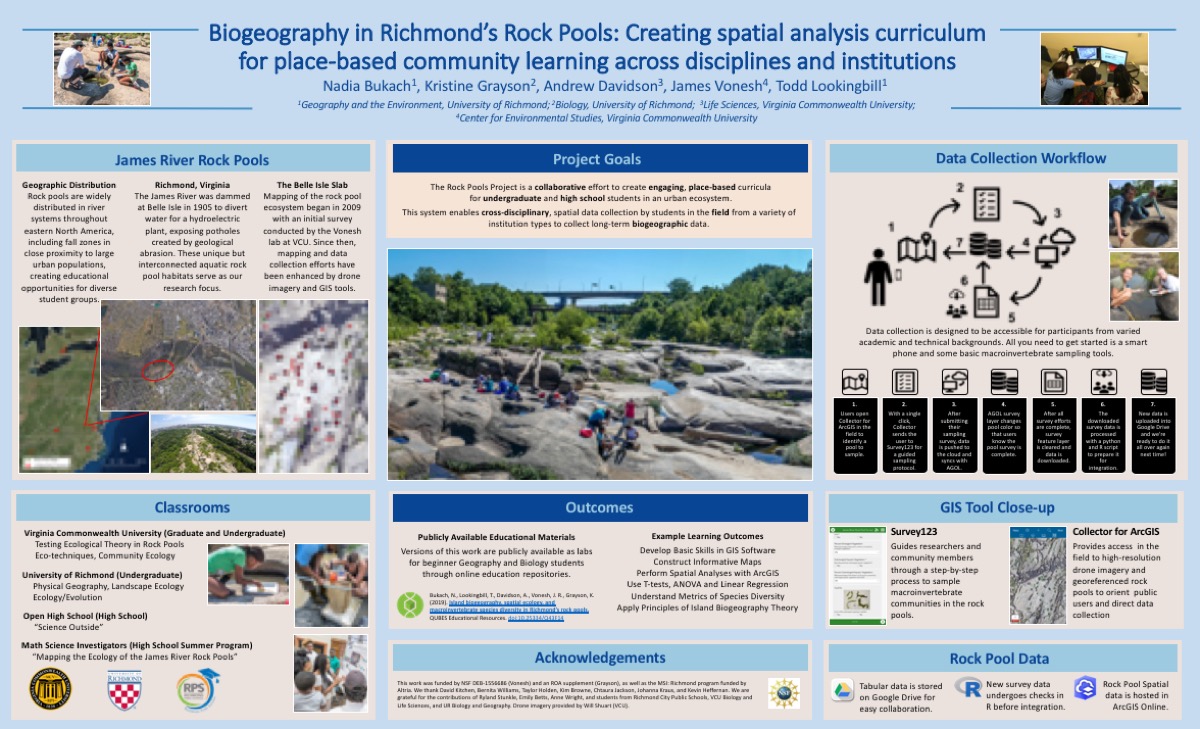 Nadia Bukach, Research Assistant — Biogeography in Richmond's Rock Pools: Creating spatial analysis curriculum for place-based community learning across disciplines and institutions (AAG 2019).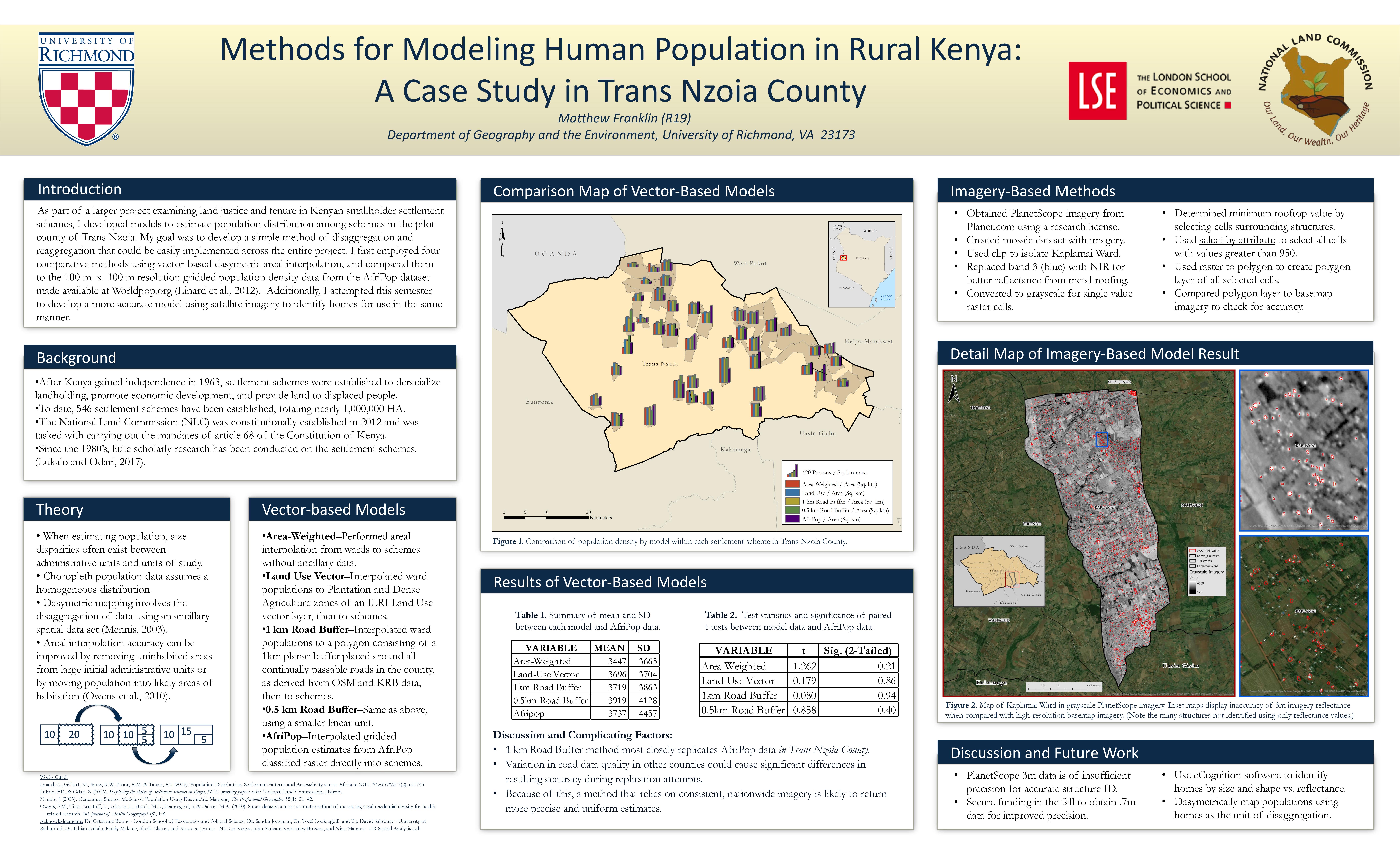 Matt Franklin ('19) — Methods for Modeling Human Population in Rural Kenya: A Case Study in Trans Nzoia County (AAG 2019).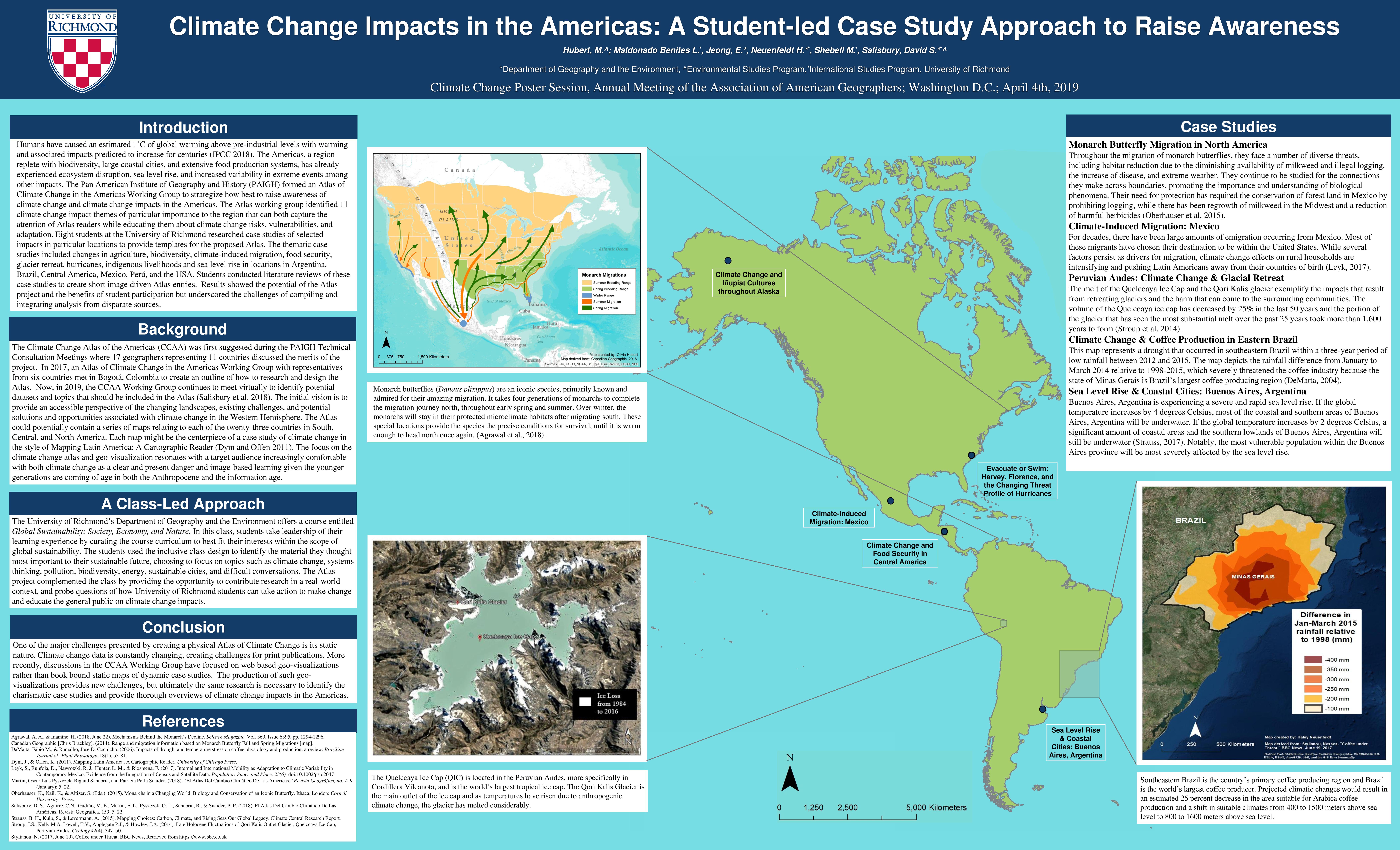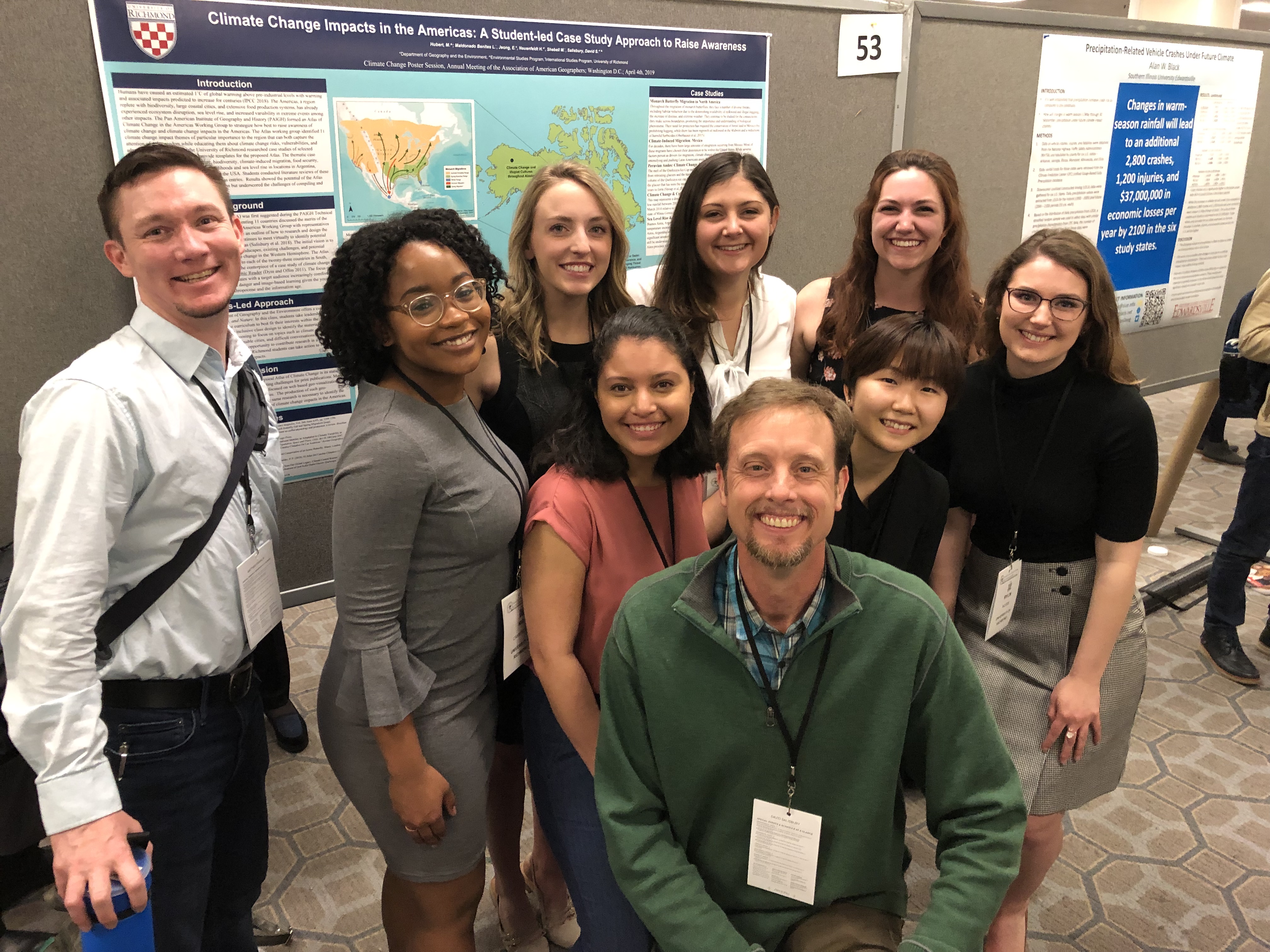 Olivia Hubert ('19), Nicole Maldonado ('19),  Evelyn Jeong ('19), Haley Neuenfeldt ('19), Merissa Shebell ('19) — Climate Change Impacts in the Americas: A Student-led Case Study Approach to Raise Awareness
Nina Mauney, GIS Technician and Research Assistant — Temporal Trends in Kenyan Smallholder Settlement Scheme Allocation (1962 – 2015) (AAG 2019).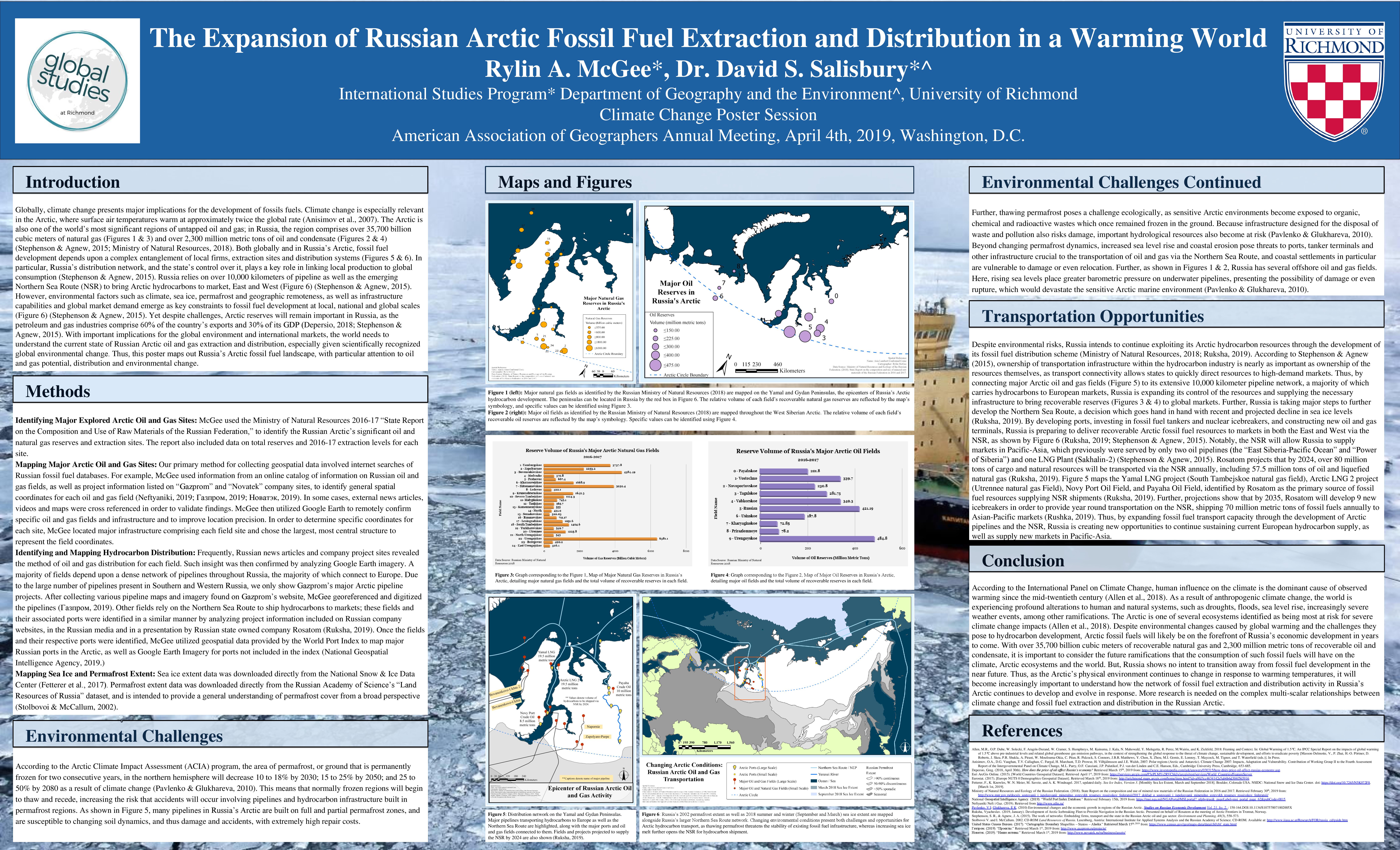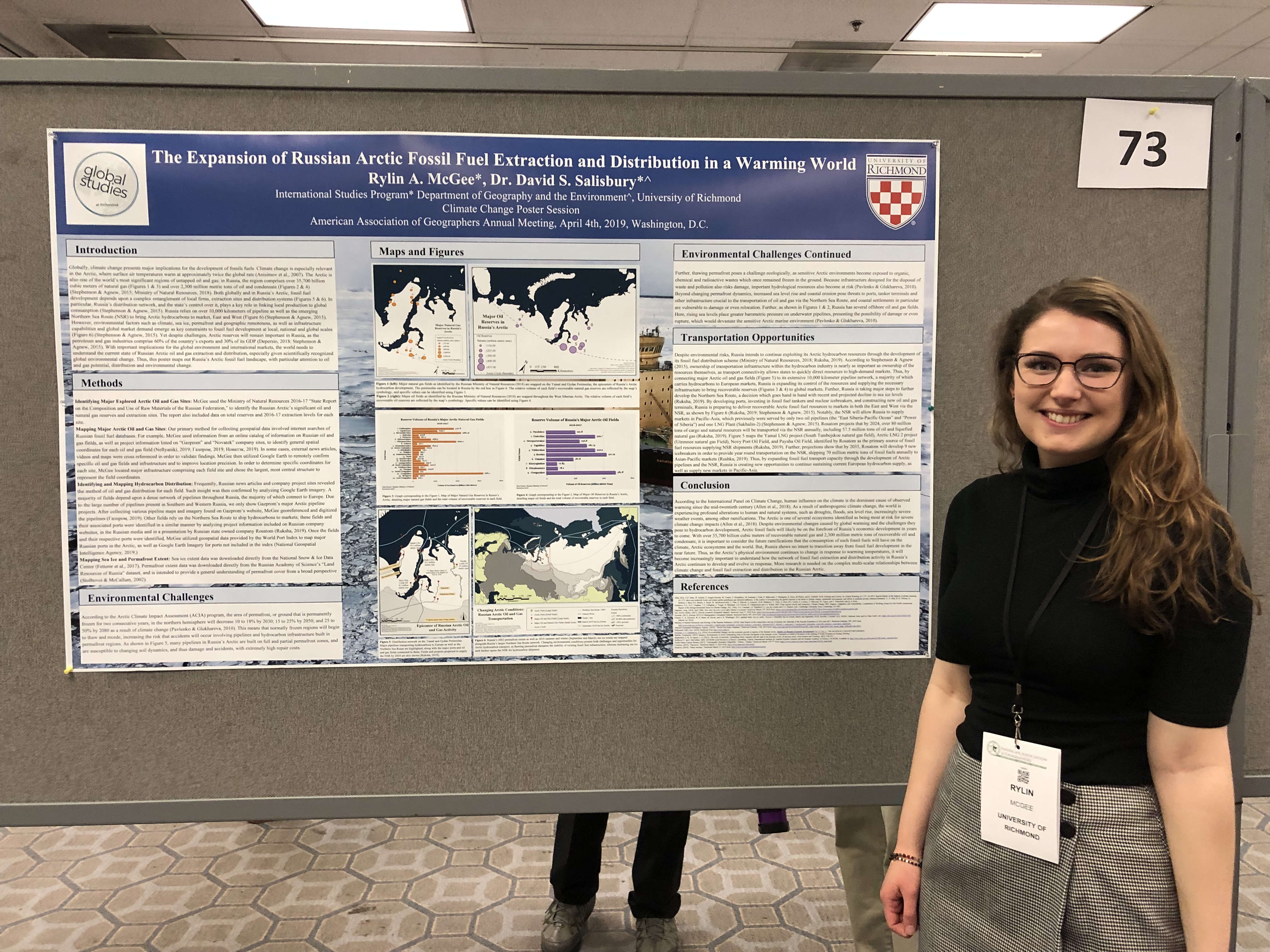 Rylin McGee ('19) — The Expansion of Russian Arctic Fossil Fuel Extraction and Distribution in a Warming World (AAG 2019).
——————————————————————————————————————————————
Virginia Association for Mapping and Land Information Systems (VAMLIS) GeoCon, March 2019
Valerie Galati ('20) — Mapping Occupancy Probability of the Golden-Winged Warbler (VAMLIS 2019).
Nina Mauney, Research Assistant — Spatial Distribution of Natural and Relocated Leatherback Sea Turtle Nests at Sandy Point National Wildlife Refuge, St. Croix USVI (VAMLIS 2019). 
Emily Routman ('20) — Poverty and Health Outcomes in Dallas Texas (VAMLIS 2019).
Matt Franklin ('19) and Griffin Walsh ('20) — Forest Assessment of Ivy Creek Natural Area (VAMLIS 2019). 
——————————————————————————————————————————————
Previous Research