By Jessica Rooke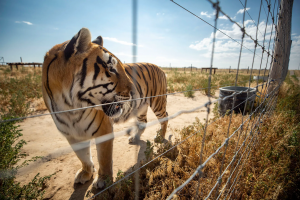 Hey all you cool cats and kittens, remember Tiger King? This sensational Netflix documentary premiered in the height of the 2020 pandemic
displaying Joseph Maldonado-Passage, the star known better as "Joe Exotic" and his concerning roadside zoo in Oklahoma. [1]    This documentary did not only just provide entertainment for us stuck at home, it also sparked a movement. A movement of animal rights activists pushing for more light to be shed on the suffering occurring at these roadside zoos.
Before his arrest and conviction, Joe Exotic was a major breeder and seller of tigers and other big, exotic cats.[2] He churned out cubs as a profitable attraction, then disposed of them, legally or illegally.[3] Essentially, some were sold as pets to private buyers, some went to other roadside zoos for breeding, and some just completely disappeared.[4] "I call it the breed and dump cycle," said Carney Anne Nasser, director of the Animal Welfare Clinic at Michigan State University College of Law.[5] More tigers live in captivity in backyards, roadside zoos, and truck stops in the United States than remain in the wild.[6] This phenomenon is driven by people like Joe Exotic and by industries like the one described above.
Interestingly enough, a fellow Virginian got caught up in the Tiger King aftermath, Keith Wilson. Wilson is the owner of Wilson's Wild Animal Park in Winchester, VA.[7] Wilson's zoo was operated by Wilson beginning in 1997 right up until August 15, 2019 when federal agents representing Virginia's Animal Law Unit closed the operation down on charges of animal abuse.[8] These agents also seized 119 of his animals on the property, including lions, tigers, bears, camels, water buffalo, and more. [9] Following the seizure, Senior Assistant Attorney General Michelle Welch participated in the 12-hour seizure hearing about the raid which led to Wilson being found guilty of animal abuse, and ordered by the judge to post a $300,000 bond and to allow inspections of his facility every 90 days for a year. This case is currently on appeal and will be tried in 2022. [10]
And, while you did not see Wilson on Tiger King, there appears to be a tangled web actually connecting him to another prominent character from the Netflix show: Mahamayavi Bhagavan "Doc" Antle, owner of Myrtle Beach Safari in South Carolina. Following the investigation, investigators discovered a relationship between Wilson and Antle in which they were allegedly trafficking lion cubs between Virginia and South Carolina. [11] In October 2020, both Antle and Wilson were charged with misdemeanors and felonies. Wilson was charged with two felonies for interstate trafficking of lion cubs and 17 misdemeanors for treatment of the animals at his farm; Antle was charged with two felonies and 13 misdemeanors for essentially the same thing. Two of Antle's daughters were also charged. [12]
Tiger King showed just a glimpse of what life is like behind the fences and cages of wild animal parks, but, across America, smaller roadside zoos scatter the landscape. These largely unregulated zoos are often run by owners with little or no training on how to properly raise and care for lions, tigers, bears, water buffalo, and other exotic animals.[13] These zoos, similar to Wilson's, typically sit on acres upon acres of land and are opened under the premise that they are providing sanctuary for these animals, while also displaying them to the public for a profit. However, these animals can be extremely difficult to care for and to maintain, not to mention their underlying natural instincts that could arise at any time making humans their prey. Peter Knights, the CEO of WildAid, says "When you have a tiger cub for example, they grow up, and then what do you do with them? They are hugely expensive to maintain. And they are useless from an entertainment value point of view. You use them up and wear them out, and that is where the abuse occurs, I believe."[14]
Congress has stepped up on behalf of exotic animals. Currently they are working on legislation to clarify provisions in a previous law, the Captive Wildlife Safety Act. Further, also pushing for new legislation to include lions and tigers, The Big Cat Public Safety Act.[15] It is clear that Tiger King not only got the attention of Netflix viewers, but also the legislative branch. These changes should help propel this movement in the right direction by putting measures in place to ensure a more regulated system within these zoos. However, I believe that the change starts grassroots with the animal rights activists continuing to expose these issues and speak up about the animal trade.
For now, Joe Exotic remains in prison—poetic justice for those who say he's now in a cage just like the animals he once owned. In Virginia, Wilson's Winchester zoo remains closed while he fights his legal battle. Whatever legal outcome occurs, Tiger King nonetheless shed light on an industry that attracts controversy, and the ongoing phenomena from the show is likely to continue to shape the fate of the hundreds of exotic animals living in captivity in the United States. Time will tell if this Tiger King Phenomenon will continue to expose the dark and dirty secrets of the animal trade. But, for now, Peter Knights of WildAid says, "If you really love these animals, you should be working to protect them in the wild," he says.[16] "That's where a happy future exists. Not in a cage in Virginia."[17]
[1] Alyssa Lukpat, Court Orders Resentencing of Joe Exotic in 'Tiger King' Murder-for-Hire Plot, N.Y. Times (July 24, 2021),  https://www.nytimes.com/2021/07/14/arts/television/joe-exotic-tiger-king-sentence.html
[2] Rachel Nuwer, Why 'Tiger King' Is Not 'Black Fish' for Big Cats, N.Y. Times (April 9, 2020), https://www.nytimes.com/2020/04/09/science/tiger-king-joe-exotic-conservation.html
[3] Id.
[4] Id.
[5] Id.
[6] Id.
[7] David Hodes, NoVa's Own Tiger King Shows Roadside Zoos Are A National Problem, N. Va. Mag. (April 21, 2021) ​​https://northernvirginiamag.com/culture/culture-features/2021/04/21/virginias-own-tiger-king/
[8] Id.
[9] Id.
[10] Id.
[11] Id.
[12] Id.
[13] Id.
[14] Id.
[15] Id.
[16] Id.
[17] Id.