We had a special event at this year's Joan Oates Institute, held June 25-29 at the Modlin Center: a celebration of the teachers who have won 2012-13 PIA Awards for their schools as well as those who carried out award projects in 2011-12.
PIA Awards fund cross-curricular, thematic projects that use the arts to change the way core subjects such as history, math, and science are taught. We believe that teachers and other educators who are close to the classroom are the best people to develop these projects. They know what will work and what will ignite student interest. They also know which of their colleagues would be perfect to be part of the team that carries out the project along with visiting artists. Awards can be up to $10,000 each to schools that are in the PIA consortium and are designed to make lasting changes in how the curriculum is taught. They also help build students' 21st century skills, including innovation, collaboration, and critical thinking.
The PIA Awards celebration was held on Thursday, June 28, in Camp Concert Hall, a beautiful theater in UR's Booker Hall that was also the site of several other JOI 12 events. Rob and I wanted to do it in style so we ordered custom-designed trophies for both sets of award recipients. Who knew you could mix and match trophy elements to get just what you're looking for? Makes you want to order trophies for your next dinner party. We were delighted to see that the options included a leaping bass, which looked pretty close to Joan Oates's signature salmon pin, representative of her fishing exploits.
Joan handed out the trophies but had a special guest to help her do this: Holly Rice, who co-founded Partners in the Arts in the early 1990s and gave her all to make sure it was a well-established and successful program. Holly lives in Los Angeles now but was able to be part of the event to talk about her experience with PIA and the value of the arts in PreK-12 education. Joan and Holly were given trophies as well. Joan's said "Founder Award." Holly's said "Superstar Award." Below you can see Joan, left, and Holly on stage with their trophies.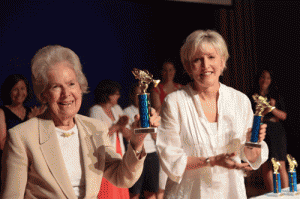 Here's a list of the seven 2012-13 PIA Award recipients with a brief description of the award projects they will carry out in the new school year. More information about each project can be found in this feature story.
Armstrong High School, Richmond, $7,500, for Not too far From Here: A Plein Air History of Richmond. Students will investigate the history of their neighborhoods and communities through guided tours, journaling, video and audio recording, and "open air" drawing and painting.
Pocahontas Elementary School, Powhatan, $7,600 for Come Tell Your Story: A Powhatan Perspective –Local History through Storytelling. Students will document family and community members' life stories, in writing and video, as a way to increase understanding of cultural differences in Powhatan County.
Miles Jerome Jones Elementary School, Richmond, $3,000 for a project called Dance by Design, for Pre-K and Kindergarten students. The project uses creative movement related to monthly themes in the core curriculum to teach young children literacy and number skills
Clover Hill High School, Chesterfield, $6,100 for The "Paths" Project, which combines English, history and visual arts to record the experiences of the community's World War II veterans and their families.
Laurel Meadow Elementary School, Hanover, $6,500 for Laurel Meadow's Lion's Den, a project that will allow students to write across the curriculum on topics such as the life processes of plants and to paint a mural in the school library.
The Steward School, independent, $5,000 for The Leonardo Project, which will allow students to create a digital database exploring photography's relationship to the acquisition of scientific knowledge.
Mary Munford Elementary School, Richmond, $6,300 for Seasonal Gardens under the Sun, a project that integrates history, environmental science, language arts and visual arts to help students explore the natural world and humans' relationship to it.
Last year's PIA Award winners were:
Linwood Holton Elementary School, Richmond, for Improvise, Innovate and Imagine!
Albert Hill Middle School, Richmond, for America Steps Out
Robious Middle School, Chesterfield, for Keep Your Watershed Together: Be a Part of the Whole!
George Wythe High School, Richmond, for Historical Perspective and Storytelling Applied to Contemporary Art
Powhatan Elementary School, Powhatan, for Jack's Garden
Franklin Military Academy, Richmond, for The Walk through History Mural
Application deadlines for 2013-14 PIA Awards are online and updated guidelines will be posted soon. Feel free to run ideas for projects by Rob and me at any point. You can email us at pia@richmond.edu or call us at 804-955-4016. PIA Awards are for you and your school. It's your creative ideas and your know-how that make projects work. And don't you want one of these fabulous trophies?
Liz