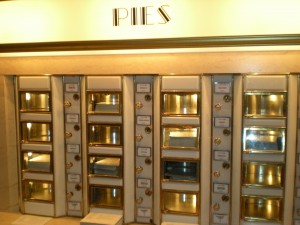 I was in New York for a few days and while there paid a visit to Lunch Hour: NYC, an exhibition running through February 17th at the main branch of the New York Public Library. This is the elegant Beaux Arts building on Fifth Avenue between 40th and 42nd Streets that has the lions, Patience and Fortitude, flanking the entrance. You can go on-line to check out their excellent teaching resources.
Lunch Hour is about how New Yorkers have thought of and eaten lunch for over 100 years. In modern America, weekday lunch is rarely a family affair and in New York it is often a time when people rush, talk, and bolt down their meals while staying in high-pitched work mode. But it is also a time of escape, of shared confidences over a counter, and of eating outside in your private patch of sun. The NYPL has an enormous collection of menus, from fine restaurants to the lowliest diners, that reveal changing tastes (and prices) over the years. These and the many photos and objects on display give you a sense of the social and cultural meaning of food in urban American history.
The exhibition includes an enclosed space that reproduces the look of an old-fashioned Automat, a staple of New York dining from the early 1900s to the 1960s. Above you can see an original Horn & Hardart Automat wall of little compartments that once held enticing servings of food, all available if you put the right number of nickels in the slot. As a child I found it hard to decide where to invest my fortune. This slot or that one? Chocolate cake or lemon meringue pie?
These days we have Art-o-mat, a company that converts old cigarette machines into art-dispensing machines. The art costs more than a few nickels but at $5 it's still a pretty good deal. Like the Automat itself, Art-o-mat offers an inexpensive, democratic way for people to get what they need, what sustains us physically and aesthetically.
New York artists have always been attracted to the Automat, the setting of so many late-night conversations and brainstorms. Berenice Abbott photographed one in 1936 and Edward Hopper's 1927 painting ranks as one of the great works of American art. Many have viewed the solitary woman in Hopper's Automat as a symbol of urban alienation and loneliness, but I prefer to think of her as mulling over some big decision. Marry or not? Stay or go? Coffee can make these decisions easier.
Think of the impecunious writers and artists who found inspiration in the Automat while sipping their third cup of five-cent coffee, of the novels and paintings we owe to cheap caffeine. These folks didn't need fancy coffeemakers, and maybe we don't either.
Liz