On January 22, preK and Kindergarten students from Miles Jerome Jones Elementary attended a performance at the University of Richmond Modlin Center for the Arts. Miles Jones has a PIA Award this year for a project called Dance by Design that uses creative movement to teach young children literacy and numeracy skills. The children were at the Modlin to see Corbian/Lightwire Theatre's performance of two classic fables, The Tortoise and the Hare and The Ugly Duckling.
It was just amazing. The performers themselves were invisible on the stage but wore puppet forms that created the animals, each one illuminated by lights that made the characters come alive in every way. The performance was stunning – beautiful, funny, and moving. No wonder Corbian/Lightwire were finalists last year on America's Got Talent. You can watch the videos on their website but they do not do justice to the genius and artistry of their work.
The students from Miles Jones joined hundreds of other children in the Modlin Center's Alice Jepson Theatre. The show was an hour long, the perfect length to hold their attention. I too was spellbound. I realized after a while that I was leaning forward, mouth half open, enraptured by what I was watching.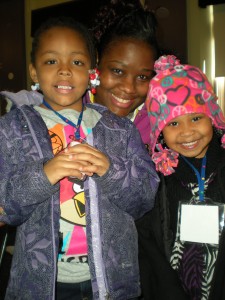 This visit to the Modlin Center was a successful partnership among Richmond Public Schools, the Modlin Center for the Arts, and Partners in the Arts. Teachers and staff from all three made it possible, working out tickets, transport, and lunch for the students. Here you see some of the Miles Jones theatregoers in their winter-day clothes. On stage, it was all magic and light.
Liz