Fantastic. That's the first word that comes to mind after visiting the  fourth grade art class at Laurel Meadow Elementary School this morning. Art teacher Jamesha Hairston has created a wonderful PIA Award project for this year called Laurel Meadow Lion's Den: An Interactive Reading Environment. For the first part of the project, third, fourth, and fifth graders are making books – beautiful artists' books – and then creating content for their books, developing their non-fiction writing skills on subjects related to the science and social studies curriculum. A team of Laurel Meadow educators is collaborating on the project with Ms. Hairston, among them the librarian, the instructional technology resource teacher, the reading specialist, and classroom teachers. The books that the students make will be placed in the school library.
This morning the fourth graders were working with artist Ginna Cullen as they began to assemble their books. Ms. Cullen showed them a number of books she had made so they could see what was possible. The children were in awe: you can do that with paper and cardboard? Ms. Cullen's hand-made books are incredibly beautiful, some simple and some complex, with detailed hand-sewn spines.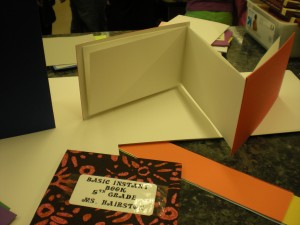 In the spring, the 4th and 5th grade students will work with muralist Janet Gilmore-Bryan on a mural for the reading area in the school library, the Lion's Den. (Can you guess what the school's mascot is?) The students will learn how murals impact the environment and how they can celebrate community. Then they'll brainstorm as a group to create a design for their mural.
Liz