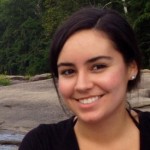 A guest post by Briana Blanchard
It's dusk on West Broad Street and the sidewalks are packed. People are buzzing through crowded spaces laughing, chatting, musing. The enthusiasm in the air is unmistakable as Richmond's cultural community gathers for its monthly ritual: First Fridays.
I was born and raised in Denver, Colorado, a place known more for its natural aesthetics than anything else. I then spent the last four years studying art history and public relations in sweet little Blacksburg, Virginia. Although I deeply love both my hometowns, I was ready for a change. I needed a place that was vibrant, exciting and full of energy. So I moved to Richmond. I was beginning to doubt my decision until I stepped out on Friday, September 7th. Despite spending years in every art gallery, art museum, and art lecture I could find, I had never experienced anything quite as engrossing as an entire street full of art and people who genuinely enjoyed experiencing it.
I began my exploration of the Richmond art world at 1708 Gallery. Everyone was chuckling over the refreshing wit of Naoko Wowsugi's None of Your Business. The before and after photos sparked conversations among both friends and strangers, something I have always deeply admired and respected in contemporary art. From there I crossed the street to ADA Gallery, a venue with a distinctly younger vibe. The deviant, faceless figures of Yann Leto's work left me wanting to know more about the local artist and his Circus Dancers. I then stepped into the substantial Gallery 5 and was greeted with the alternative sounds of Brother Wolf and their large group of followers swaying in unison. The former fire station has been expertly converted into a home for all forms of creativity with a fully functioning performance stage downstairs and a sophisticated loft-like gallery upstairs. I spotted everyone from young artists to mature visionaries discussing the comic art. The largest crowd formed around Mark Luetke's Experimental Sequence 2, hundreds of prints mounted on square tiles to form a complex storyboard that seemed to play out in every direction. It perfectly balanced a sense of monumentality while remaining light, an accomplishment I never imagined was possible in comic art.
There isn't a single gallery that can contain the energy of First Fridays. The enthusiasm spills out into the streets in the form of musicians, protesters, and performers. I even saw a man twirling balls of fire. There is something about fire that simultaneously enthralls and terrifies, so of course I stopped to stare. Standing there on Marshall Street in downtown Richmond thousands of miles from home, shoulder to shoulder with a diverse crowd of my peers and all I could think was 'I'm definitely going to like it here.'
If you would like to write a guest post for the PIA blog, please contact us at pia@richmond.edu.