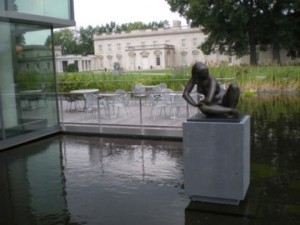 I took this photo yesterday afternoon at the Virginia Museum of Fine Arts, as clouds started to gather and lightning began streaking down from the heavens.  I love overcast, moody weather and I thought the museum and its surroundings looked exceptionally gorgeous in this dramatic mode.
I love three museums: the Cloisters (which is really part of the Metropolitan Museum of Art), the Museum of Jurassic Technology in Los Angeles, and the VMFA.  I grew up not far from the Cloisters, back when it was still the Met's rather neglected uptown relative, and had the pleasure as a child of running in and out at will (no admission fee or even suggested donation in those days).  It was gloomy, ghostly Gothic fun: headless saints, knights' sarcophagi, Lady chapels that still carried the scent of the 14th century.  My idea, then and now, of a good time. 
The Museum of Jurassic Technology is a whole other matter, an extended and ingenious examination of what a natural history museum should be, offering exhibits of obscure, and often false, scientific and human phenomena, all encased in a jewelbox building crammed between tacky shops in a seedy section of Culver City.  Read Lawrence Weschler's Mr. Wilson's Cabinet of Wonder to get a sense of what it is all about.   
And then there is the VMFA, in its wonderful new beauty and openness.  It is what a public museum should be: a place that you can go to for an hour or a day, sit and have coffee with a friend, or stand and wonder what Mrs. Albert Vickers was really thinking during the many hours she must have posed for Mr. Sargent.  And yesterday, the museum's modern entrance perfectly matched the steely, silvery weather.
All of which is to say: why not make a personal commitment to see that your school is signed up as one of the VMFA's Educational Partners?  It's only $25 a year for the whole school, and with that you get many free resources as well as lots of discounted programs and opportunities.  The VMFA's education staff are among the hardest working people in the museum biz.  They serve the entire state but they do it tirelessly and with good will.  So come on, it's your art — and your students' art as well!     
Liz