The August 2011 issue of the American Journal of Physics (paywalled, I assume) has two articles about nice physics puzzles. The statement of these puzzles should be understandable to people who know university-level introductory physics, but the solutions are hard.
Here's the first one. I'll put the second in another post.
Suppose you have  a strangely-shaped perfectly reflecting cavity like the one in Figure (a) below. The surface consists of parts of two ellipsoids and one sphere. The ellipsoids have foci A and B, and the sphere's center is at B. Any light ray leaving point A hits part of an ellipsoid and ends up at B. Some light rays leaving B hit ellipsoids and end up at A, while others hit the sphere and go back to B.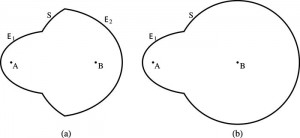 Now put objects (blackbodies) at points A and B. They both radiate. All of the radiation from A heats up B, but only some of the radiation from B heats up A. So if the two bodies start out at the same temperature, there'll be a net energy flow from A to B. But that violates the second law of thermodynamics. What's going on?
In real life, such a system wouldn't obey ray optics — the radiation would diffract around, eventually filling the volume of the cavity. Also, the walls wouldn't really be perfectly reflective, so they'd heat up and radiate themselves. But I don't think those considerations count as resolutions of the paradox: we can certainly imagine a world in which ray optics works and reflection work perfectly, and the second law should hold in such a world.
Someone told me this puzzle back when I was in grad school, and it bothered me for a while. Eventually, I think I hit on the same answer as the one in the AJP article.