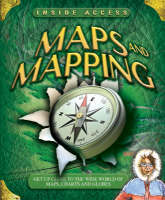 Jinny Johnson does a great job breaking down the loads of information found on maps.  Johnson uses pullouts and fold outs to keep the reader engaged.  The book breaks down every symbol there is on a map and makes it easy for the reader to decipher.
Maps and Mapping is the story of a tour guide named, Suki West, who guides the reader around the world and through different landscapes.  The character Suki West uses every type of map tool that you can think of and introduces it to the reader.  "Like the early explorers, I use a compass to find out where north is. (10)" The book breaks down maps and globes through out.  It discusses nearly every piece there is to the "world puzzle".  Maps and Mapping discusses flap maps, ocean maps, city maps, and many others.  It also has a glossary in the back and allows the reader to look up the major terms and definitions found in the book.  This is a great book for teaching mapping skills and the different concepts of all types of maps.
Curriculum Connections
The student will learn maps skills.  The students will be able to recognize symbols and use cardinal directions on the maps.  This book correlates directly with Geography SOLs 1.4a and 1.4b.
Additional Activities
Book: Maps and Mapping
Author/Illustrator: Jinny Johnson
Publisher: Kingfisher
Publication Date: 2007
Pages: 32 pages
Grades: PreK-2
ISBN: 0753460629