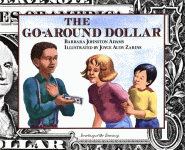 Ever why there are so many intricate designs on the dollar ? What about how long a dollar circulates before becoming too worn out? All of these questions and more are explored in Barbara Adams' The Go Around Dollar. This informative fictional narrative is a great way to introduce American money to your class.
The Go Around Dollar, presents itself as a story that tracks a dollar bill as it is passed from person to person. Matt, the first child finds a dollar on the ground and then purchases Eric's shoelace with that same dollar bill. The dollar bill then changes hands to a a storekeeper where Eric purchases bubble gum and then a girl named Jennifer receives that same bill as change. Jennifer purchases a hat at a flee market where a boy named Rob takes possession and gives it to his sister Kathy in return for doing a chore. The book follows various transactions that can be made with a dollar bill and how eventually they become so worn out they get replaced by the government. The dollar bill's journey ends up when it is framed at an ice cream store.
The most notable and impressive feature about the book is the factual information about dollar bills  located on each corner. The facts range anywhere from who get to be on a dollar bill to what they are used for to how people even make counterfeit money. An example of these short information pieces would be:
 A portrait of George Washington, first president of the United States, is on the front of every one-dollar bill. Only people who are no longer alive can have their pictures on American money (Page 4).
The illustrations are extremely well done and provide excellent support to the storyline and travels of the dollar. The book also includes a helpful diagram that labels important part of the dollar bill in very simple terms. Using this book as a read-a-loud for your class would be a phenomenal way to start a unit on economics and give them the background they need in a more interesting way.
Curriculum Connections
This book would be a great way to introduce your class to economics or money in general. One my favorite parts of the book is how many activities and lessons that would nicely complement the book. You could have students write their own story similar to this or relate it to an activity in your mathematics lessons. In Virginia, this could relate to the SOL for History and Social Science 1.8, as it can explain to students that people make choices about what to purchase because they cannot have unlimited funds to buy everything. Students can learn what you can purchase with the money you have and that you need to be selective in what you buy.
Additional Resources
Here is a great website to provide lesson plans, worksheets and activities that apply to a variety of grade levels!

You can teach kids how to easily count money and become familiar with our currency with hand-on activities.

Here are some real-life ways that money plays in our everyday life- how to earn money, make money and spend money are a few questions explored at this helpful site.
Book: The Go-Around Dollar
Author: Barbara Johnston Adams
Illustrator: Joyce Audry Zarins
Publication Date: 1992
Pages: 32 Pages
Grades: 1-3
ISBN: 0027000311