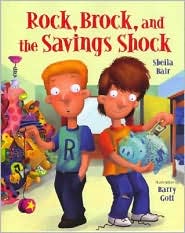 Are you interested in seeing the results that occur when a person does not save as opposed to someone that does?  In Rock, Brock, and the Saving Shocks, written by Sheila Bair and illustrated by Barry Gott, the reader is introduced to twin brothers that have two distinct saving habits.  Learn what happens when one saves and the other does not.
Illustrated by Barry Gott, this book attracts young readers because of its animation like characters.  Gott does a great job at showing kid friend pictures that not only seem realistic but entertaining. Sheila Bair, who is also a member of the FCIC, has extensive knowledge about saving money.  Furthermore, Bair is able to relate all the information that she has learned about money to the younger readers.
The story of Rock, Brock, and the Savings Shock begins with the two twins that are complete opposites. Rock is the cleaner, healthier,  early bird, and studious while Brock is not.  Rock was almost a perfect guy but he loved to buy while Brock like to save his money.  One summer their gramps gave them a dollar and proposed a savings plan.
For ten straight weeks each Saturday,
I'll give you each one dollar's pay
to mow my lawn and wash my car.
These simple chores will get you far
because I'll  do a little trick:
each buck you save, I'll match it quick!
Spend it- there's no extra dough,
so save you can and watch it grow!
So Brock saved his dollar while Rock went straight to the mall and spent it.  Rock kept spending his dollar while Brock was receiving double from gramps.  At the end of the ten weeks Brock had saved 512 dollars and Rock had none.  Brock than bought nice things like a telescope, robe, shirt, and a book.  With the 50 left over Brock opened a joint savings account his brother and him.
From that day on the twins saved their money, and when their hair had turned gray they had become millionaires!
Curriculum Connections
Rock, Brock , and the Savings Shock  would serve as a great closer to a lesson about savings.This is a great tool for teacher to use when they want students to recognize that people save money for the future to purchase goods and services this correlates to sol 1.9 Virginia.
Additional Information
Money Word Problems – The Change Game this online math activities allows children to find out how much change they need or how much change they will receive.
This Little Piggybank Went to Market This lesson provides students with the opportunity to learn about saving money and banking.  This activity is more appropriate for students in lower elementary.
The Hundred Penny Box Great lessons for students in upper elementary. The students analyze the advantages of regular saving and how savings grow with compounding.
Book: Rock, Brock, and the Savings Shock
Author: Sheila Bair
Illustrator: Barry Gott
Publisher: Albert Whitman & Company
Publication Date: 2006
Pages: 32 pages
Grade: K-5
ISBN: 978-0807570944