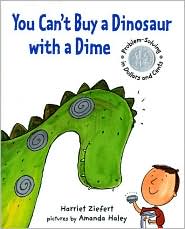 Harriet Ziefert's You Can't Buy a Dinosaur with a Dime is a wonderfully illustrated book that highlights how young children save, earn and spend money. Illustrator Amanda Haley uses simply line drawings with bold colors to highlight the main character, Pete, and the other objects in the foreground. The drawings a simple, yet show the characters' expressions well and give the book a very realistic feel that children will definitely connect with.
The language in the book is best for young children and will not cause any confusion. Ziefert explains in the story different ways Pete earned his money, saved his money and counted his money. On several pages there are also thought bubbles in the corners that have questions for teachers to ask their class for more interaction while reading aloud. The book switches between a narrative form and speech bubbles and uses words on the page that many young children will like to read aloud or point out to the teacher. The book also contains pages in the back about class activities with money and spending, as well as interesting facts about money and the history of coins.
Curriculum Connections
As young as kindergarten and first grade, students begin to study economics through buying and selling goods and services, saving money, using money and making choices. You Can't Buy a Dinosaur with a Dime includes different ways the students can learn about these topics, with the inclusion of a math curriculum as well. Pete buys goods, offers his services, saves money and contemplates what to buy to include most of the necessary economic information needed for the younger primary grades. For Virginia, this book covers social studies SOLs K.7b, 1.7, 1.8, and 1.9 in economics as well as math SOLs K.4, K.6, K.7, 1.3 and 1.10.
Additional Resources

Labor, Choice, and Sales Tax is a lesson plan for third grade that talks about working, tax and saving money to buy objects. It is designed for third grade, but can be modified for younger grades as well.
Counting Money is a site that includes other books about money, additional websites about counting money, coins and math related activities.
Family Money Matters is a lesson plan designed for preschool to kindergarten (which can be extended for 1st or 2nd grade) about price tags, consumers, sorting objects based on price, and the various jobs in a store.
Book: You Can't Buy a Dinosaur with a Dime
Author: Harriet Ziefer
Illustrator: Amanda Haley
Publisher: Blue Apple Books
Publication Date: 2003
Pages: 32 pages
Grades: K-3
ISBN: 1593545916