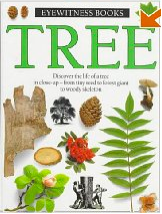 Eyewitness Books are great tools for the classroom with their bright pictures, easy-to-follow layout and extensive supply of scientific facts. Eyewitness Books: Tree proves no different offering close-up photography and careful labeling, almost like you're observing the tree roots in real life. The book breaks up the topic of trees into more manageable mini lessons starting with a spread just answering the question, "What is a tree?" It moves on from there to cover "How trees grow," "From bud to leaf,""Seeds and nuts" and even "Tree care and management."
The book dives into the life cycles of trees, how to count the rings of a tree trunk and how the leaves and needles develop. Every once and a while a historical blurb will emerge in the text, one on the spread talking about bark informs us about the early settlers making maple syrup from the sap in the sugar maple. The text does a great job of making the science of trees up-close and interesting and still connecting back to other subjects like history, and math (counting the rings on the trunk).
Kids will love the large, bright photos and all the labeling to satisfy their never ending questions. Teachers will love the impeccable organization that can be expected from the eyewitness books. The size of the book also makes it easy to present to an entire class as a way to foster discussion or start a lesson.
Curriculum Connections
This book can be used as a general classroom resource when teaching a life science unit. A teacher may want to use it to begin conversations about the plant cycle or to do an activity pertaining to tress specifically. The type is quite small and there is a lot of reading, so this book would probably be best appropriate for older kids, grades 3-6. In Virginia these would best relate to SOLs, 3.6 (forests), 4.4 (plant structure), 4.5 (life cycles), 5.5 (cell structure) and 6.7 (conservation and management).
Additional Resources
Book: Eyewitness Books Trees
Author: David Burnie
Publisher: DK Children
Publication Date: 2000
Pages: 64 pages
Grades: 3-6
ISBN: 0789458209