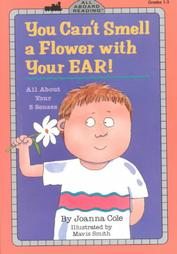 Have you ever struggled to come up with a fun and creative approach to teach the 5 senses to your students? Well, look no further because Joanna Cole, the author of the book, You Can't Smell a Flower with Your Ear! has done exactly that. The fun and bright illustrations by Mavis Smith add a friendly and inviting touch to the book as well.
The book's text provides a fun way to learn about the 5 different senses. It provides examples that children could easily relate to and experience in every day life. The most impressive part of the book are the fairly complex concepts that Cole nicely simplifies into terms that your students will comprehend:"Nerves-like wires-carry messages about the picture from the back of your eye to special places in your brain (Pg. 13)." The illustrations also nicely compliment and further explain key ideas in the text by providing diagrams for each major sense. The book goes through all of the 5 senses and gives a "try this" portion where students could actually test out how each of their sense are being activated.
 An example of a "Try This" would be:
"Dim the lights. Look at your eyes in a mirror. Are your pupils big? Now turn on a bright light. Did you see your pupils get smaller? Your pupils get bigger and smaller to let in just the right amount of light (Page 11) ."
Curriculum Connections
This book could be used to introduce students to different properties that could be observed by using their sense of sight, touch, hearing, feeling and smell. In the state of Virginia it would address the Standard of Learning 1.1 in the Science Standards of Learning, which looks at the differences in physical properties using the senses and how inferences can be made about a familiar object or event.
Additional Classroom Resources
The Lesson Plans Page has a lesson plan with an activity that could further reinforce concepts from the book.
InstructorWeb provides some worksheets to be printed out that deal with the five senses.
Education World offers 10 great activities that could be used with your class to teach the five senses.
Book: You Can't Smell a Flower with Your Ear!
Author: Joanna Cole
Illustrator: Mavis Smith
Publisher: Grosset & Dunlap
Publication Date: 1994
Pages: 32 pages
Grades: 1-3 (might be a challenge for struggling 1st grade readers)
ISBN: 978-0448404691