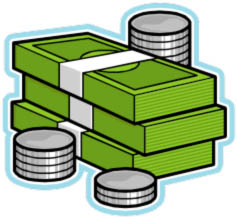 To most fifth graders the concept of money involves mommy and daddy's pockets. This blog will introduce the reader to incorporating consumer math to fifth graders.
Books:
1. A Kid's Guide to Earning Money. Written by Tamra Orr. This book is intended to teach students the value of earning money. It does not tell the student what job they should get, instead it guides them on how to go about earning money.
Find this book
2. The Everything Kids' Money Book. Written by Diane Mayr. A book that not only teaches kids about money it also teaches kids where money came from.
Find this book
3. Money Sense for Kids. Written by Hollis Page Harman. This book informs students on how money travels from the mint to their pockets. Also, very informative on how to save their allowances.
Find this book
4. The Kids' Allowance Book. Written by Amy Nathan, with help from Debbie Palen. A comprehensive book containing over a 150 responses from actual kids on the pros and cons of allowances.
Find this book
5. The New Totally Awesome Money Book for Kids, Revised and Updated Edition. Written by Author Bochner and his kid sister, Rose Bochner. Author teams up with his kid sister to give a child's perspective of everything from saving to credit cards.
Find this book
Websites:
Additional resources:
Board Games
This is an excellent website to purchase board games involving play money. The board games are at a discounted price and their are plenty to choose from.
Money Worksheets
This free website allows the teacher to pick and choose what the worksheet should contain. Student count each side of coins up and compare on which one has more. Very user-friendly.
Online Money Activities
If computers are easily accessible than this is a great website. Offers a few different lessons that kids can learn sitting at the computer.
**Updated on 1-31-12**
Thanks to Jessie at the  Amorita Charter School in Amorita, Oklahoma for finding and recommending this site.
Interbank fx – All About Money
This site has links to games, activities, lessons and additional resources for identifying and counting money, using and spending money, earning and saving money, and much more!