Second grade students are expected to count and compare pennies, nickels, dimes, and quarters up to two dollars.  They are also expected to master using a cent symbol, dollar symbol, and decimal point when working with money.  While play money is a good resource for students to work with in this unit, there are also a variety of books that introduce money and coin combinations and online resources that allow students to play interactively with coins and money amounts.
Text Annotations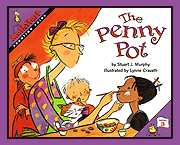 The Penny Pot written by Stuart J. Murphy, illustrated by Lynne Woodcock Cravath :  This is a nice book about a little girl that wants to get her face painted at a carnival but does not have enough money.  Her friends leave their extra money in a penny pot and she is able to add to her money.  Realistic pictures of coins, counting on, making change, adding.  Recommended for ages 7 and up.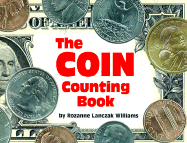 The Coin Counting Book written by Rozanne Lanczak Williams:  Short rhymes and real pictures of coins starting with pennies and moving up to half dollars and finally, to a dollar.  This book also talks about coin combinations and labels each coin numerically with its value and the cent symbol.  Recommended for ages 5 to 9.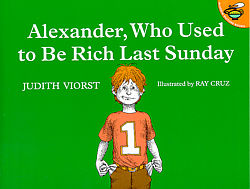 Alexander, Who Used to Be Rich Last Sunday written by Judith Viorst, illustrated by Ray Cruz :  Alexander's grandparents give his brothers and him a dollar each and he has big plans for spending it.  Through some funny situations, Alexander slowly loses his dollar.  Coin values, subtraction of money, saving money.  Recommended for ages 4 to 8.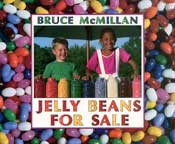 Jelly Beans For Sale written by Bruce McMillan:  This is a very colorful book about students selling jelly beans – one bean for one cent.  Realistic pictures of pennies, nickels, dimes, and quarters in various combinations.  Encourages student participation while reading.  Recommended for ages 4 to 8.
Making Cents written by Elizabeth Keeler Robinson, illustrated byBob McMahon:  This book does a great job of covering many topics dealing with money through a story of children building a treehouse.  The book follows them as they buy different items needed to build their treehouse.  Coins, coin combinations, U.S. currency, foreign currency, how kids can make money, spending, and more.  Recommended for ages 9 to 12.
Web Annotations
HIP Pocket Change:  The U.S. Mint's website for students.  The Circulating Coins section of the site lets students click on coins from penny to dollar coins and gives them information about that coin, a picture of it, fun facts about money, and a coloring page.
Garage Sale Wizard:  Students must choose between three buyers that want the same thing at a garage sale.  Each buyer shows what they are willing to pay for the item in coins and students choose the person willing to pay the most.
Coin Combo Game: Arcade style game.  Money falls and stacks up.  The goal is to keep the stack of money blocks as low as possible.  Students are asked to click on combinations of coins to make a certain amount.  When the student gets the right amount, the blocks disappear.  Target amounts increase as students move up in levels.
Discovering Coin Values:  Students are given an amount of money in decimal form.  They must pick up coins and slide them down a chute into a cup to match the amount.
Second Grade Money Game:  Students are shown a menu with different food items on it.  They are given the price or items to buy and must drag the correct coins onto the item to pay for it.
Additional Resources
Money Instructor:  Requires signup, but limited membership is free.  Basic Money Skills link provides resources for teachers including lesson plans, printable play money, worksheets, money coloring pages, and a history of money.

Busy Teacher Cafe Money Unit: This site offers a long list of lesson plan and activity ideas, money song lyrics, book suggestions, center activities, and links to online games.

Education World:  This page links to numerous money lesson plans for various grade levels.  There are also links to additional lesson plans on other websites.

School Express Beginning Money:  Fifteen printable money worksheets.  Some sheets have students count coins, others have them count numerical values, find a missing coin from an equation, or compare amounts.

HIP Pocket Change:  The U.S. Mint's website.  There are lots of links for teachers – lesson plans, online activities, book suggestions, printable resources, project ideas, and more.