By Scott T. Allison and George R. Goethals
We receive a lot of feedback about the heroes we profile on this blog and, not surprisingly, many of the comments are a bit critical of the worthiness of the heroes we choose to include here.  You can read these comments and see for yourself.  The heroes whose merits have been especially questioned are Justin Beiber, Betsy Ross, Tiger Woods, Mother Teresa, Secretariat, Bill O'Reilly, Lady Gaga, John Nash, and Christopher Columbus.
Some of our selections have evoked puzzlement; some annoyance; and some even anger.  Some readers have suggested that we are diluting the integrity of the word "hero" by using it to describe certain categories of people, such as celebrities or athletes.  One of us has a brother who refuses to read our blog because he disagrees with our definition of a hero.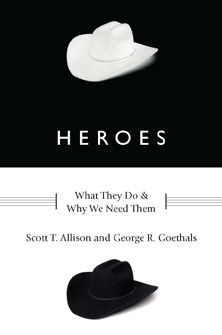 We sent him a free copy of our book, hoping that he'd read how we define heroes and why we've chosen this perspective.
If you haven't read our first heroes book, our definition of a hero is quite clear.  Heroism is in the eye of the beholder. We've asked hundreds of people to list their heroes and to provide reasons for labeling someone as a hero.  After studying these lists, we see that our taste in heroes is as varied as our taste in music, movies, and paintings.  Defining a hero is like defining a good meal at a restaurant.  It depends on your values, your personal preferences, and maybe even what stage of life you are in.
We've also found that maturity plays a role in hero selection. Younger people tend to choose heroes known for their talents, physical skills, and celebrity status. Older people tend to favor moral heroes. As we get older and wise, our tastes in heroes evolve.
The point we wish to make is that every person we have profiled in this blog is someone's hero.  Each hero may not be your hero, but he or she is somebody's hero, and the reasons are valid and meaningful to the person holding them.
Even Joseph Campbell, the great mythologist and founder of the study of heroes, acknowledged that heroism is in the eye of the beholder. Campbell said, "You could be a local god, but for the people whom that local god conquered, you could be the enemy. Whether you call someone a hero or a monster is all relative…." (The Power of Myth, p. 156).
The World War II German soldier who died, said Campbell, "is as much a hero as the American soldier who was sent over there to kill him." Campbell believed that the moral objective of heroism "is that of saving a people, saving a person, or supporting an idea."
Although we agree with Campbell, and others, that heroism is in the eye of the beholder, we will never profile people such as Adolf Hitler in our blog, even if Hitler is considered heroic to small segment of society. There are some people whose values are so repugnant to us, and to the reasonable majority, that we will never profile them here.
We've found that people's beliefs about heroes tend to follow a systematic pattern.  After polling a number of people, we discovered that heroes are perceived to be highly moral, highly competent, or both.  More specifically, heroes are believed to possess eight traits, which we call The Great Eight.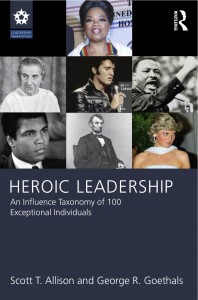 These traits are smart, strong, resilient, selfless, caring, charismatic, reliable, and inspiring.  It's unusual for a hero to possess all eight of these characteristics, but most heroes have a majority of them.
As authors of this blog, we do have our own personal heroes.  Our heroes combine great selflessness with great ability.  In our second heroes book we call heroes of this type Traditional Heroes.  One of us  (Scott Allison) identifies Roberto Clemente his greatest hero.  Clemente was a great baseball player who died helping earthquake victims.  The other of us (George Goethals) calls Abraham Lincoln his greatest hero.  Lincoln showed remarkable heroic leadership while healing a divided nation and freeing slaves.
When we were younger, a person didn't have to be particularly moral or selfless to be a hero to us.  The person just had to be a star athlete or great rock star.  We've outgrown this type of hero, which we call a Transitional Hero.  Now our heroes have to accomplish far more than show great ability.  They must also perform some exemplary action in the service of others.
We will certainly continue to welcome any debates about the validity of our inclusions in this blog.  Critiques about the hero-worthiness of a particular individual may sharpen our thinking about who are the special men and women among us who deserve the term "hero" associated with their names.  In the mean time, let's honor the diversity of opinion out there about who our heroes are.  We're all in a different place in life, and our heroes do shift and evolve as we ourselves shift and evolve.
And please, keep sending us your suggestions for heroes to profile.  We love receiving your emails and welcome your input.
References
Allison, S. T., & Eylon, D. (2005).  The demise of leadership:  Death positivity biases in posthumous impressions of leaders.  In D. Messick & R. Kramer (Eds.), The Psychology of Leadership: Some New Approaches (pp 295-317).  New York: Erlbaum.
Allison, S. T., & Goethals, G. R. (2011). Heroes: What They Do & Why We Need Them.  New York: Oxford University Press.
Allison, S. T., & Goethals, G. R. (2013). Heroic Leadership: An Influence Taxonomy of 100 Exceptional Individuals. New York: Routledge.