When It's More Than Just Reluctance (and even when it is)
I have spent this week preparing my final project for this class: Boot Camp.
On Monday morning four English teachers, one EL tutor, and one librarian will meet 60 juniors, many of them special education and English Language learners, our critical subgroups.  A significant number of them are kids of color. The majority of them are male. Passing this test is required for a child to earn a high school diploma, and our school pass rate directly affects our accreditation.  
Six adults will spend the whole day preparing these students to retake the End of Course Reading SOL on Tuesday morning.  We will share test-taking strategies, review important reading skills, and convince students that they can do this. 
This week, alone, I have written over 100 emails. 
Some have been planning our day's curriculum.

Some have been about logistics for the day's events.

Some have been about money requisitions for pizza and supplies.

Many have been to answer questions posed by counselors and case managers.

And a few have been straight-up information sharing with faculty and administrators.
I have kept at the forefront my goal to communicate clearly with each stakeholder, and it's challenging because so many things happen simultaneously; it's like keeping a hundred plates spinning on top of poles, waiting for audience applause.
And, oh, yeah, I taught all my classes. Every day.
The six adults  have sorted and color-coded groupings of students, created spreadsheets that link relevant and important information to everyone involved, prepared break time activities that will delight and teach, and met with individual students, getting them excited about the opportunity.  Oh, and we have looked at the most recent testing results and come up with workshops that meet the needs of reading needs of these kids, who represent our at-risk subgroups.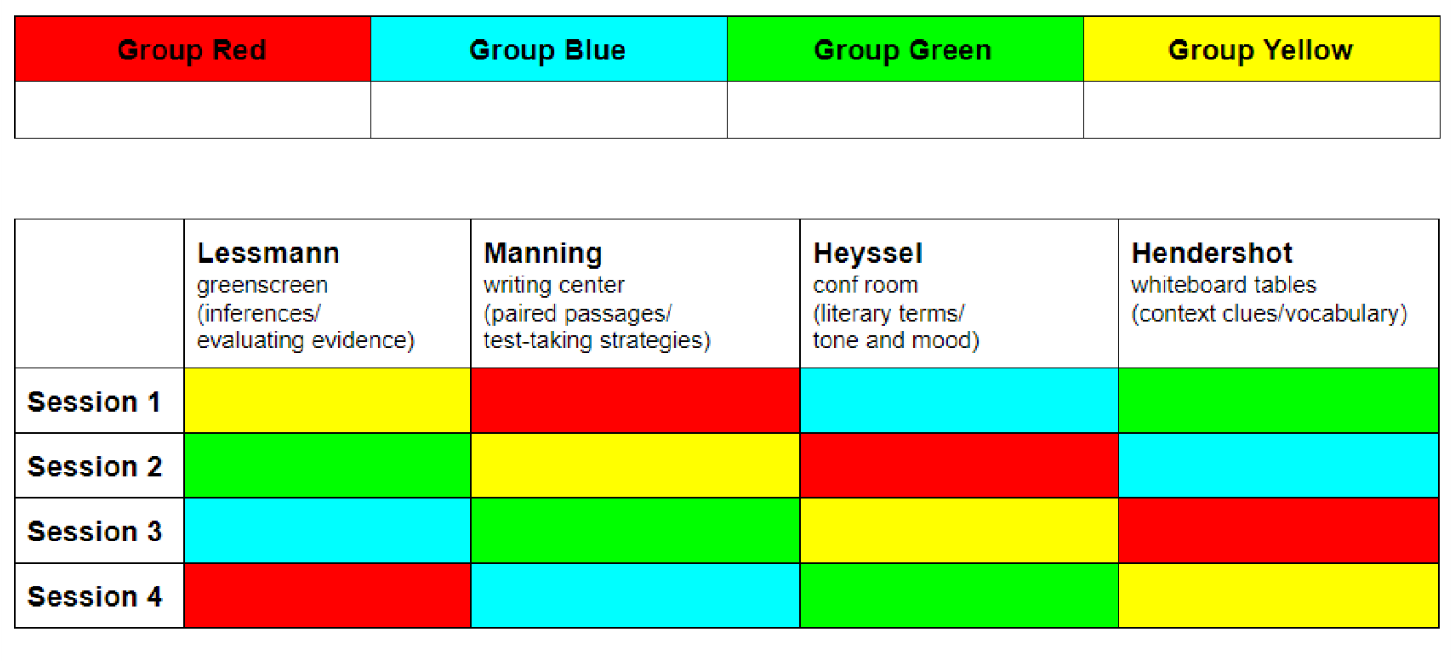 The visual representation of our session rotation plan. 
As I work on the Boot Camp, I realize that the reading I have chosen for our group discussion, Erin Frost's "Apparent Feminism and Risk Communication," is a terrific complement. I am addressing the needs of the underrepresented at James River. And as much as I dislike standardized testing, we will spend the day with those who most need to be able to read, even at the most basic of levels, in order to survive whatever is coming our way over the next decades. The students participating on Monday are kids of color, kids with disabilities, and kids learning a second language (some of whom are illiterate in their first language).  These are the citizens most in need of our help and support.
I wish I could redesign, not just my classroom, but our whole educational system to give these at-risk readers the tools to decode critical information. 
We need, as educators, to recognize that reading instruction should always be obviously relevant to the learner. Authentic reading practice for non and reluctant readers, those who struggle with learning disabilities, economic disadvantage, or simple disinterest, would go far in capturing the attention of those who struggle when reading. 
Wish me luck.