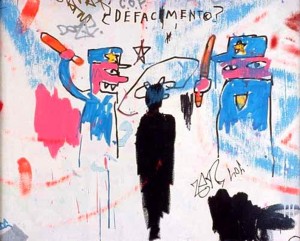 Jean-Michel Basquiat: ¿Defacement?    (http://www.leninimports.com/basquiat_gallery_19.jpg)
(a) Please respond to the following question in at least 300 words, making sure to cite the required texts as directed.
(b) Once you have posted your response to this blog, go to the FYS–Hip Hop Theatre blog, and respond to at least one person in 100 words or more.  Be sure that you respond to a post that has not yet been commented on.
Drawing on the topics of discussion raised by our assigned material, do a close reading of ¿Defacement?  Be sure to provide specific examples of how these texts/films inform your analysis.
Note: Do your best to offer a unique perspective here.  While you may want to build off other people's comments, your response should expand beyond what has already been circulated.
Both elements of this assignment–your main response to this blog, plus your comments on the Hip Hop Theatre blog–must be completed by Saturday, September 15.