"Shout out to them freshman on Instagram straight flexin'/Popped a molly, I'm sweatin." (Trinidad James, "All Gold Everything") These are a few lines from one of today's rap artist named Trinidad James, where he references the use of mollies.
Today's generation is easily influenced by the things seen and heard on television and radio.  Whether those actions are positive or negative are mostly determined by society and personal morals. Young people who listen to hip hop and rap may be more likely to engage in substance abuse and aggression than those who listen to other types of music. A study done by the National Institute of Alcohol Abuse and Alcoholism, found that frequent exposure to music that contains references to violence and substance use is significantly associated with illicit drug use, problems with alcohol and aggressive behaviors in young people. The music of today is not like the music of past generations and the messages in today's music are nothing like before.  Today's rap is more about obtaining and maintaining an image, whether that image is fact or fiction is often a mystery. One rap artist who has recently been exposed about his alleged lifestyle is Rick Ross.  Rick Ross is reported to have been a Corrections Officer in the Florida area, working alongside the law, but raps about a lifestyle that encourages breaking the law.  Ross constantly raps about cocaine and life as a boss or don, but what he doesn't tell is that he received his recognition from using the name of a well-known Los Angeles drug lord named Freeway Ricky Ross. Rappers like Rick Ross are misleading the youth in America by feeding them lies and sending them messages that will lead them down the wrong path.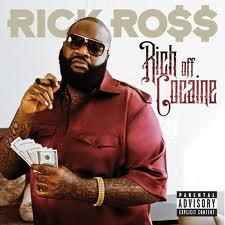 Many rap artists these days focus on the things that make them appear "cool" in the eyes of our young people.  Most songs contain lyrics about sex, money, violence and drugs.  Adults and some teenagers realize that the words said in many of these rap songs are done to increase sales and fan base. While others believe that this is a lifestyle, one that should be mimicked. The lyrics of the songs are catchy, which makes them easy to remember.  Whether you like a particular song or not, you may find yourself singing the words and the more you hear the song the more subliminal messages you unveil.  Many artists even go as far as naming their albums or songs after drug related activities like Wiz Khalifa's Album Rolling Papers and Dr. Dre's The Chronic.
Artist reference drugs as if there are no consequences to their use.  These include artist such as Drake, Jay-Z, Lil' Wayne, Wiz Khalifa and Kanye West, just to name a few. They speak on the use of drugs in their music with lyrics such as:
"Somethin' bout Mary, she gone off that Molly/Now the whole party is meltin' like Dali,' (Kanye West, "Mercy")
"MDMA got you feelin' like a champion/The city never sleeps but it'll slip you an Ambien," (Jay-Z, "Empire State of Mind")
"Two white cups and I got that drank/Might be purple, might be pink/Dependin' on how you mix that shit" (Drake, "I'm on One")
"I can mingle with the stars and throw a party on Mars/I am a prisoner, locked up behind Xanax bars" (Lil' Wayne, "I Feel Like Dying")
Some of the most common drugs used and referenced by rap artist today are mollies (a strand of Ecstasy), Xanax, OxyContin, Adderall, Cocaine, Crack, Codeine with Promethazine (also known as lean) and Marijuana.  Many of these are supposed to only be obtainable by prescription but can also be purchased from outside sources for the right price.  Mollies, also called the club drug, are described as a pill that slows down the world around you, a hallucinogenic, and when abused can lead to brain damage.  Adderall, called the study drug, was originally developed to help people with Attention Deficit Hyperactivity Disorder (ADHD) and Attention Deficit Disorder (ADD) focus, but has recently been manipulated by college students to stay awake and focus on studies. Adderall has also recently been used by professional football players to give them a greater focus to perform their task more efficiently. Adderall is banned by the NFL and if it is found in your system, you will be subsequently suspended. Codeine with Promethazine, also called lean or dirty sprite, is a liquid form of a drug, most commonly associated with Lil' Wayne, it's a mixture of codeine, sprite, promethazine and a jolly rancher.  Codeine is very popular in Houston with artists such as Pimp C and DJ Screw having died from codeine use. Statistics show that the drugs that are glamorized by rap artist are the same drugs that are negatively affecting our society as a whole.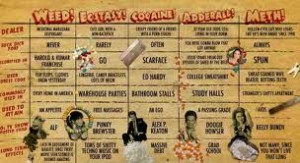 For example, an article reports that 80 percent of teens engage in some form of deviant behavior, 50 percent of high school seniors admit to having used drugs, and 10-15 percent of the population will develop drug addiction problems.  Over the years the use of drugs has become more and more common and the age of the user has decreased. From a study done in 2009, statistics show that of those members of the population who are 12 years of age and over 8.7% had used an illicit drug in the past month, 6.6 percent had used marijuana in the past 6 months and 2.8% had used some form of a hallucinogenic.
When looking at rap and drugs and their impact on society, you must first examine the reason why people resort to listening to rap music or experimenting with recreational drugs.  Some people resort to music or drugs to try and avoid the issues or reality of their everyday life, while others look to music or drugs for advice and comfort.  There is always a bigger picture or reason for every action.  Articles say that younger people and less educated people are some of the ranges of people that are more likely to take the messages in these songs more seriously than they are intended.  Consequently, at times they account for the people who will either follow in the footsteps of their favorite artist to try and lead an alleged lifestyle as a "boss" or "don," or "real nigga", while others may just become another statistic behind bars.
As far as rap and society, the things depicted in rap songs today create a story or lifestyle that people try to live up to, which can result in a downfall of society.  Most rappers use the experiences of their adolescent years as the driving force behind their lyrics and video setups.  Although their intentions are to get their point and emotions across to the public through their lyrics and videos, they unconsciously build a battlefront between neighborhoods, schools, states and more.  The rap scene and the lifestyle these artists portray, create a greater desire for young people to make what they have seen into a reality.  The background of a rap artist, whether it is where they are from or what they do, can form divisions in society.
An article by the Psychological Review talks about how many students have suffered from acts of hate, discrimination and violence just because of the area they are from or the rap artists that they prefer to listen to.   Rap corrupts society in many ways, one being so simple that it usually goes unnoticed.  This music can encourage reckless spending to obtain the material items that artists talk about in their songs.  The values and morals of our generation get manipulated or conformed to what is heard on the radio or seen in a video.  There is a growing sense of need or want of a certain item just because our favorite artists have it or reference it.
In a recent song by Ross, he expressed the way money has benefited him and supports his lifestyles. He says, "Cars just like sneakers, just got me ten pair / Dubai, I been there, but fuck that, we in here / Roll up and inhale, I live next to Denzel / Alonzo, my condo cost three mil', this shit real." (Rick Ross, "Fuck 'Em")  An article, entitled "Under the Influence of…Music?" talks about how teenagers listen to on average about 2.5 hours of music each day.  Within that time frame they hear about 35 references to substance abuse per hour. That's about 87.5 references to drug use in less than a 3 hour time span.  Data from a study in 2005 showed that 77 percent of rap songs reference alcohol or drugs in their lyrics.
In terms of drugs (in relation to rap) and society, these substances are praised in a sense.  Artists flaunt the money and the respect they have gained from dealing drugs or being associated with the drug environment. Artists like T.I., Gucci Mane, and Lil Wayne, brag about having been to jail for because of drug charges. It's like they feel it's necessary to have a "charge" or "catch a case" because it gives them "street cred." Sometimes this is all the confirmation that people need, especially since our generation is one that is money driven and believes that money is power.  When many people talk about rap artists, it is not uncommon for the subject of drugs to come about.   Many artists either talk about the use of drugs or the dealing of drugs in their music.  Therefore, when young people listen to the lyrics they unconsciously use these words to fuel what ultimately will become a negative act for some.  The dealing and consumption of drugs is constantly hurting society today.  The more artists publicize these drugs and their uses, the more the public feels the need to get their hands on these substances.
It isn't necessary for a rap artist to rap about selling drugs, abusing drugs, guns, or any type of violence or illegal things. Take Nas for example, he is said to be one of the greatest rappers ever and he just released an album on July 13, 2012, entitled "Life Is Good", that is about his declining relationship and divorce with his ex-wife, Kelis, his alleged financial troubles, and his failures as a father in his single "Daughters". Nas does not reference illegal drugs in this album, and according to XXL mag, this is Nas's best album since the classic album "Stillmatic", which is considered one of the greatest albums of all time. With "Life Is Good" being the number 1 album on the billboard top 200, it is very easy to say that you can rap about more than drugs and be successful; as long as you have talent, people will listen to your music.
Drugs have been proven to destroy families and on a larger scale communities. Drugs are everywhere in society, from peoples' homes to communities/street corners and even in the schools.  In a song Nas states, "My junior high school class, wish I stayed there/Illegal entrepreneur, I got my grades there.  The use of drugs has even been linked to an increase in crime rates.  Many of the acts of violence seen and heard about today are done under the influence of drugs.  In an excerpt, entitled "Drug/Alcohol Effects on Society," it tells how people under the influence of drugs are responsible for majority of property damages done in communities and a percentage of violent acts.  It states that, "about 25 to 30 percent of property damages are the result of drug use and 4 to 5 percent are from violent crime."  The excerpt also states that, "about 31 percent of inmates reported that they were under the influence of drugs when they committed their offense."
Eminem, who happens to be one of the greatest and most popular rappers of all time, came out with an album titled "The Recovery", on June 18, 2010. In his album, Eminem talks about his well-known battle and addiction to illegal drugs amongst other things. Eminem also had an interview in published in June 2009 with Vibe Magazine. In the interview, he discusses his substance abuse filled past.
While mourning his best friend's murder, Eminem suffered a nearly fatal overdose. But after years of despair, he's found God. In the interview with Vibe, Eminem states "It's no secret I had a drug problem. I just don't think my fans knew how bad it was. When I went to rehab in 2005 I went in for a sleep problem, or I guess a sleep problem is what I thought it was. But it was a drug problem and I wasn't ready to admit it. I was taking Valium, Ambien, and Vicodin. And I was taking a lot. If I was to give you a number of Vicodin I would actually take in a day? Anywhere between 10 to 20. Valium, Ambien, the numbers got so high I don't even know what I was taking." ( Vibe Magazine) Eminem also states that he feels that in the Hip Hop community, you're seen as weak if you're a drug addict. Eminem ends his interview by saying "I almost feel like a little kid again with rap. It's exciting to me again. It's exciting to write, it's exciting to make songs. I get a little giggly to myself when I think of a funny line. I'm having fun with it again. I wanna play around with different flows, I wanna fuck around like I used to, when I used to really care. If I don't feel like it's what I'm fully capable of, if there's one weak line, I wanna change it. I just pushed myself with these two records as far as I can push myself. As far as I can go. Rap was my drug. It used to get me high and then it stopped getting me high. Then I had to resort to other things to make me feel that. Or to numb things. But now rap's getting me high again". (Vibe Magazine)
The biggest lesson and most essential thing that I took from Eminem's interview was, you don't have to do drugs to make you feel happy, find something that's healthy and legal that makes you happy and pour your time and energy into that. If more rappers take the time and rap about something relevant or positive, there would be less kids who would look to do drugs. Kids look for role models, and if their role model is a rapper like Rick Ross who raps about how much drugs he has sold and how much money he has, then our youth drug problem will continue to get worse.
Works Cited
Aku, Timmhotep. "5 Drugs That Have Hip-Hop Breaking Bad." Theroot.com. The Root, 12 Aug. 2012. Web. 04 Dec. 2012. <http://www.theroot.com/views/hip-hop-drugs-story?page=0,0>.
Cherry, Carl. "Nas, Life Is Good." XXL RSS. XXL Magazine, 18 July 2012. Web. 04 Dec. 2012. <http://www.xxlmag.com/reviews/2012/07/nas-life-is-good/>.
"Drug / Alcohol Effects On Society." Drug / Alcohol Effects On Society. Saint Matthew's Churches, n.d. Web. 04 Dec. 2012. <http://saintmatthewschurches.com/AlcoholEffects.aspx>.
"Fast Stats- Illegal Drug Use." Centers for Disease Control and Prevention. Centers for Disease Control and Prevention, 21 July 2011. Web. 04 Dec. 2012. <http://www.cdc.gov/nchs/fastats/druguse.htm>.
Jaffe, Adi. "Teens and Drugs: Drug Use Statistics and a Different Approach to Prevention." PsychologyInAction.org. Psychology In Action, 20 Jan. 2011. Web. 04 Dec. 2012. <http://www.psychologyinaction.org/2011/01/20/teens-and-drugs-drug-use-statistics-and-a-different-approach-to-prevention/>.
Leary, Sam. "Gangster Rap Has Negative Impact on Society." TheDailyCampus.com. The Daily Campus, 18 Jan. 2010. Web. 04 Dec. 2012. <http://www.dailycampus.com/2.7438/gangster-rap-has-negative-impact-on-society-1.1072651>.
Parker-Pope, Tara. "Under the Influence of Music?" Well Under the Influence of Music Comments. The New York Times, 5 Feb. 2008. Web. 04 Dec. 2012. <http://well.blogs.nytimes.com/2008/02/05/under-the-influence-ofmusic/>.
Frere-Jones, Sasha. "The Sound Of Success." New Yorker 88.1 (2012): 102-104. Academic Search Complete. Web. 4 Dec. 2012.
Moffitt, T. E. (1993). Adolescence-limited and life-course-persistent antisocial behavior: A developmental taxonomy. Psychological Review, 100, 674-701.
Juveniles and Drugs Fact Sheet (2003). Office of National Drug Control Policy.Chen, M.J., B.A. Miller, and G.W. Grube. "Influence of Music on Youth Behaviors." Influence of Music on Youth Behaviors (2006): n. page. Web. 4 Dec. 2012. <http://search.ebscohost.com/login.aspx?direct=true&db=ehh&AN=20919596&site=ehost-live>.
"Can I Kick It." Vibe Magazine 1 June 2009: n. page. Web. 2 Dec. 2012.
"Rap Music Glorifying Drug Use." US News. U.S.News & World Report, 1 Apr. 2008. Web. 04 Dec. 2012.
Yang, Sarah. "New Study Finds Glamorization of Drugs in Rap Music Jumped Dramatically over Two Decades." UC Berkeley News. UC Berkeley, 1 Apr. 2008. Web. 04 Dec. 2012.