New CDs for July 2017
Orchestral Music
Ernest Bloch – America (An Epic Rhapsody)
Margaret Brouwer – Orchestral and Percussion Music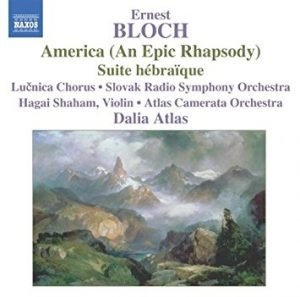 Diana Cotoman – Symphonie No. 1
Diana Cotoman – Symphonie No. 2
Diana Cotoman – Tableaux & Poemes
Frederick Delius – Appalachia / The Song of the High Hills
Henri Dutilleux – Metaboles / The Shadows of Time
Henri Dutilleux – Symphony No. 2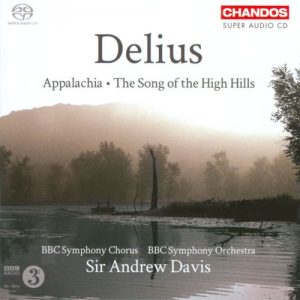 G.F. Handel – Water Music / Music for the Royal Fireworks
Hans Werner Henze – Drei sinfonische eduden / Quattro poemi / Nachstucke und arien / La selva incantata
Hans Wener Henze – Ode to the West Wind / Five Neapolitan Songs / Three Dithyrambs
Vincent D'Indy – Jour d'ete a la montagne, Op. 61 & Symphonie sur un chant montagnard "Chevenole", Op. 25
King's Consort – The Coronation of King George II
Olivier Messiaen – Turangali^la symphony
Christopher Rouse – Odna Zhizn / Symphonies Nos. 3 & 4 / Prospero's Rooms
Bright Sheng – The Phoenix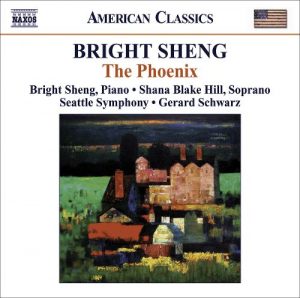 Chamber Music and Concertos
Martha Argerich – Debut Recital: Chopin, Brahms, Liszt, Ravel, Prokofiev
Ludwig van Beethoven – Bearbeitungen Fur Blaser
Ludwig van Beethoven – Legacy: The Spirit of Beethoven – Gwendolyn Mok
Ludwig van Beethoven – Sonatas for Violin and Piano
Ebb & Flow Arts – Explorations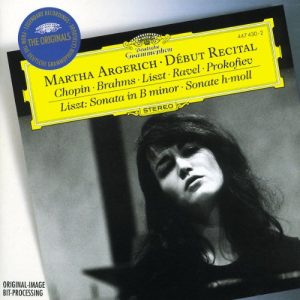 Soovin Kim; Jeremy Denk; Jupiter String Quartet – Concert in D Major; Chausson / Sonata No. 1 in A Major; Faure
Steven Mackey – Banana Dump Truck: Music of Steven Mackey
Sphinx Virtuosi – Live in Concert
Richard Strauss – Violin Concerto / Sonata in Eb
Charles Wuorinen – Ashberyana / Fenton Songs
Ellen Taaffe Zwilich – Violin Concerto / Rituals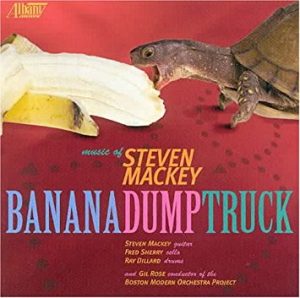 Popular Music
The Chainsmokers – Bouquet
Kaia Kater – Nine Pin
Josh Ritter – Sermon on the Rocks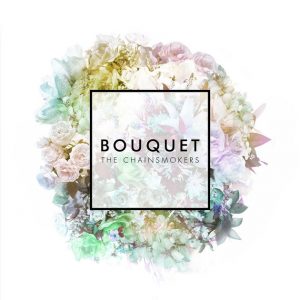 Duncan Sheik – Legerdemain
Various artists – Tamla Motwon : Connoisseurs
Suzanne Vega – Tales from the Realm of the Queen of Pentacles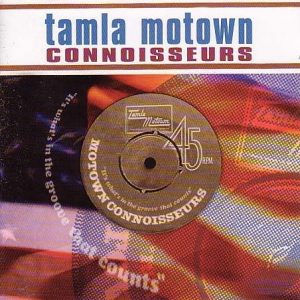 Band Music
Thomas Coates – Thomas Coates : The Father of Band Music in America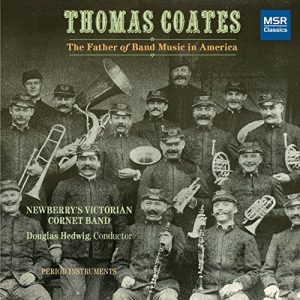 Cantatas, Choruses, Operas and Oratorios
J.S. Bach – St. Mark Passion
Felix Mendelssohn Bartholdy – Psalmen un Moetetten / Oratorium Christus Op. 97
Ludwig van Beethoven – Fidelio
Ludwig van Beethoven – Missa Solemnis
George Frideric Handel – Amor e gelosia : Operatic Arias
George Frideric Handel – Delirio : Italian Cantatas
George Frideric Handel – Rinaldo
Witold Lutoslawski – Twenty Polish Christmas Carols
Musica Ficta – Danske julesalmer og sange
Ariel Ramirez – Missa Criolla / Navidad Nuestra
Paul Schoenfield – Concerto for Violin & Orchestra / Four Motets / The Merchant and the Pauper (excerpts)
John Tavener – Lament for Jerusalem
Kurt Weill – The Seven Deadly Sins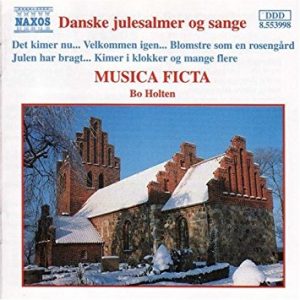 Jazz
Seamus Blake & Chris Cheek with Reeds Ramble – Let's Call The Whole Thing Off
Jane Ira Bloom – Early Americans
Avishai Cohen – Into The Silence
The Cookers – The Call of the Wild and Peaceful Heart
Fred Hersch Trio – Alive at the Vanguard
Harold Lopez-Nussa – El Viaje
Joe Mulholland Trio – Runaway Train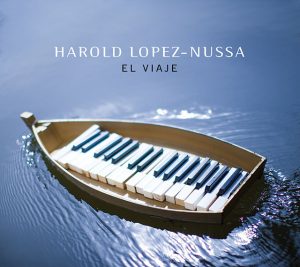 Musicals & Film Music
City of Prague Philharmonic – Psycho : The Essential Alfred Hitchcock
Osvaldo Golijov – Youth Without Youth : Original Motion Picture Soundtrack
Maury Yeston – Titanic : A New Musical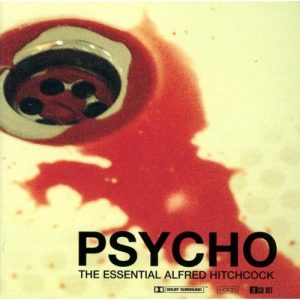 World / Folk Music
Sheila Chandra – Monsoon
Maarja Nuut – Une meeles = In the hold of a dream
Various Artists – Why The Mountains Are Black : Primeval Greek Village Music : 1907-1960
Various Artists – Women of Africa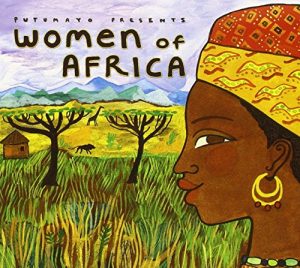 New CDs for June 2017
Piano Music
Leslie Howard, piano – Beethoven-Liszt : The Complete Symphonies
Philip Martin – The Maiden's Prayer : and other gems from an old piano stool

Chamber Music and Concertos
Gidon Kremer – Violin Concertos by Glass & Rorem / Serenade by Bernstein
Emmanuel Pahud – Ibert/Khachaturian – Flute Concertos
Edgard Varese – Offrandes / Integrales / Octandre / Ecuatorial

Popular Music
Various Artists – Carousel of American Music: The Fabled 24 September 1940 San Francisco Concerts
Band Music
U.S. Army Field Band – The Legacy of Edwin Franko Goldman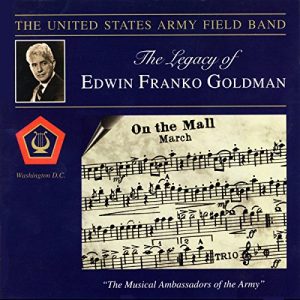 Opera and Oratorios
J.S. Bach – St. Luke Passion
Leos Janacek – Jenufa, her stepdaughter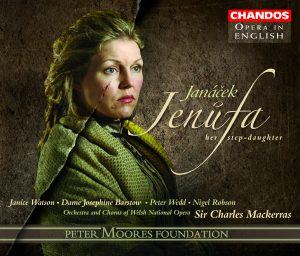 The Beatles' Sgt. Pepper's Lonely Hearts Club Band album was released on June 1, 1967 in the UK and on June 2, 1967 in the US. It became the soundtrack for the fabled "Summer of Love" both influencing and reflecting the flower powered youth culture of the time, but its appeal has proven to be timeless.
The Beatles stopped touring in August of 1966, and took some time off. The group reconvened in November of that year and spent over 400 hours in the studio between November 1966 and April 1967 completing the album. (This was a far cry from their first foray into EMI Studios to record their first album in 1963 — that entire album was recorded in less than 24 hours!) This studio time led to all sorts of interesting musical experimentation and since the group had decided they were done with touring, there was no need to worry about whether the songs could be produced live on stage. The album as a whole is a fascinating almalgamation of harmonium, harpsichord, brass band, fairground noises, harp, psychedelia, Leslie speaker tweaking, multi-tracking, tape loops, full orchestra, crashing apocalyptic piano chords, dog whistles and more. The Beatles' musical ideas required lots of technical innovation from producer George Martin and studio engineers.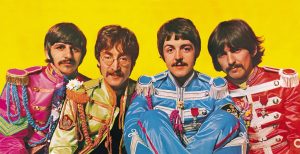 The eclectic mix of songs was loosely held together by the "concept" of a fictional Edwardian alter-ego Sgt. Pepper Band and the songs are wonderfully joyful. From the psychedelic marching band music that introduces us to Sgt. Pepper's Lonely Hearts Club Band, to the psychedelic imagery of "Lucy in the Sky With Diamonds" ( title inspired by a drawing by John Lennon's young son, Julian), to the music hall whimsy of McCartney's "When I'm Sixty-Four", to the spiritual tone of Harrison's sitar-laced "Within You Without You", to the amazing shifting tones, full orchestral crescendo and avant garde surrealism of "A Day In The Life" (one of the greatest ever Lennon/McCartney collaborations in this author's opinion), there is much to enjoy, right through to the startling tape loop ending inserted into the run-out groove of the original LPs (and included on CD reissues if you wait for it). The Beatles drew inspiration from varied sources like an 1843 circus poster ("Being For The Benefit Of Mr. Kite"), a TV cornflakes commercial ("Good Morning, Good Morning"), news stories about runaway teens ("She's Leaving Home") or car accidents ("A Day in the Life").
There is just as much to enjoy in a perusal of the album art itself. The cover features a pop art inspired collage of various folks (famous and not so famous) that the Beatles chose as inspirational to them, elaborate gatefold sleeve packaging (with bonus cardboard mustaches and pseudo-military insignia in early pressings) and includes the lyrics to all of the songs printed on the back cover, something that had never been done before with a pop album.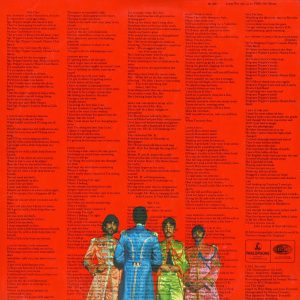 Sgt. Pepper signaled that pop & rock music could also be considered high art or even progressive social expression and more than just disposable entertainment. Musicologists cite Sgt. Pepper as continuing the musical maturation of the Beatles as a group that began with Revolver and Rubber Soul. It was also extremely influential on the development of progressive rock with its emphasis on studio experimentation, elaborate instrumentation and insistence on pushing the boundaries beyond conventional subject matter and track lengths. The album has been an influence on countless others since its release in 1967.
Here's a sampling of a few of (many) parody takeoffs on the iconic cover:
Frank Zappa and the Mothers of Invention – We're Only In It For The Money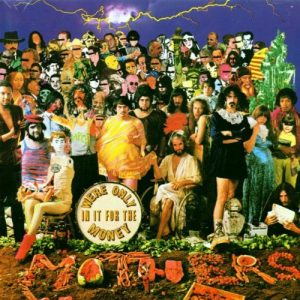 The Simpsons – The Yellow Album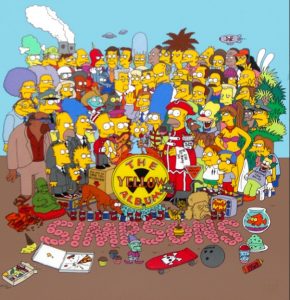 The Rutles – Sgt. Rutter's Only Darts Club Band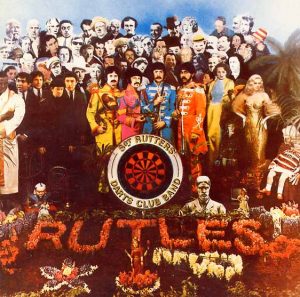 Golden Throats – a compilation of critically lambasted cover songs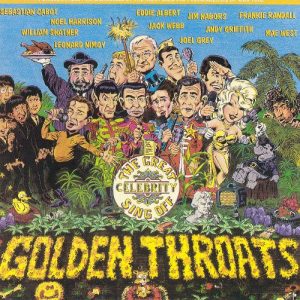 Sgt. Pepper's Lonely Hearts Club Band consistently ranks in critics and fans listings of best albums of all time. Among numerous accolades and awards, it is ranked # 1 in Rolling Stone's 500 Greatest Albums of All Time. It's included in the Library of Congress's National Recording Registry and is one of the best-selling albums of all time.
Whether Sgt. Pepper is an old favorite or if it's brand new to you, this classic album / cultural touchstone is well worth a listen!
New CDs for February 2017
Classical
Francis Poulenc – Gloria for soprano solo, chorus and orchestra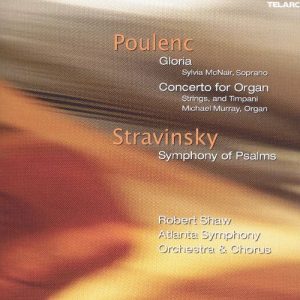 Charles Rosen – The Complete Columbia and Epic Album Collection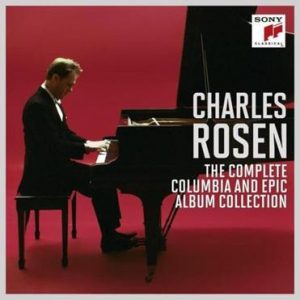 Pop/Rock/R&B
The Avett Brothers – I and Love and You
The Avett Brothers – True Sadness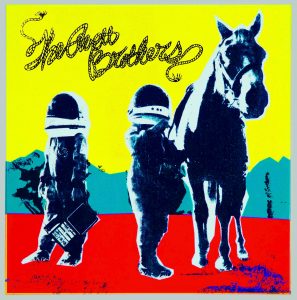 De La Soul – And The Anonymous Nobody
Prince – HITnRUN Phase One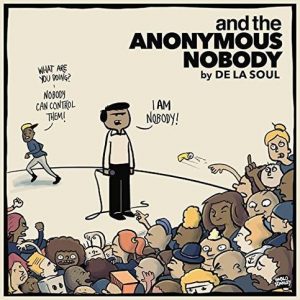 Prince – HITnRUN Phase Two
Radiohead – A Moon Shaped Pool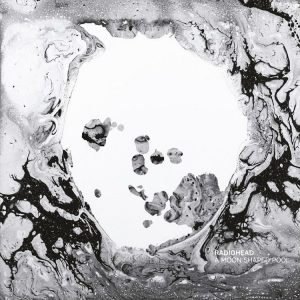 Jill Scott – Woman
A Tribe Called Quest – We Got It From Here Thank You 4 Your Service
Twenty One Pilots – Blurryface
Musical Theatre
Jay Kuo – Allegiance: Original Broadway Cast Recording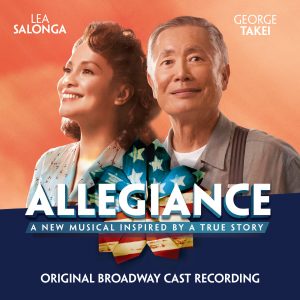 New CDs for November & December 2016
Avant Garde Music
Rhys Chatham – Pythagorean Dream for Guitar, Flutes & Trumpet
Blues
Pinetop Perkins – After Hours
Pinetop Perkins – Pinetop's Boogie Woogie
Pinetop Perkins – Portrait of a Delta Bluesman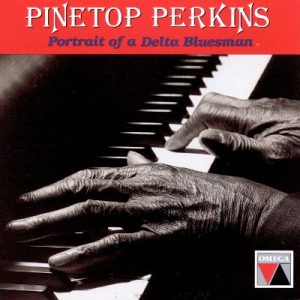 Choral Music
Tonu Korvits – Mirror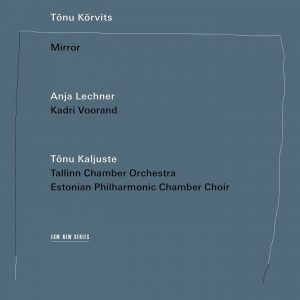 Classical
Michael Daugherty – Tales of Hemingway
Henri Dutilleux – The Centenary Edition
Eighth Blackbird – Hand Eye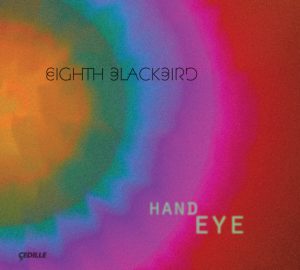 Ieuan Jones – Schubert by Ieuan Jones, Harp
Hugo Kauder – Rediscovering Hugo Cauder
Steve Reich – Double Sextet / Radio Rewrite
The Russian Guitar Quartet = A Tribute to the Mighty Handful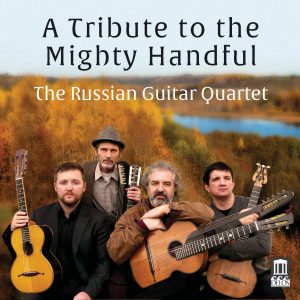 Jazz
Melissa Aldana – Back Home
Ron Carter Quartet & Vitoria Maldonado – Brasil L.I.K.E.
Snarky Puppy – Culcha Vulcha
Pop/Rock/R&B
Rhys Chatham – Harmonie du soir
The Julie Ruin – Hit Reset
Madness – Madness 7
Madness – One Step Beyond …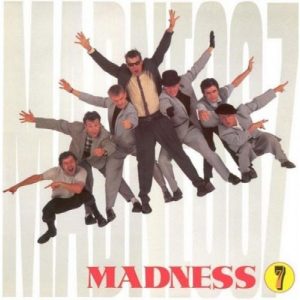 Vocal Music
Lawrence Brownlee – Allgro io son: Bel Canto Arias
Dialogos / Kantaduri – Dalmatica: Chants of the Adriatic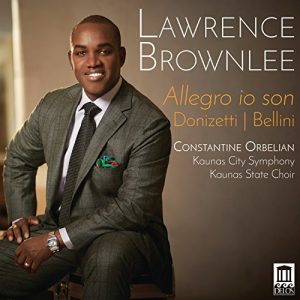 World Music
Ralph Samuelson – The Universal Flute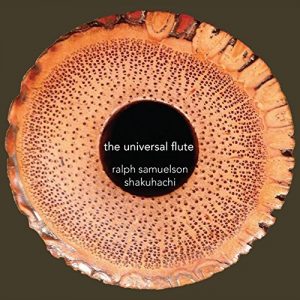 Editor's Note: "Spider Sounds" invites members of the University of Richmond community to share their thoughts about items in the Parsons Music Library's collection. The links included will take you to the library catalog record for the item in question, or to additional relevant information.
Today's installment of "Spider Sounds" comes courtesy of Boatwright Library Faculty Member Irina Rogova, who is the project archivist for UR's Race and Racism project. She has chosen to highlight Beyoncé's latest album, Lemonade which was released earlier this year. Thanks, Irina!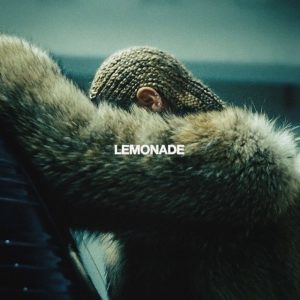 On April 23, 2016, Beyoncé released her sixth studio album, Lemonade, to mass critical acclaim. Leading up to the release, promotional materials alluded to some sort of release on HBO, though no details were given about what was actually being released—album, documentary, live show?
Considering the precedent set by her 2013 release of Beyoncé, which was dropped with accompanying music videos for all tracks with no promotion, fans speculation hit an all-time high leading up to the release. The Lemonade premiere on HBO was accompanied by a visual album which interspersed songs from the record with prose and poetry by London-based Somali poet Warsan Shire, and featured a wide cast including Serena Williams, Amandla Stenberg, Quvenzhané Wallis, along with the mothers of Trayvon Martin, Michael Brown, and Eric Garner, all victims of racial profiling and extra-judicial killing at the hands of law enforcement officials and vigilante citizens. The album and its visual component weave a story which has been described as "every woman's journey of self-knowledge and healing."
Immediately following the release of Lemonade, fans and academics took to Twitter to contribute to a syllabus which would give context to the plethora of references and symbols used in the visual album. Connections ranged from black southern gothic traditions to visual references to Yoruba deity Oshun to audio of Malcolm X. The syllabus was eventually compiled and made available for download by Candice Benbow, who launched the campaign.
Download it here: https://issuu.com/candicebenbow/docs/lemonade_syllabus_2016.
The syllabus, made through collaborative efforts from over 70 black women, focuses heavily on work created by and about the experience of black women in the United States and beyond.
The syllabus was only one of the various intellectual endeavors inspired by Beyoncé's Lemonade. Melissa Harris-Perry, bell hooks, dream hampton, Ijeoma Oluo, and countless other theorists, activists, and cultural critics have written on the album's meaning and impact.
Find a collection of some of these pieces here: http://www.threemonkeysonline.com/beyonces-lemonade-ten-articles-on-queen-bey-that-are-actually-worth-reading .
During the first half of the Fall 2016 semester, a display of materials from the Lemonade syllabus was on view on the second floor of Boatwright Memorial Library.