Editor's note: Arachnophonia is a regular feature on our blog where members of the UR community can share their thoughts about items in the Parsons Music Library's collection. All links included in these posts will take you to either the library catalog record for the item in question or to additional relevant information from around the web.
Today's installment of Arachnophonia is by Music Library student worker, Claire (class of 2020) and features indie folk band Bon Iver's second album. Thanks, Claire!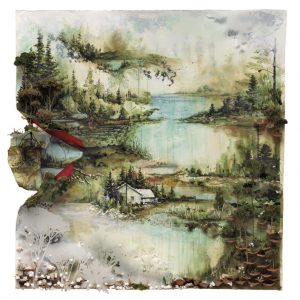 Last semester, I had the chance to attend a Bon Iver concert, after being an avid fan of the band for more than six years. The concert exceeded my expectations. Since the concert, I have frequently listened to Bon Iver's second studio album, cleverly titled Bon Iver. This album is a departure from the band's first album, which was self-recorded in an isolated cabin in the woods of Wisconsin. Bon Iver won the Grammy for Best Alternative Music Album in 2012, and the song "Holocene" was nominated for both Song of the Year and Record of the Year, breaking into the alternative music scene in a bold and recognizable way. My favorite song on this album is, by far, "Holocene." The name of the song is shared with geological epoch which translates to "The Age of Man." The album also features titles of tracks with names of places, such as Hinnom, TX and Lisbon, OH, which seem to have little to do with the songs themselves. The experience of listening to this album from start to finish is difficult to describe in words, yet it brings about an intense emotional response, allowing listeners to question their own human condition in this "Holocene" we are currently living in.