Editor's Note: "Spider Sounds" invites members of the University of Richmond community to share their thoughts about items in the Parsons Music Library's collection. The links included will take you to the library catalog record for the item in question, or to additional relevant information.
Today's installment of "Spider Sounds" comes courtesy of Music Library Student worker, Aly (class of 2018) and features "The Shutov Assembly" a 1992 ambient album by English musician, composer & visual artist Brian Eno. Fun Fact: The Shutov Assembly album was dedicated to Russian painter Sergei Shutov. Thanks for contributing to Spider Sounds, Aly!

If you are looking for some chill, ambient studying music, or just looking for a break from your usual go-to playlist, look no further than Brian Eno's The Shutov Assembly.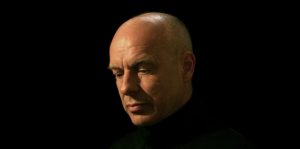 Eno is one of the pioneers of electronic and rock music production, and his style varies greatly from album to album. The Shutov Assembly, an electronic album, is ambient, dynamic, and deeply calming, making it perfect for some hardcore studying or just relaxing.
You've almost certainly heard Eno's music before. His music is featured on soundtracks of some very popular works, like Criminal Minds, The Perks of Being a Wallflower, American Horror Story, and even Netflix's Stranger Things!
Eno is commonly regarded as one of the best musicians in his genre, and for good reason. His vastly diverse works will appeal to anyone, even those with the pickiest of music tastes.