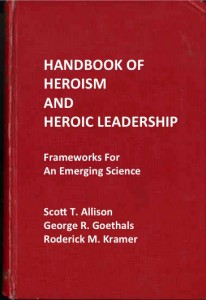 Over the past two decades, psychological research on optimal human functioning has been burgeoning. Scholars have shown a new (or renewed) interest in topics such as morality, cooperation, altruism, wisdom, meaning, purpose, resilience, hope, flow, human growth, courage, empathy, spirituality, health, public service, self-control, emotional intelligence, and character strengths. The past decade especially has witnessed a surge in research on two types of exceptional individuals who best exemplify these positive qualities: heroes and heroic leaders. The Handbook of Heroism and Heroic Leadership represents the first effort to gather scholarship on heroism into one definitive reference volume.
The three editors of this Handbook represent a nice blend of expertise on heroism and leadership. All three are noted scholars who have published widely on these topics. Scott Allison and George Goethals have authored and edited books such as Heroes, Heroic Leadership, and Frontiers in Spiritual Leadership, Conceptions of Leadership. Goethals has written books on U.S. Presidents and has also edited the Encyclopedia of Leadership, The Quest for a General Theory of Leadership, and Theories of Group Behavior. Roderick Kramer has authored or edited a dozen books including Psychology of Leadership, Power and Influence in Organizations, Conceptions of Leadership, and Restoring Trust in Organizations and Leaders.
The Handbook of Heroism and Heroic Leadership is multidisciplinary in its focus, with contributing authors representing academic backgrounds as diverse as public policy and law, sociology, management, organizational behavior, religion, clinical psychology, counseling psychology, positive psychology, developmental psychology, social psychology, and personality psychology. Much of the research on heroism to date has operated like the Indian parable of the blind men exploring the elephant, each with a limited view of the entire picture. Our Handbook promises to remedy this piecemeal approach by providing a much-needed consolidation and synthesis for scholars of heroism and heroic leadership.
The Handbook of Heroism and Heroic Leadership is divided into three sections:
1) Origins of Heroism — examines the formation, causes, or antecedents of heroism.
2) Types of Heroism — examines qualitatively different categories of heroism.
3) Processes of Heroism — examines the functions, processes, and consequences of heroism.
The Handbook of  Heroism and Heroic Leadership will be the definitive resource for students and scholars interested in the psychology of humanity's greatest individuals. The editors for the volume are Scott Allison at the University of Richmond, George Goethals at the University of Richmond, and Rod Kramer at Stanford University. The Handbook will be published by Routledge and is scheduled for release in the spring of 2016.