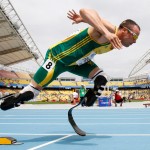 Here are three more recent news stories about heroes.
We begin by paying tribute to Oscar Pistorius, the South African sprint runner who competed recently in the 2012 Olympics in London.  Both of Pistorius' legs were amputated below the knees,  thus prompting his fans to call him "the fastest man on no legs".
Pistorius was born with fibular hemimelia, a congenital absence of the fibula, in both legs. When he was 11 months old, his legs were amputated halfway between his knees and ankles. He is able to run with the aid of carbon-fiber transtibial artificial limbs.  His favorite motto is, "You're not disabled by the disabilities you have; you are abled by the abilities you have."
Pistorius became the first amputee runner to compete at an Olympics.  Remarkably, in the 400 meter race, he finished in second place in the first heat of five runners, finishing with a time of 45.44 seconds to advance to the semi-finals of the event.  Pistorius' ability and determination to compete with the best runners in the world is a true inspiration to us all.
-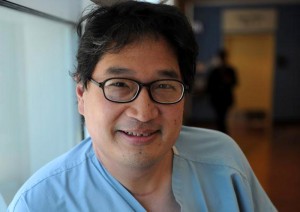 Next we turn to the heartbreaking story of Dr. Donald Liu, who was chief of pediatric surgery at the University of Chicago Medicine's Comer Children's Hospital.  Last week he witnessed two boys fighting for their lives in the violent waters of Lake Michigan.  Liu didn't hesitate; he bolted into the lake to save them.
"You couldn't stop him," Liu's wife, Dr. Dana Suskind, told ABC News. "He always did the right thing."  The two boys made it back to shore, but Liu did not survive the 6-foot waves and treacherous currents.  His wife was at the scene and tried unsuccessfully to revive him.
"He had the biggest heart," said Dr. Suskind.  "He was a brilliant surgeon. But what was amazing about him was that he was the best father, that was his priority in life, and he loved me with all of his heart."
-
And if Donald Liu's story wasn't heart-wrenching enough for you, consider the recent heroism of 4-year-old Xander Vento.  Last week, Xander was playing in a neighborhood pool in Fort Worth, Texas, when he saw a 3-year-old girl near him struggling to stay afloat in deeper water near him.  He went to help her, and the only way he could keep her above the water was to position his entire body below the water.  The little girl was saved, but Vento exhausted himself and drowned in the process of saving her.
The next day, Xander's parents issued a statement to the media: "We in some way hope our son's life serves as an inspiration. He was the angel in the pool who sacrificed himself to save another. And now he continues to give as an organ donor. We were blessed to have such a kind and caring boy as Xander who set an example for all of us and even now he will be saving lives by giving of himself."
We'll report more news stories of heroes as a regular feature here.  If you should encounter a news story of a hero, please do pass it along to us and we'll post it.  Thanks in advance for visiting this blog and supporting today's heroes.
– Scott T. Allison and George R. Goethals