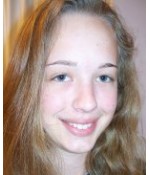 Ruby '14
JC and I are different in almost every way you can think of. He is a man, and I am a woman. His first language is French, and mine is English. He came to Richmond from the Democratic Republic of the Congo, and I from Rhode Island. He is my student, and I am his teacher.
Despite these areas of difference between us, however, JC and I are also remarkably similar. During our weekly English as a Second Language tutoring sessions we have uncovered many shared interests. We both, for instance, love to travel. As an International Studies major, I enjoy hearing JC's stories about his trips to England to visit family, and about his life in the DRC. We are both also interested in politics, and JC is always eager to discuss his opinions on what is going on in the U.S. government. Our most passionate conversations, however, are about football. JC is a huge New England Patriots fan, and I root for the New Orleans Saints, so we always inevitably end up debating which team performed better that week, and who will make it to the Super Bowl.
JC and I were brought together by the Linking Through Language and Technology (LTLT) program, an on-campus student group I lead that connects UR students with UR staff members who wish to improve their English skills. These pairs of student volunteers and staff participants meet weekly at the International Center to practice English, to develop computer skills, and, perhaps most importantly, to build supportive relationships. As an International Studies and Spanish double major, my academic interests have been focused on immigration throughout college, but it was through my tutoring experience with LTLT that I truly developed an understanding of the challenges that come with immigrating to the United States. After having to leave their home countries, which can be an immense challenge in itself, immigrants must quickly learn to adapt to an entirely new environment once they arrive in the United States. Though each immigrant's experience is different, common struggles include culture shock, language barriers, difficulties finding housing and employment, unfamiliarity with the education system, and discrimination. It is my hope that the LTLT program, which provides free ESL tutoring and support to any interested UR staff members in a convenient on-campus location, helps to make this very difficult transition just a little bit easier for members of our UR community.
While the goal of the LTLT program is ultimately to improve our staff participants' English skills, I have found that I have probably learned just as much from JC as he has learned from me. Not only have I developed skills as a tutor, but also have been introduced to another individual's unique perception of the world. As a student living on campus, it can be all too easy sometimes to get caught up in the "Richmond bubble." My weekly sessions with JC help to break that bubble by reminding me of the vast diversity of human experiences in the world, and by reinforcing my passion for supporting the immigrant experience in the United States. As JC and I debate whether or not Tom Brady is a better quarterback than Drew Brees, I am reminded that we are all more similar than we think, and in the future I hope to help others find such similarities to bridge the differences that divide them.