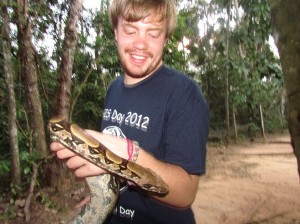 Dillon Massey '15
People often ask how research is considered civic-engagement, and I often reply that civic-based research and other types of indirect service provide basis and support for direct engagement. As a Bonner, my involvement in civic engagement and service learning has been characterized by research.  Specifically, my research has taken me to the Southside of Richmond, where I analyzed the growth of the Latino population in the city and the changing demography of the city with the Office of Multicultural Affairs; it has taken me to the US Embassy in Lima and the Southeastern Amazon in the Madre de Dios region of Peru. Put differently, civic engagement has given me the basis to serve both domestically and internationally, with the common theme being geospatial tools and geovisualization.
At the US Embassy in Lima, I worked for the United States Agency for International Development's South American Regional Environment office, which houses the Initiative for the Conservation of the Andean Amazon (ICAA). ICAA is aimed at strengthening and increasing conservation efforts in the Andean Amazon biome in Colombia, Ecuador, Peru, and formerly Bolivia (due to USAID's expulsion on May 1, 2013 by Evo Morales). My role in this office was to coordinate GIS efforts for USAID's portion of ICAA.  In particular, I was charged with designing a way to manage, accept and acquire data, as well as with visualizing data on USAID's ArcGIS Online Pilot. While on the surface, this does not present as a project working towards the solution of a social issue or as civic engagement in any way, I was met with many challenges, having framed my work, academically and civically, through the lenses of the power of maps, the politics of maps, and participative GIS.
I worked with the power dynamics between a powerful government titan—USAID and NGO's, local organizations, as well as indigenous communities in the Amazon. By mapping the Amazon, in some ways, the US is making claims of ownership. Mapping creates a story, it paints a specific picture that the cartographer intends to depict; maps are powerful tools. Maps have to be practices; maps are never simply a map, they are a process of mappings. Through cartography, territories are delineated, created, and altered. The capacity to create boundaries, in an almost imperial manner, is powerful. Places are created through mapping, though there still exists erasures, silences, and a distortion of reality in maps.
Relationships of power, control, and spatiality are made explicit through the politics of maps.  These relationships stem from the root of politics—the influence over people, the organized control of an audience, and power.  One map can illustrate power through an area or people's ability to be mapped, through mapping cartographers and their superiors that can extend control over such areas or people, and through the spatial distribution and other geospatial aspects of an area.
Through analyzing the mapping involved with environmental conservation and indigenous territories and rights, I have found there to be a strong political aspect. The efficacy of such maps is often dependent upon their ability to embody the areas they represent.  This may include the embodiment of the traditions and customs associated with an indigenous territory or the biodiversity of a natural area. The politics of mapping indigenous territories, specifically, brings about questions of empowerment, effects on the communities, and government interests, much like the work I have been involved in with Dr. John Moeser, through his Unpacking the Census work.
As a young man, with USAID being my first experience working in the role of a GIS technician and analyst, I had to be mindful and critical of the work that I was doing.  I was constantly assessing if the work I was doing was aligned with the ideas of civic engagement. In an almost purely technical position, it was difficult to ensure that I understood my work through a critical cartography lens and through a lens of civic-based engagement and learning.
Whether domestic or international, the importance of technical research in securing a platform and basis for the solution of social issues and forward movement in civic engagement is paramount.