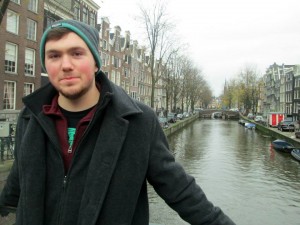 Aidan '15
It is a beautiful thing when business is able to promote social change and strengthen communities. During my time at Richmond, I have worked to find outlets for my interest in social change and have pursued opportunities to blend these pursuits with my business studies. With the help of a CCE Fellowship, I was able to have an amazingly rewarding internship this past summer in Vancouver with a non-profit social enterprise called Mission Possible.
Mission Possible works to create and run small businesses that employ members of the local community, which is the poorest urban postal code in Canada, and includes many who otherwise have very limited opportunities. The job market operates in such a way that makes it nearly impossible for someone who has an employment gap on their resume, a criminal record, or certain physical constraints from obtaining employment, regardless of their determination and potential. I believe opportunities and work have tremendous power in lifting people out of poverty and hopelessness. Communities need businesses to give these individuals a chance, and, when they do, there is opportunity for tremendous financial and societal growth.
A social enterprise's desire for financial stability and positive social outcomes makes it unique in its ability to attract customers. From an altruistic standpoint, the idea of creating jobs for those who have certain barriers to employment is very commendable.  Such businesses also realize increased financial performance because of consumers' desire to align themselves with a positive mission. Many individuals and organizations are naturally attracted to businesses that have these social outcomes, and so it incentivizes for-profit businesses to also adopt pro-social practices.
The CCE's commitment to help me align community engagement with my studies has yielded tremendous results. I have been able to see first-hand how a commonly perceived trade-off between "making money" and "doing good" is actually false. I have been equipped with an experience that will allow me to better identify opportunities in my career where some of my skills can promote social change and strengthen the communities in which I find myself.
http://www.mission-possible.ca/